The Best Baby Monitors
Techlicious editors independently review products. To help support our mission, we may earn affiliate commissions from links contained on this page.
When you're a parent, there's nothing in the world that matters more than the safety of your child. Obviously, you can't be with your baby all the time, but a quality baby monitor allows you to stay connected to your baby, no matter where you are in the house.
There is a litany of quality (and not-so-quality) monitors on the market, so it is important to find one that is reliable and effective and also fits your personal needs. And if you're feeling overwhelmed or just need a little help, here are our picks for the three best baby monitors available.
BébéSounds Angelcare Deluxe Movement Sensor with Sound Monitor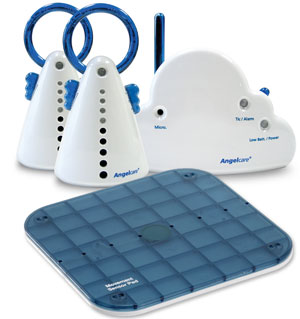 Our top model comes from BebeSounds, and it features excellent sound quality, impressive range and innovative features, all for $120 (currently $100 on Amazon).
What really sets the BebeSounds Angelcare apart from the competition is its innovative crib sensor pad that monitors your baby's movement in 20-second windows. If the baby lies completely still for more than 20 seconds, a monitor will alert you with both LED and audio. While your baby going to sleep and not waking up may seem unimaginable, it does happen, and more than one consumer reviewer claimed that they believed this monitor was responsible for saving their baby's life.
This product has received excellent reviews for its sound quality, and it operates on a separate 900MHz frequency, so it won't interfere with your cordless phones or wireless network. It also sports an impressive range of up to 820 feet, which will be more than enough for most homes.
The BebeSounds also comes with a temperature monitor to make sure the climate in your baby's room is where you want it. If you are looking for a top-class product that will help keep your baby safe and give you piece of mind, the BebeSounds Angelcare Monitor is right for you.
Summer Infant Day & Night Handheld Color Video Monitor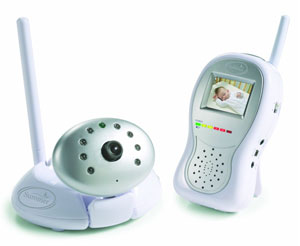 The Summer ($180; currently $118 on Amazon) is a solid performer for those parents looking for a video baby monitoring solution. It offers excellent video quality—both day and night—along with great sound reception. And it is among the highest rated baby monitors, as judged by actual parent owners.
The Summer's portable monitor sports a 1.8-inch color screen and can run on batteries or A/C power. The rechargeable battery lasts up to 10 hours, making it a good choice for travel.
While the 900MHz technology is not the most modern, it offers a range of up to 350 feet (100 feet with obstacles) and won't interfere with Wi-Fi or other 2.4GHz devices. The downside is that it doesn't offer an encrypted video signal, so your transmission could be picked up by nearby neighbors with similar devices, and vice versa.
Philips Avent DECT Baby Monitor SCD530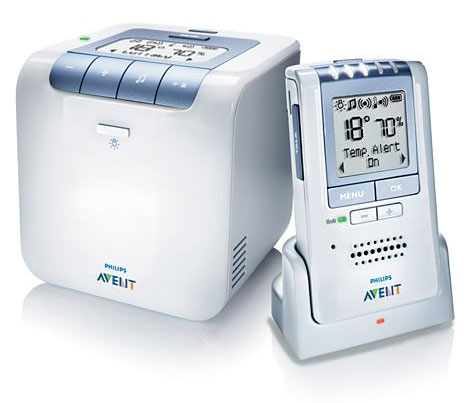 The final baby monitor on our list is the excellent audio and environmental monitoring Avent DECT SCD530 from electronics giant Phillips ($190; currently $136 on Amazon).
The Philips Avent uses digitally enhanced cordless communications (DECT) technology, which is basically a fancy way for saying it won't interfere or be interfered with by your other networks (Wi-Fi or phone) and will provide excellent sound quality. Besides its reliability and clear sound, the Philips Avent sports a temperature and humidity sensor that keeps you alerted to the climate in your baby's room.
The portable monitoring unit features an easy-to-read display, is rechargeable and has a sleek exterior that will fit in well on most nightstands. And, unlike many other monitors, the Philips also has a two-way transmission feature that lets you talk to your baby using the monitoring handset—perfect for lulling junior back to sleep from the comfort of your own bed.
Daniel Alvarez is a contributing expert from Bestcovery.com. Some of the information in this article comes from Bestcovery's analysis of the best baby monitors.
Discussion