20 Great Holiday Gift Ideas for Kids
Techlicious editors independently review products. To help support our mission, we may earn affiliate commissions from links contained on this page.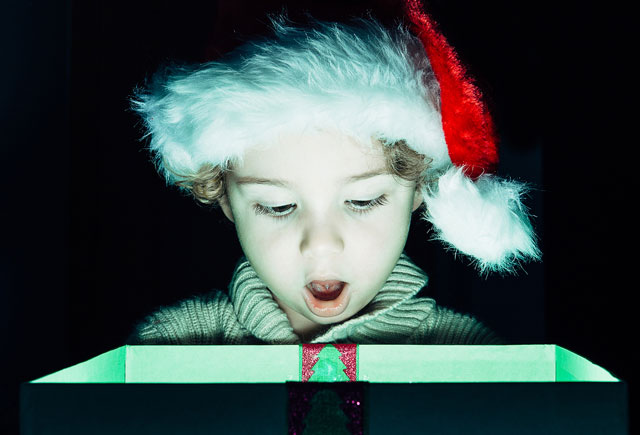 It seems like kids' wish lists get longer and longer every holiday. What to get and what to forget? Don't let the decisions overwhelm you. We've seen and played with the most anticipated toys and technology products of the 2016 holiday season. This Techlicious-approved holiday gift guide is filled with educational and entertaining presents for kids of all ages.
Love2Learn Elmo Plush Toy and App

Yes, every year there is a new Elmo doll, but the latest Love2Learn Elmo toy is our favorite yet. This is the most interactive Elmo toy to date, featuring more than 350phrases. Elmo can even say your child's name!
Bluetooth capabilities allow the Love2Learn Elmo to respond to scenes in the app games, providing a cohesive, interactive play experience. Connect Elmo to the corresponding app to allow the Sesame Street character to interact with your little one. Elmo encourages children to learn letters, numbers and daily routines that will help get them ready for school. Program Elmo to know your child's name and favorite colors, animals and foods. My boys think it's magic.
Customize the learning focus with three content stages and five subjects including letters, numbers, shapes, colors and animals. A Parent Helper section in the app lets you select songs and phrases Elmo can say in real time. Elmo offers children support and encouragement in important daily routines such as brushing their teeth and going to the potty. This cuddly plush toy is lighter and a little bit smaller than last year's edition.
The companion app's child mode features games and fun. With sensors in the nose, hands, and belly, Elmo responds to your child's touch. For even more fun, tickle Elmo to hear him giggle, or touch his hand to his belly to play bongo music and other instruments.
Ages: 18 months and up
Price: $29 at Amazon
LeapFrog LeapStart Interactive Learning System

I'm always looking for age-appropriate learning tools for my twins as they discover and grow. The new LeapStart, an all-in-one interactive early learning system for preschoolers through first-graders, comes jam-packed with instruction on key school and life skills for curious kids.
The LeapStart comes with a sampler book to get you started. After that, choose from a library of replayable activity books (not games) sold separately. Each book focuses on skills like reading, writing, math, coding and STEM skills. Every book is categorized by age range recommendations.
Once you register the device, download the LeapStart audio for the activity book. It's pretty easy to do. Insert the book's binding into the LeapStart holder, much like a binder minus the scary claws. Attached to the case is a stylus that helps your child maintain a proper writing grip.
We like that this toy is screen-free and functions more like a book than a tablet, since sometimes kids need a screen time break. The Leap Start still employs technology to make learning more interactive. Most activities incorporate fun music and songs. Because the device folds like a laptop, it's portable, and it's quite durable, unlike expensive tablets.
There are two models, one with a more stubby stylus for preschoolers and one with a regular stylus for kindergarteners and first graders. Both systems are compatible with all of the LeapStart activity books.
Ages: 2 to 7 years
Price: Preschool model is $23.99 on Amazon, Kindergarten/1st Grade model is $29.88 on Amazon; activity books starting at $6.79 on Amazon
VTech DigiArt Creative Easel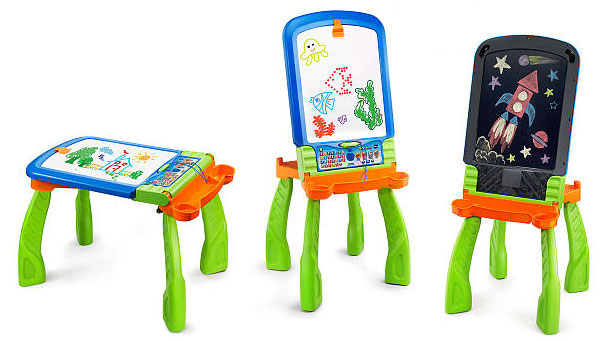 A new spin on a classic toy, this first vocabulary builder uses moving lights with six fun activities for language This easel-shaped activity station transforms from a stand-up, light-up dry-erase board to a chalkboard. Then it folds down to a flat, elevated drawing table children can sit alongside with a chair. That multifunctionality alone is great.
But this easel is interactive, too, teaching children how to draw more than 100 objects and shapes by following the lights using the connected magic pen. Children use the magic pen to follow the lights and learn letter and number stroke order for uppercase letters and numbers one through 20. I appreciate this as a parent, and fortunately kids enjoy it too.
Kids can explore six different activities while listening to 10 classic songs. Best of all, if you don't use the chalk portion of the easel, the toy is practically mess free. Even if you do use the chalk, a mishap here or there won't ruin your couch, thank goodness.
Be aware that the entire white board is not digital; the only digital area is a section in the middle where the lights are. Changing it from a table to an easel is not a simple transition, although parents report that once you get the hang of it, it's easier to do.
Ages: 3 years and up
Price: $54.99 at Amazon
Barbie Hello Dream House

Wow! Barbie's new smart home playset is more swoonworthy than Ken. The Barbie Hello Dreamhouse uses Wi-Fi-enabled speech recognition to respond to more than 100 commands.
A simple "hello, Dreamhouse" prompts the home to begin listening to your child's commands, just like Siri or Cortana on grown-up devices. Using a variety of commands, kids can change the color of the lights, power up the elevator and help Barbie get ready for school by turning on the shower. With four motors, the play home features an automatic elevator, an electronic staircase that turns into a slide, a spinning chandelier and doors that open all by voice command.
Kids can use the Hello Dreamhouse companion app to further customize the sounds in each play space. They can even record their own sounds for use in 15 locations. Thirteen switches throughout the house bring each room to life, such as the fireplace that crackles in the living room. The Dreamhouse has three modes: hang-out, party and fun, which customize the actions and dialogues of the house to the occasion.
I figured the assembly for such an elaborate setup would be a challenge, but parents say it is easier than expected and takes no more than 20 minutes to complete. Like a real house, this home isn't cheap — almost $300, no dolls included. Hello Dreamhouse does not operate on batteries, and it must be plugged into an electrical outlet to use the smart home features.
Ages: Not for children under 3 years (small parts)
Price: $239.99 at Amazon
LeapFrog Letter Factory Leaping Letters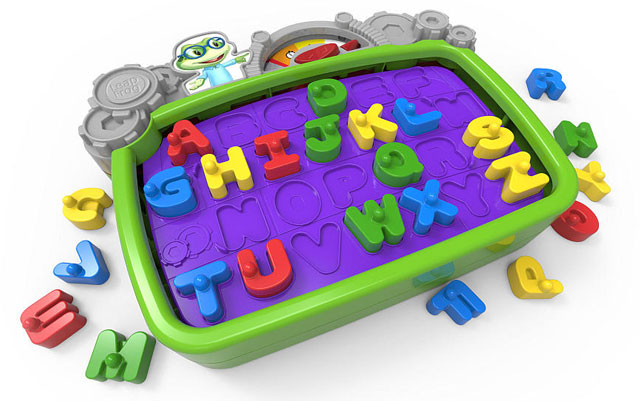 The interactive LeapFrog Letter Factory Leaping Letters, which teaches letters, is fun for the whole family to play. Kids race against the clock to put the letters in their proper spots before time runs out. The timer can be adjusted to accommodate players of all skill levels and ages. The level of difficulty can be increased with color-coded letter pieces that advance to word building. Kids can start forming words with add-on activity cards.
When it's not in game mode, young kids can still play with the colorful pieces, and parents can use the 26 plastic letters to help teach letter and word recognition. This toy builds matching and fine motor skills too. Children can play solo, with a friend or sibling or with the whole family. Surprisingly, no batteries are required, and there are no noises except the slight ticking noise the timer makes. Hopefully, future editions will include fun sound effects, but for now, this isn't another musical toy to get on adult nerves.
Ages: 3 to 6 years
Price: $14.99 on Amazon
Play-Doh Touch Shape to Life Studio

Play-Doh — yup, there's an app for that! The Hasbro brand Play-Doh, which just celebrated its 60th birthday, is getting an upgrade with its first iOS app that connects to its famous molding clay.
The play kit comes with the Shape to Life Studio, five digital character stampers, five digital action stampers, four tools, 15 cutters and seven cans of Play-Doh Brand modeling compound. Kids shape a Play-Doh creation, place it on the Shape to Life Studio and scan it using the app with a tablet or smartphone. Their creation will then come to life on screen in ways that could never be imagined before. Scan more creations, and they'll interact with past sculptures to further enhance the digital world on screen.
Right now, this toy is exclusively available at Apple.com and select Apple retail stores. It will be getting a wider distribution next year.
Ages: 4 years and up
Price: $39.95 on Apple.com
Crayola Imaginables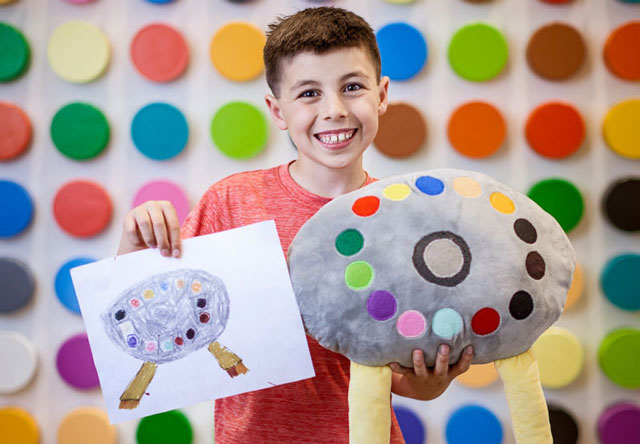 For more colorful imagination brought to life, Crayola Imaginables turns your child's drawings into real stuffed animals. There's nothing complicated about it. Simply take a photo of your child's art, upload it, email or text the image to Crayola and receive a beautiful custom Imaginables plushie.
It doesn't matter how many colors your child uses or how complicated their creation is. Each piece of artwork is reviewed and translated into plush form, hand-made by a team of designers and seamstresses using high-quality, super-soft plush fabrics that are hypoallergenic too.
If you want to give the designers a little help, you can include a description to help explain the art—a good place to get your child involved. Let them describe their art, from features to colors to mood, and type it up for Crayola so the final plushie will be just what your child wants. Once you've submitted your order, you'll get email updates throughout the process showing the plushie from design to final quality testing.
The whole process is fun to do with your children. Or order the plushie without your child's involvement; imagine the extra surprise of unwrapping their own creation and seeing it come to life and ready to hug. If you like the sound of that strategy, get going; turnaround time is four weeks.
Age: All ages
Price: $99 at Imaginables
Lionel Mickey Mouse Disney Ready to Play Set

What's Christmas without a holiday train set? This locomotive is uber adorable. All aboard the Mickey Mouse Express, featuring iconic Disney characters dressed in their holiday best. It's a perfect set to run under the tree, bringing a dose of holiday cheer and launching an annual family tradition for holidays to come.
The ready-to-play set comes with everything kids need to engage in imaginative train play. It includes the train locomotive and cars, easy-to-connect interlocking tracks with various layout options, and an RC remote control with easy-to-use buttons even preschoolers can get their hands on. The train features a battery-powered car driven by Mickey with accompanying authentic train sounds.
Sometimes it's the simple tech that delights little ones the most. Seeing their favorite characters will make this set a favorite.
Ages: 4 years and up
Price: $79.99 at Amazon
FurReal Friends Torch, My Blazin' Dragon

New to the line of FurReal friends this year is a pet dragon named Torch. This adorable pet needs love and care and will respond to your child's touch or motion. This baby dragon responds with more than 50 sound and motion combinations. Press his charm, pet his nose or give him his treat for fun responses like giggling, snorting or moving his head.
Of course, Torch doesn't breathe fire like the mystical creatures do, but he does breathe flame-colored mist. Really! Try holding the color-change treat (a plastic campfire stick with a marshmallow at the end) to his mouth for toasting when he "breathes" mist. His misty smoke can appear whenever someone touches his charm, pets his nose — or sometimes whenever he feels like it. Pretty exciting! The toy comes with two extra filters, kind of like a humidifier. When his mist runs out, simply refill his tank with water.
Most of this toy is soft plush, but there is hard plastic underneath. Dragons not your child's favorite pet? I'm still partial to FurReal's Bootsie the cat ($31.99 on Amazon) and StarLily the unicorn ($60.79 on Amazon) myself.
Ages: 4 to 7 years
Price: From $68.99 at Amazon
Amazon Fire Kids Edition Tablet

A full-featured, 7-inch Amazon Kindle Fire tablet is like the adult version with a built-in kids mode and parental controls. The Fire Kids Edition includes one year of Amazon FreeTime Unlimited at no additional cost, providing access to all the content kids love: books, movies, TV shows, educational apps and games. You don't have to guess what your kids will enjoy or invest in downloads they might not like.
Kids see only the titles they have access to see. The home screen carousel shows recently viewed titles, and they can navigate visually to content based on characters or topics like Mickey Mouse or cats.
Use the parental controls to limit screen time by content type. For example, you could choose to limit videos and games but make reading time always available. Stores and in-app payments are blocked from kid profiles, so you don't have to worry about accruing additional expenses.
The tablet has 16GB memory. It becomes a favorite toy, upgrade the memory to store all your child's photos, movies, games and apps using a microSD card slot that expands tablet storage up to 200GB.
Best of all, the tablet comes with a two-year, worry-free guarantee that states if kids break it, you can return it and Amazon will replace it for free — "no questions asked." That really takes the sting out of the idea of investing in a tablet for kids. The tablet comes with a blue, green or pink kid-proof case.
Ages: 3 to 10 years
Price: $74.99 at Amazon
CogniToys Dinos

CogniToys Dino is a friendly green dinosaur robot that connects via Wi-Fi to iOS and Android devices through an app. Enter your Dino's unique code into the app, and your child is will be ready to play with their new learning companion.
Because Dino is powered by IBM supercomputer Watson technology, he'll answer big questions like how far the moon is from the Earth or what the capital of Michigan is, just like Siri or Alexa. All your child has to do is press his tummy to make him listen. Now when your child asks "why?" to each of your logical responses, you can say "Ask Dino!" The two of them can play 20 questions to your child's heart's content.
Dino tells jokes and stories and remembers your child's name and favorite things. He comes equipped to help your child learn games that test rhyming, spelling, vocabulary and math. As time goes on, Dino becomes smarter, adding more information and content to his wheelhouse.
Parents can adjust the content settings in the app and even set a bedtime. From the looks of it, you'll have to — because your child won't be able to stop playing with this robo-dino. This Kickstarter-developed toy is brand new, so do expect software updates to work out any bugs.
Ages: 5 to 9 years
Price: $99.99 at Amazon
Actev Motors Arrow Smart-Kart

More than a standard go-kart, the Arrow is billed as the first smart electric vehicle for kids. Just in time for the holidays, it definitely covers all the fun and safety bases. The Arrow promises to immerse kids in a real driving experience with advanced performance and safety features inspired by technology in today's smartest vehicles.
Through app-based controls, parents can sit easy and digitally supervise the ride from their smartphones as kids enjoy an exhilarating behind-the-wheel experience. An iOS or Android device connects to the Arrow Smart-Kart through Wi-Fi, giving you control over the action. While the Arrow can go up to 12 mph, the app lets you adjust the maximum speed in real time and even stop the car immediately if your child is pushing the need for speed just a little too far. Geo-fencing, a front-mounted collision avoidance sensor and an inactivity timer alert help you make sure your kids won't take this bad boy for a spin into more hazardous territory.
The electric-powered Arrow avoids the fire risk, fumes and noise of gas-powered karts. The Arrow's smart lithium-ion battery recharges from a standard wall outlet. One charge will have the two 250-watt engines driving for up to 45 minutes. Extra batteries (sold separately) can be quickly swapped in for extended rides.
Kids can customize their driving experience by adding a Formula Racecar Body Kit, Drift Rings and enhanced battery and recharging accessories. New accessories will be available soon, including downloadable synthesized engine sounds from an online sound library, distance-sensing Smart Cones, laser tag sensors and gaming apps. The Actev app will soon let kids monitor stats such as total drive time and total distance. Now if only golf carts for adults could be this smart!
Ages: 5 to 9 years (70-lb. maximum weight)
Price: From $999.95 at Actev
View-Master Virtual Reality Starter Pack

With the View-Master Virtual Realty Starter Pack, Mattel has taken a retro toy and modernized it for kids who want their first virtual reality experience. Remember the toy that let you shuffle through photo discs that allowed a sense of 3D pictures of nature, space and even cartoons? Today's version offers a 360-degree environment that lets kids feel as if they're in the middle of what they're watching.
While it's not free or quite as low-cost as Google Cardboard, View-Master's Virtual Reality Goggles are designed to be comfortable against your child's face, with a combination of soft rubber and hard plastic to keep them durable.
View-Master has made it easy to download a View-Master VR app, slide a smartphone into the viewer, and let your child immerse themselves in some virtual reality. It's compatible with the Google Cardboard app, which you can download to expand your child's experience options.
The starter pack comes with a preview reel (reminiscent of those original discs) to check out available apps. Experience Packs are sold separately and include topics such as Explore Space, Explore Wildlife and Explore Destinations.
Age: 9 and up
Price: $14.44 on Amazon
Wow Wee MiP Robot Rev Toy

If the idea of combining fast remote-controlled cars and AI technology that allows those cars to think and fight for themselves would appeal to a kid you know, then the MiP Robot Rev Toy will make for fun driving this holiday. These Robot Enhanced Vehicles (REV) From Wow Wee are built for battle, both virtual and literal.
Each REV Starter Kit comes with two vehicles that are Bluetooth- and app-enabled and hardwired to outlast their opponents. The cars are equipped with proprietary technology that uses small sensors to sense and track their surroundings and navigate in real time. Players download the free app onto iOS or Android smart devices that act as a remote control and monitor.
You can choose single-player mode (the second car is set to Autonomous) to face off against a series of AI characters that drive by themselves or multiplayer mode to play against multiple human or AI-controlled cars. Game modes include Chase and Evade, Capture the Flag and free-for-all. With some additional real-life detail integrated into the gameplay, your car becomes "damaged" in battle and stops handling as well until you fight to gain power back or start a new game.
The REV does not require any special surface, mat or track and navigates most carpet, hardwood and tile floors with ease. Each car requires four AA batteries (not included).
Age: 9 and up
Price: $41.99 on Amazon
Thames & Kosmos Geckobot

Thames & Kosmos aims to improve informal science education outside the classroom by publishing high-quality science kits for children of all ages. This impressive wall-climbing robot kit has a motorized air suction system that enables it to walk vertically up and down perfectly smooth surfaces like glass, plastic, whiteboards or glossy laminates.
Kids can build six other models and conduct experiments with suction to learn about air pressure and mechanical physics. Build models of an industrial robotic arm with vacuum suction cup grippers, a car with suction cup wheels, an octopus with suction cup arms, a crawling insect, a window cleaning robot, and a vacuum holder device. A 24-page, full-color manual guides kids through building with step-by-step illustrated instructions, scientific information and explanations.
The kit comes with 176 building pieces, including suction cup pads for the feet of your robot, a motor to get the models moving, and two pairs of eye stickers to give the Geckobot some character. Because some of the steps are challenging and require cutting tubing, parents are likely to need to provide help, making this an ideal for a bonding experience between parents and kids.
Ages: 8 years and up
Price: $31.99 at Amazon
ThinkFun Circuit Maze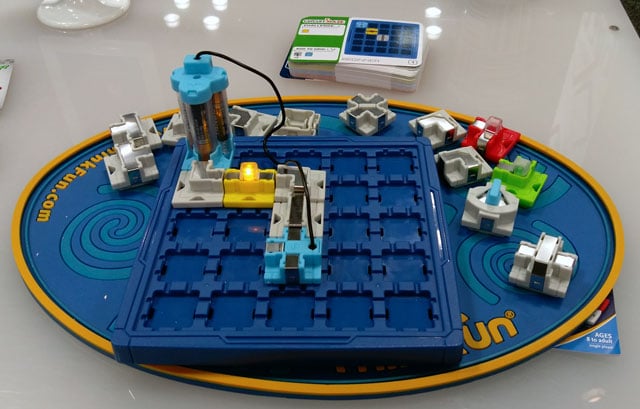 No, you don't have to tear open a wall to show your child how household wiring works to turn the lights on when you flip a switch. ThinkFun's Circuit Maze game will walk your child through the basic concepts of electrical engineering in the guise of an engaging puzzle game—which will give those critical thinking and problem-solving skills a workout, too. The goal is to cause the game board's beacons to light up, and when you plug in the pieces correctly, creating a circuit, they will.
The 60 levels of logic puzzles—each challenging you to create a different type of circuit to light the board's beacon—were designed by World Puzzle Champion and puzzle-creator Wei-Hwa Huang to present a challenge to gamers at all levels of skill. As your child advances through the puzzles, they'll learn increasingly advanced electrical engineering concepts, including series circuits, parallel circuits, series and parallel circuits in combination, and parallel circuits in bypass. Onward, future engineers!
Age: 8 and up
Price: $19.19 on Amazon
Ravensburger Science X Smartscope Science Kit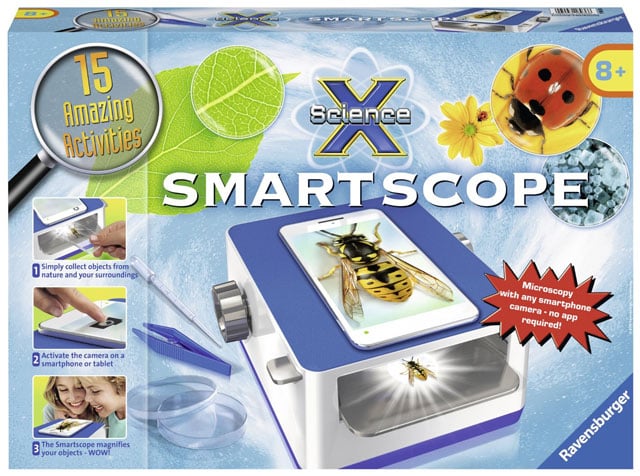 STEM alert! The standard microscope just got an upgrade that makes science fun for kids. Budding scientists can explore the amazing world of microscopic with Smartscope right from home. They can use any smart phone or tablet (no app download required) to magnify their tiny finds — bugs, hair, rocks and so on. Take a picture and share it with friends and teachers, or send images of magnified objects to a big-screen TV so everybody can see every little detail.
The kit includes a removable light source and sliding object tray with two levels of magnification, as well as a travel bag to help you take Smart scope out into the field. Best of all, this microscope is lighter and cheaper than a standard microscope.
Ages: 8 to 12 years
Price: $24.75 at Amazon
Snap Circuits 3D Illumination Electronics Discovery Kit

To introduce children to the possibilities of engineering, Snap Circuits 3D Illumination Discovery kit allows tweens to explore circuits, breadboards, Raspberry Pi and more with guides for all levels. Kids can build up to 150 different projects using the 50 parts provided. Snap Modules snap together to ensure correct connections without smoldering or tools.
The new Circuit 3D Illumination kit will drive kids' projects up the wall, literally. The new Snap Modules drive circuit building vertically in myriad configurations or combine with other Snap Circuits sets for even more 3D structures. Also new are exciting light effects such as a 3-Color Light Tunnel, a projector with six images and mirrors and reflecting circuits too.
Snap Circuits toys have received awards such as the National Parenting Center-Seal of Approval, the Creative Child Toy of the Year, the Toy Industry Association - Specialty Toy of the Year, Dr. Toy 100 Best Children's Products and Dr. Toy 10 Best. Bottom line: this is an impressive engineering set for kids who like building stuff and are ready to move beyond Legos.
Ages: 8 to 15 years
Price: $45.47 on Amazon
Skylanders Imaginators

This highly anticipated video game from Activision gives kids the power to create and bring to life their very own Skylanders characters. Portal Masters will enjoy the immense possibilities, including appearance, powers, abilities, names, catchphrases and musical themes that will help them create the wildest Skylanders imaginable. The game also features Sensei characters and guest stars from the series.
Fans are raving about the graphics and say the music is great, too. Word is that the game offers a lot of replay value. However, while old Skylanders work in the new adventures, they cannot access Sensei regions.
The starter pack comes with one video game, two Sensei Skylanders, one Creation Crystal, one collection poster and one sticker sheet. The game is rated Everyone 10+. It's available for PlayStation 4, PlayStation 3, Xbox 1, Xbox 360 and WiiU.
Ages: 10 years and up
Price: Skylanders Imaginators game from $39.99 at Amazon; additional Senseis $14.99 each, additional Creation Crystals starting at $9.49
Cheerson CX-Stars Mini Drone Quadcopter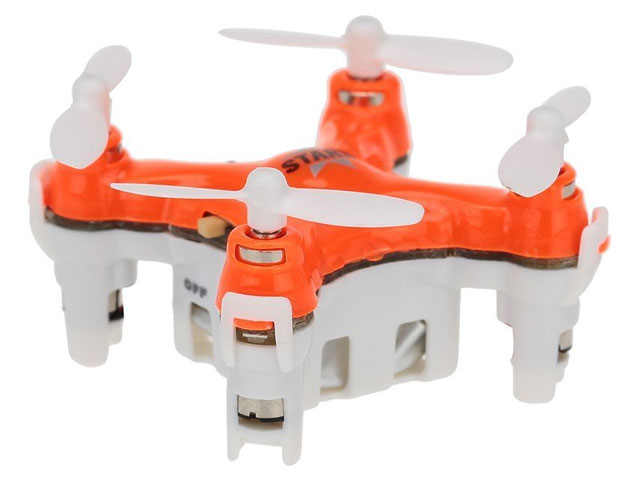 Drones are hot, and while the New CX-Stars Mini Quadcopter by Cheerson may be tiny, it holds its own in the flying fun department.
The CX-Stars is one of the smallest quadcopters in the world, and with a 1.9-inch diameter, it sits easily in the palm of your hand. The radio-controlled quadcopter has a flight time of 5-8 minutes and a charging time of 30 minutes.
The drone can do some impressive tricks for such a little device, including flips. The CX-Star's six-axis design helps make the copter's gyroscope adjustable and promotes stability.
And just because the sun goes down early this time of year doesn't mean you have to stop playing. LED lights allow you to keep flying after dark.
Age: 12 and up
Price: starting at $21.99 on Amazon
[image credits: ThinkFun, Vtech, LeapFrog, Lionel, Crayola, Play-Doh, Mattel, Thames & Kosmos, Wow Wee, Cognitoys, View-Master, Hasbro, Amazon, Ravensburger, Snap Circuits, Cheerson, Activision, boy opening present via BigStockPhoto]
Discussion