Best Free iPhone and Android Apps for Back to School
Looking to get a headstart on school this year? Check out these great free apps for iPhone and Android that will keep you organized and ensure you have answers when you have questions.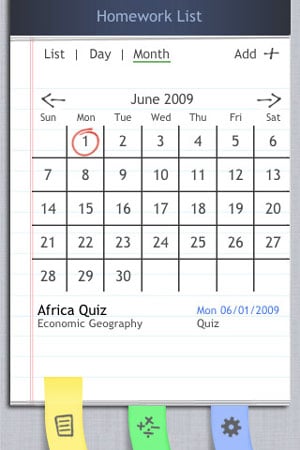 MyHomework (iPhone)
Keep track of your schedule, plus assignments and upcoming tests. Color code everything by class and view in list or monthly calendar mode.
Dropbox (iPhone, Android)
Get 2GB of free online storage that syncs between all your computers. You can also view documents on your smartphone.
Dictionary.com and Thesaurus.com (iPhone, Android, BlackBerry)
A solid school dictionary and if you also download Thesaurus.com the two products will work together.

Free Translator (iPhone)
For those times when you've forgotten your foreign language dictionary, you can type any word or phrase into this app and you'll get an instant translation. Languages supported include Chinese, Czech, Danish, Dutch, English, French, German, Hindi, Italian, Japanese, Korean, Polish, Portuguese, Romanian, Russian, Serbian, Spanish and Vietnamese.
Blackboard Mobile Learn for iPhone (iPhone, Android, BlackBerry)
If your school uses the Blackboard platform, you'll want this free app that provides access to lecture notes, assignments and grades.
Wikipanion (iPhone)
Quickly and easily search Wikipedia, the ultimate encyclopedia, and then bookmark entries or sections of entries for future reference.
Discussion