10 Fabulous Gifts Under $50
Techlicious editors independently review products. To help support our mission, we may earn affiliate commissions from links contained on this page.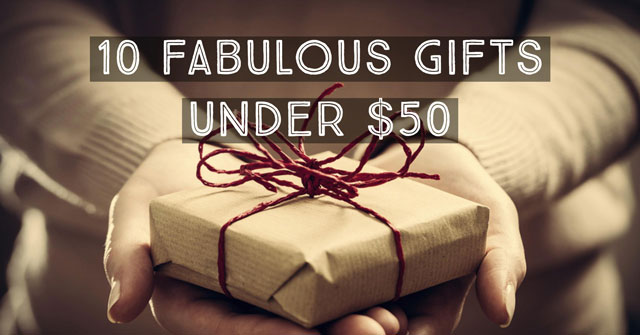 If you're still scratching your head about what to get for your friends and family, our high-tech stocking-stuffer suggestions are perfect for anyone on your gift list.
---


Tylt Energi 5K and 5K+ Battery Pack
No one's happy with their smartphone battery life. No matter how careful you think you're being, it's all too easy to run out of juice just when you need your phone the most. A portable battery pack that can easily slip into a pocket or purse equals the gift of never running out of battery power again — and anyone on your shopping list will appreciate that.
The Tylt Energi 5K+ is a 5,200mAh battery strong enough to fully charge a standard smartphone like the iPhone 7 twice or a larger "phablet" smartphone like the iPhone 7 Plus about one and a half times. It can typically fully charge a 7-inch tablet or provide about three-quarters of a full charge to a 10-inch tablet. While the exact number of charges will vary, the Energi 5K+ is more than capable of keeping any smartphone topped off without having to charge the Energi itself every day. The battery is about the size and shape of a smartphone (5.5 inches by 2.75 inches by 0.5 inches) and weighs just 4.48 ounces, making it easy to carry without being weighed down.
Our favorite feature of the Energi+ is the built-in charging cables that let you charge anywhere without bringing along an extra cable. Built-in micro-USB and Lightning cables mean it can charge most Apple and Android devices, and a USB port lets it charge anything else you have a cable for. If you're gift shopping for an Android user, you can downgrade to the Tilt Energi, which has a slightly smaller battery but skips the Lightning cable and costs a lot less.
Price: Tylt Energi $12.99 at Amazon; Tylt Energi+ $44.95 at Amazon
---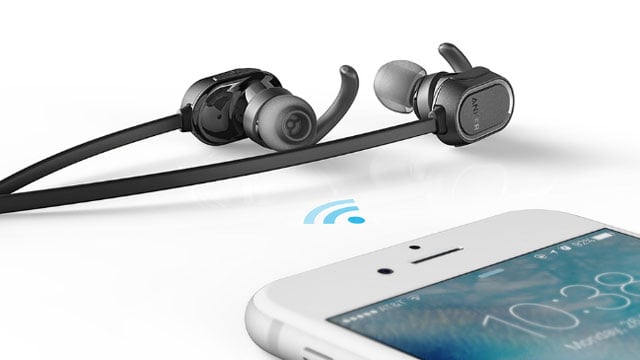 Anker SoundBuds Wireless Headphones
A decent set of headphones are a great gift for anyone who's still using the lousy earbuds their smartphone came with. While earbuds at a stocking stuffer price aren't likely to appeal to audiophiles, most people will be happy for the upgrade.
The Anker SoundBuds are one of our favorite wireless headphones under $50 because they have a top-notch feature set at a budget-friendly price.These earbuds are connected to one another by a wire, which helps keep them from getting lost. They connect to a smartphone via Bluetooth, so your gift will never wind up in an ugly tangle of cable. These sweatproof earbuds have an ergonomic design that keeps them firmly in the ears, making them a good buy for runners and other fitness fans.
The standout feature of these earbuds is their eight-hour battery life, which is stellar for wireless earbuds. You'd be giving the gift of great sound without the gift of having another gadget to charge every day — and trust us, that's a good thing.
Price: $29.88 at Amazon
---
BROUGHT TO YOU BY TRACKR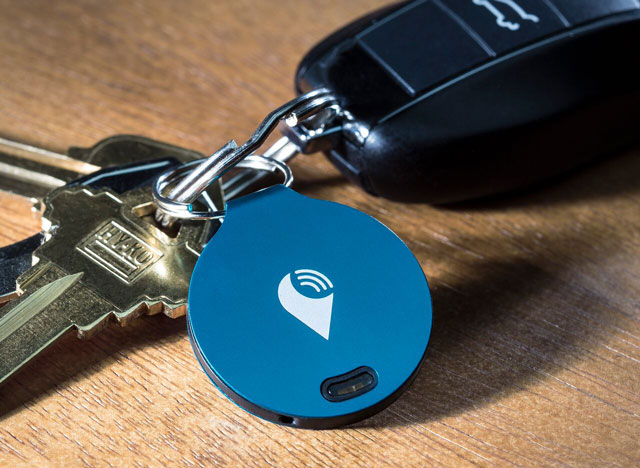 TrackR bravo
Whether it's keeping track of keys, a TV remote or even your cat, the TrackR bravo will make sure your loved one can find what they're looking for, when they want it. The TrackR bravo is a coin-sized Bluetooth device you attach to important belongings that are commonly misplaced. Once you pair your TrackR bravo with the free iPhone/Android app, you can use your phone to locate any misplaced item in seconds.
With Family Sharing, a TrackR user could set up a "Family" group that includes their spouse and children; within that group, they could share their TrackR-ed (or tagged) TV remote, car keys, and cat so anyone in the family can help find those items. And when an item is truly lost, the entire TrackR community Crowd GPS network is activated and will anonymously update the customer with the last known location of their lost item.
TrackR devices are available starting at $29.99 for a single bravo device, with per-unit discounts when you buy multi-packs. With custom printing options, you can choose any photo or image to print directly onto a TrackR device, making it the perfect personalized, low-cost gift this holiday season. TrackR devices are available at https://www.thetrackr.com/ and from select retail outlets worldwide.
Price: $29.99 on TrackR.com
---


Logitech M330 Silent Plus Mouse
While standard mice aren't exactly what we would call loud, the constant click click click sound of working at a computer can become trying after a while. Fortunately, Logitech has the answer with their lineup of "silent" mice that reduce noise by 90 percent. These mice have the same click response you expect. They're just quieter.
Beyond being quiet, the M330 Silent Plus Mouse is an all-around great mouse. It's wireless, with an excellent 33-foot range and 24-month battery life for no-hassle use. Though the optical tracking isn't top of the line (Logitech's high-end mice use lasers to track with precision accuracy), it works great on most surfaces except glass. Like all Logitech mice, it's ergonomically designed for comfort, with soft rubber grips designed to fit your hand. Setup is simple plug and play; connect the receiver to the computer, which should detect the mouse and just work. Easy!
This is a high-quality mouse for a very good price. If you're looking for a gift for someone still using a clunky corded model, this will be an upgrade they'll appreciate every day.
Price: $24.98 at Amazon
---


Roku Express Streaming Media System
If you'd like to upgrade someone's streaming media system, you won't find a better player at a more budget-friendly price. Though this base-model Roku doesn't have the bells and whistles of more expensive Rokus — you won't get 4K resolution or voice control — it does have all of the content.
Roku is our favorite streaming media player because it gets more than 3,500 channels of content, well more than any of the competition. Roku's easy-to-use interface includes a top-notch universal search that finds shows and movies without having to search through every single streaming service.
All of that for under $30 practically makes the Roku a must-buy. If you're shopping for someone with a 4K TV, you'll need to upgrade to the $76.99 Roku Premiere.
Price: Roku Express $29 at Amazon; Roku Premiere $79 at Amazon
---


Garmin Vivofit Fitness Band
A fitness tracker makes a great gift for anyone who's talking about a New Year's resolution to get in shape. The Vivofit may be low cost compared to some trackers, but it has all of the important features you need to kick-start your fitness routine, making it one of our favorite trackers under $50.
The Vivofit tracks all of the basics — steps, miles, calories and sleep — plus high-end features like goal setters and reminders to move, which you typically won't find on trackers under $100. As you remain still, a small red bar at the bottom of the screen grows, but when you get up and move, it shrinks. This simple visual is a great for anyone who works at a desk to help keep track of how long they've been sitting still and remind them add movement to their routine. After it's been worn for a while, the Vivofit learns the wearer's routines and suggests simple improvements, like hitting an extra 200 steps of activity.
With a one-year battery life and water resistance, the Vivofit is a low-hassle tracker, perfect for someone trying to turn a New Year's resolution into a reality.
Price: $39.99 at Amazon
---

Remington Crafter Beard Grooming Kit
This 11-piece shaving kit may be a bit bulky for the average stocking, but it still has a price we'd consider stocking-stuffer-friendly. The Remington Crafter is one of our favorite beard trimmers,impressing us by efficiently cutting more hair per swipe than any of the other trimmers we tested. A wide array of attachments put that power to good use, letting you get exactly the shave you want. The adjustable comb has 10 trimming lengths (from 2mm to 20mm), and the kit includes five more guide combs, a miniature foil shaver, a detail trimmer and a nose and ear hair trimmer. Users can go for an infinite number of looks, but even if you're shopping for someone who just wants the basics, this is a good trimmer at a good price.
A 180-minute battery life means this trimmer won't need charging for months, and a five-minute quick charge gives power for one shave in case it does go dead. It's waterproof for shaving in the shower, which also makes it easy to clean.
Price: $44.94 at Amazon
---


Amazon Echo Dot
The Amazon Echo is a handy addition to absolutely any household, and the smaller Echo Dot has all of the same features (with a less powerful speaker) for a much more attractive price. The only problem with the Echo Dot is that it can be hard to understand just what it does before you have one and start using it. If you're giving one to someone who isn't entirely tech-savvy, you may have to provide a demo to show just what it can do.
The Echo Dot is basically a small speaker connecting to services like Amazon Music and Spotify. Its stand-out feature is Alexa, Amazon's voice-controlled virtual assistant that plays music, answers questions, reads the news, sets timers and reminders and plenty more. If you're giving an Echo Dot to someone who already has some smart home devices, Alexa can control a lot of those, too, and it's learning to do new things all the time.
Being able to turn on the lights, order pizza or call an Uber, all hands free, is convenience anyone will appreciate. The Echo Dot is an especially good buy for someone who's already an Amazon user because of its easy access to Amazon services.
Price: $49.99 at Amazon
---


Fabriq Portable Wi-Fi and Bluetooth Speaker
A portable speaker is a handy gadget to have. It lets you play the music from your mobile device anywhere you happen to be. Need a soundtrack for your family picnic at the park? Want to relax by the pool with some music? A portable speaker makes it easy.
Fabriq is cylindrical speaker a bit over 3 inches square and just under a pound. Its size makes it easy to carry anywhere and connect to your phone (or just about anything else) by Bluetooth to play music or podcasts. Despite its small size, it still puts out big sound — up to 92 decibels. An app for iPhone or Android lets you link multiple Fabriq speakers to create even bigger sound.
Fabriq's stand-out feature is Alexa. When you connect Fabriq to Wi-Fi, it can do most of the things the Echo Dot (above) can, except accessing some third party services like Spotify. Considering that this speaker costs as much as the Echo Dot and is more portable, thanks to its built-in battery, we think the Fabriq is a great buy as long as you have someone on your gift list who would be interested in both a portable speaker and the convenience of Alexa.
Price: $49.99 at Amazon
---

Amazon Dash Button
A Dash Button isn't a gag gift; it's a real convenience. No one enjoys making an emergency run to the grocery store when they're out of an essential, where it's coffee or crackers. When you press a Dash Button, it automatically makes an Amazon order for the product corresponding to the button you purchased. A quick tap on the Pop-Tarts Dash Button, for example, automatically orders another box of Pop-Tarts in whatever flavor your gift recipient selects. The order will arrive on their doorstep before their current supply runs out.
Though Dash Buttons carry a $4.99 price tag, they're technically free. After an order has been made, a $4.99 credit is applied to the buyer's Amazon account. So really, a Dash Button is a roundabout way of giving someone an Amazon gift card.
Before you give, however, remember that you need Amazon Prime in order to use Dash Buttons. If you're shopping for someone who's a Prime member, great! But if not, it's time to go back to the drawing board.
Price: $4.99 at Amazon
---
[Image credits: hands holding present via BigStockPhoto, Tylt, Logitech, TrackR, Anker, Roku, Garmin, Remmington, Amazon, Techlicious]
Discussion