Last Minute Mother's Day Gifts She'll Love
Techlicious editors independently review products. To help support our mission, we may earn affiliate commissions from links contained on this page.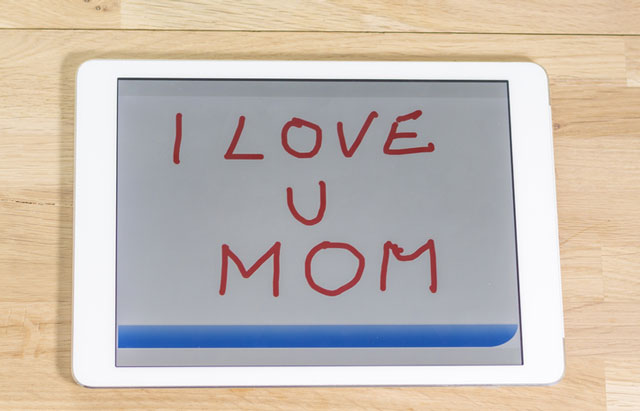 It's been a busy week for you, but that's not the excuse for not getting her a gift for Mother's Day. There's still time to put the thought and effort into choosing a great gift or thoughtful card.
Here are our top picks of digital Mother's Day gifts that will save you a hurried trip to the store.
Giftly: A more personal gift card
If your mom is hard to shop for, you can give her a personal gift card through Giftly. The gift card service lets you send money along with a suggestion of how you'd see mom using it — from buying coffee in the morning to splurging on a spa day — to show you're really thinking of her.
Once your mom has spent it, she can share what she did. Customize the way your Giftly gift card's looks with colors and a message, then choose to send it by email or text message, or print it out and give it yourself.
Price: As much as you'd like to spend plus a small service fee, from giftly.com
Bluum: A monthly gift box for expectant and new moms
Best for expectant moms, or new moms of babies 0-12 months old. Each month mom will receive a gift box filled with five or more full-size products based on the child's age, with one or two items for mom.
Expectant moms will receive products for them along with a few items for her newborn child. Boxes have a value of $40 or more.
Price: $39 for 1 month, $99 for 3 months, $174 for 6 months, $324 for 12 months at Bluum.com
Scribd: An ebook subscription service
If your Mom has taken the plunge into ebooks, consider a gift subscription to an online book service like Scribd. This Netflix-type service gives her access to more than 150,000 books, including New York Times bestsellers, non-fiction, fiction in every genre and even young adult books.
She can save any books she want to read to her library for easy access. And while she's reading, the books are synced across iOS devices, Android devices (including Kindle Fire) and any computer with a web browser.
Every month she can take out 3 books and one audiobook and read extensive previews — up to 10 percent of the book — without it counting toward her monthly allotment.
Price: $8.99 per month at Scribd.com
Umba: A monthly gift box of handmade goods
A perfect gift for the mom who spending hours surfing Etsy each week, Umbabox offers gorgeous handmade gifts delivered each month. Umba is a Swahili word meaning "to create," and they curate either one large handmade item or several small handmade items. Inside, there's also a "meet the artists" card with information about the people who created the items.
Price: $90 for 3 months, $150 for 6 months or $275 for 12 months at Umba.com
Rescue Gift: For giving to others
If you want to avoid the consumerism, give a donation in mom's name to the International Rescue Committee to benefit mothers in need. Choose from options like Emergency Care for a Child, A Safe Delivery and Maternal Health Care, among others. Mom will receive a personalized print or digital card to let her know how her Rescue Gift is making a difference.
Price: Gifts start at $18 on Gifts.Rescue.org
[Image credits: I love you mom on tablet via Shutterstock.com, Giftly, Bluum, Scribd, Umba, Rescue.org]
Updated on 05/06/2016
Discussion