Tech Rescue: Last Minute Valentine's Day Gifts & Getaways
Techlicious editors independently review products. To help support our mission, we may earn affiliate commissions from links contained on this page.
I don't want to alarm you, but Valentine's Day isn't just "around the corner" anymore – it's this Saturday. There's not a lot of time left for making plans, picking out that perfect gift (and having it shipped) and finding a card that conveys just the right message and emotion. But even though you have less than 48 hours left (and counting!), it's not too late. Here are some last-minute gift and travel ideas that are so good, your special someone will think you've been planning it for weeks!
Last-minute getaways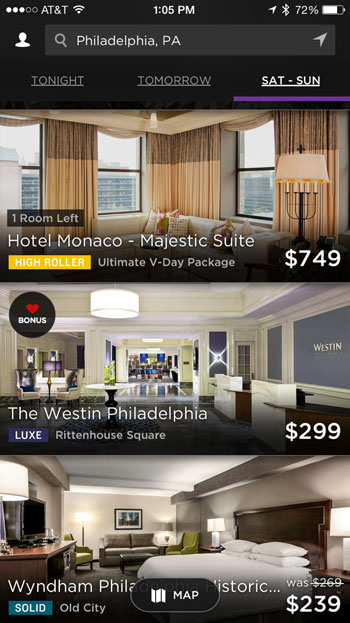 Nothing says romance like a quiet getaway for two in a luxury hotel suite. Believe it or not, these great rooms aren't all booked up yet – there are plenty of great getaways still available at affordable prices. Check out Hotel Tonight's hand-selected "Love More" Valentine's Day packages. All the available rooms include a bottle of bubbly and guaranteed late checkout for some extra cuddling time the next morning.
Want to go the extra mile? Hotel Tonight has even more luxurious "Lust More" rooms that include over-the-top suites, penthouses and private villas. We're not talking about motels off the interstate here – these are seriously fancy getaways with stunning views, spa-like amenities, wet bars and more. Each Lust More room comes with a floral arrangement from BloomNation (valued at over $300) and a guaranteed "hard-to-get" dinner reservation.
If you're not impressed with Hotel Tonight's selection, why not try to put together a last-minute getaway of your own? Check out Expedia's last-minute booking page for some great hotel and travel deals. Leave the snow behind for a quick getaway to a Cancun resort, a four-star Miami hotel or a Puerto Rican golf resort. And if you use the Expedia tablet app, be sure to tap the specially curated "Romantic Destinations" collection.
Last-minute Gifts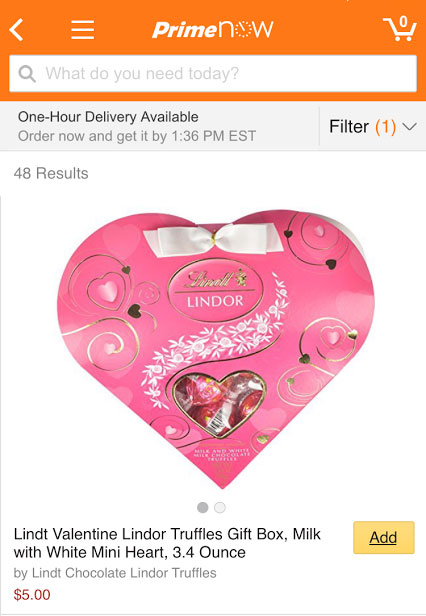 If you live in a major city like New York, one of the best places to find a last-minute gift is Amazon.com. The company offers New Yorkers free 2-hour delivery for Prime members between the hours of 6AM and midnight or one-hour delivery for $7.99. Live in a different city? No sweat – Amazon Local Express Delivery, eBay Now and Walmart to Go all offer same-day delivery in a handful of cities across the country.
If same-day delivery is not an option, check out the unique Giftly gift card service. The app allows you to pick a gift for someone from any store or online shop and send a notification immediately to your loved one. They then choose how they want to receive the gifted funds (credit card or PayPal.) Then when when they go to buy the item or service gifted, the amount of the purchase is immediately credited to their card or PayPal account.
Because the merchant isn't involved, you can gift anything from any shop or online merchant that accepts credit cards or PayPal. Dinner and a movie? Airfare and casino chips? Spa day with mani-pedi? Giftly has you covered. Just make sure the recipient doesn't try to use a debit card.
Not great at picking out gifts yourself? Take a look at Quarterly Co. The company offers high-value gift boxes put together by celebrities like Project Runway judge Nina Garcia, musician Pharrell Williams, media-mogul Arianna Huffington and more. (My personal favorite is Chef Ludo Lefebvre's package, the latest of which included a recipe, spices, high-end versions of common kitchen items like tongs and oven mitts and an issue of Grill magazine.)
Last-minute Cards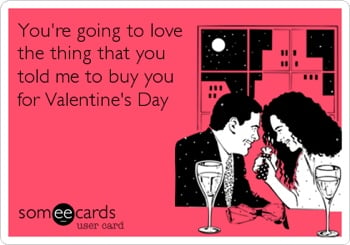 Let's be honest: e-cards aren't for everyone. But if your Valentine has the right attitude (or if you're snowed in and can't get to the Hallmark store), you might want to create a humorous video card on Jibjab.com starring you and your partner. Or, try a sending a Rovergram from your dog via Rover.com. And if you're really cheeky (or just looking for something fun to post to your Valentine's Facebook wall), check out the brutally funny selection at Someecards.
For a more serious e-card, you might want to take a look at the selection at Punchbowl. You can choose from one of their pre-existing designs or add your own photo to create something unique. What we really like about Punchbowl, though, is the ability to add a gift card from popular retailers like Amazon, Sephora or Home Depot.
And just in time for Valentine's Day, Skype's Qik app has added a special tumbling hearts pop-up feature. Just press the on-screen heart button while recording a video, and mini-hearts will be recorded as part of the message. And if you want to add a little bit of sexy steam to your message, you can – Qik messages can't be saved or shared, and they're automatically deleted after two weeks.
[Image credits: HotelTonight, Amazon, Someecards]
Discussion