The Best Tech Gifts for Mother's Day
Techlicious editors independently review products. To help support our mission, we may earn affiliate commissions from links contained on this page.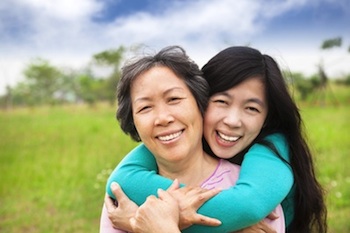 Buying a gift for mom can be a challenge. The perfect gift will speak to her unique personality and offer enough practicality for her to enjoy using it all year long.
We searched high and low and found eight unique gifts that will appeal to a variety of moms, from the fashionista to the movie lover to the active gardener and more.
For Moms on the Go: Graceship laptop bag
Available in several styles and colors, these luxury laptop bags for women combine fashion and function. Though these bags look like stylish purses, when you peek inside you'll find a laptop compartment to hold computers as large as 15 inches as well as pockets for keeping cables and other must-haves perfectly organized.
Price: Starting at $188 at Amazon
Not mom's style? Check out our list of fabulous tech-friendly bags for more inspiration.
For Moms Without a Green Thumb: Parrot Flower Power
Though you may be tempted to pick up the ordinary Mother's Day gift of flowers, why not get Mom a plant that will bloom all year? And just in case your mother doesn't have a green thumb, pick up the Parrot Flower Power plant sensor to help her out. This Bluetooth-enabled gadget sticks into any plant's soil and sends notifications to Mom's smartphone — iPhone only, for now — when the plant needs a drink.
Now that's a handy gadget that could save you a bundle on fresh flowers throughout the year!
Price: $59.99 at Amazon
For Moms With a Caffeine Dependency: Home latte maker
Why make mom run to Starbucks for her morning caffeine fix? Now she (and anyone else in the household) can make high-end coffee drinks like cappuccino and latte at home with the press of a button using the Nespresso Lattissima Plus.
Just insert a coffee pod and add milk, and the Lattissima will prepare a drink perfectly with fresh, frothed milk.
Price: $399 at Amazon
If the $399 Lattissima is a bit beyond your budget, try the more basic Mr. Coffee Latte. It mixes drip coffee and frothed milk to create a latte-like drink at the much more palatable cost of $47.
Price: $47 at Amazon
For Moms Who are Fitness Fanatics: Misfit Shine activity and sleep monitor
Perfect for the health-conscious mom, the Shine is a sleek fitness monitor made of diamond-cut aluminum you can wear different ways to work with any look. The round disc uses simple lights to show progress toward fitness goals or indicate the time.
Wear it discreetly in a pocket, as a watch on strap or as a pendant with the stylish Bloom necklace — and though the Bloom is currently only available for preorder and won't arrive in time for Mother's Day, it would make a nice post-holiday gift to go with the Shine.
The Shine syncs fitness data with both iPhone and Android devices and is waterproof, so it can even be worn while swimming.
Price: $99.99 at Amazon
For Moms Who Need the Latest Tech: Samsung Gear Fit
For the high-tech mom who wants something more than your average fitness tracker or smartwatch, there's the Samsung Gear Fit. The Fit's curved Super AMOLED touchscreen provides a sharp color display for showing the time, fitness data and notifications about calls, emails or text messages — all without Mom's having to pull her phone out of her bag.
It's an ideal companion to an existing Samsung smartphone; if your mom doesn't have one, it would make a great gift alongside a Galaxy S5. (Just a suggestion!)
Price: $199 at Amazon
For Moms Who Have Everything: Shutterfly Doodle
Looking for something a little more customized? Then look no further than Shutterfly Doodle, which lets you add drawings and handwritten notes from the kids to any of Shutterfly's print products, from photo books to coffee mugs.
To get started designing your own doodles for Mother's Day, pick up the Shutterfly Photo Story app for iPad and start doodling!
Price: Varies
For Fashionista Moms: Bandolier phone case
To add a touch of class to a smartphone, why not get mom a Bandolier smartphone case? This svelte case will hold her iPhone as well as a few credit cards or cash in a slim case attached to a strap — thus the name — so she'll have all the necessities within easy reach without the need to carry a bulky purse.
If the Bandolier isn't quite mom's style, check out these other fashion-friendly smartphone cases instead.
Price: $80 to $125 at bandolierstyle.com
For Movie-Loving Moms: Amazon Fire TV
If Mom's an Amazon fan, you can't do better than the Fire TV streaming media player, which makes it easy to access digital Amazon content on your television as well as Netflix, Hulu, Crackle, Pandora and a number of other streaming media options.
Though there are a lot of media players out there, Fire TV stands out with a few smart features any mom is sure to love, including its easy voice search feature, great selection of great casual video games (even if the kids wind up playing them) and Amazon's FreeTime parental controls (coming this spring), which will make it easy to restrict the kids to age-appropriate content.
Price: $99 at Amazon
Whatever gift you end up choosing for Mom, happy Mother's Day!
[woman hugging mother image via Shutterstock]
Discussion