Our Picks for the Best iPad Cases
Techlicious editors independently review products. To help support our mission, we may earn affiliate commissions from links contained on this page.
If you're an iPad owner, you know how beautiful the screen is, and how un-beautiful it would be to see that screen shattering into a million pieces on the floor. Plus, the iPad's slim profile and slippery feel can make it uncomfortable to hold for long periods of time.
What you need is an iPad case. In fact, the iPad is pratically the only device where we would say a case is a necessity, not an option. However, you do have options when deciding what type of case to get. iPad cases come in three general categories: portfolios, sleeves and covers. Each provides varying levels of protection and functionality.
These our our favorites. Which one you get is up to you. Just get one...please.
Portfolios
As their name suggests, portfolio-style cases flip open—vertically or horizontally—to reveal your iPad. Portfolios offer the best combination of protection and function.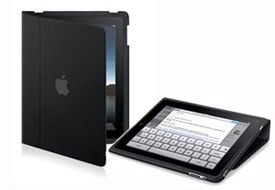 Apple iPad Case
Thin enough not to add appreciably to iPad's thickness, the Apple iPad Case's rubbery exterior gives the klutzy a sense of no-slip security. It's got a ridge on the outside to protect iPad's sides and corners from drops, and the top flap folds up and behind to create both a kickstand for typing and a stand for hands-free watching.
Price: $40 at Apple.com.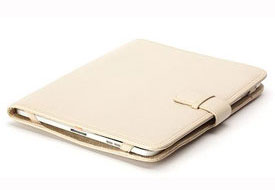 Griffin Elan Passport
With a little bit of a formal feel, Griffin's stylish Elan Passport is made primarily from faux leather and microsuede, with elastic straps to confine your iPad. There's also a side pocket with four business card slits inside the flap.
Price: $50. Check the price at Amazon.com
.
Sleeves
If you're looking for a case that offers maximum protection while travelling or want a place to stash headphones or other accessories, you'll want to go with a sleeve. They come in a variety of colors, materials and styles. The downside is you'll only get that protection when packed.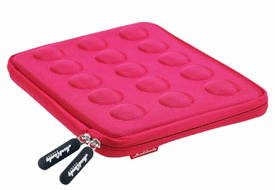 Hard Candy Bubble Sleeve
This attractive case made from molded foam has rubber bumpers built into the interior corners to help cushion your iPad. The sleeve is available in pink, black and yellow.
Price: $50. Check the price at Amazon.com
.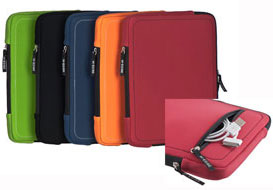 M-Edge Touring Sleeve
A large zippered accessory pocket and stowable carrying handle make this neoprene case stand out. It comes in red, orange, black, blue and green.
Price: $40. Check the price at Amazon.com
.
Covers
If you simply want a less slippery grip and to protect the back of your iPad from scratches, a cover is the way to go.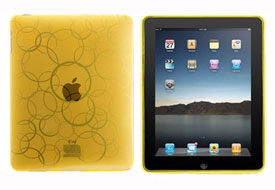 Case-Mate Gelli Kaleidoscope
Made from a clear, flexible plastic, this cover won't stretch or rip over time as some silicon covers do. Comes in pink, red or yellow.
Price: $40 at Case-Mate.com.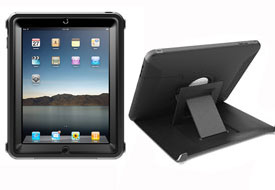 Otterbox Defender
Long known for its ruggedized iPhone cases, Otterbox's Defender will provide the same protection against drops for the iPad. It also has a cover you can snap over the screen when travelling and even a built-in stand. Available this summer.
Price: $90 at Otterbox.com.
Discussion