The Best Headphones for Every Workout
Techlicious editors independently review products. To help support our mission, we may earn affiliate commissions from links contained on this page.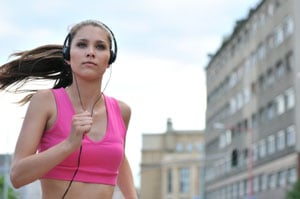 I can't work out without music. I've tried, but what would have been a refreshing run or stint on the elliptical machine turns into a miserable game of how many minutes left. Music not only provides a welcome distraction, it also helps boost my performance. In addition to my phone, which is my music player, I always make sure I have a good pair of headphones that's suited to my workout so they stay on and deliver great sound.
Two things to keep in mind when picking out a pair of headphones for working out are moisture resistance and ambient sound. If you're just walking, a regular in-ear pair should be fine. But if you sweat heavily or want to run outside in a light rain, you'll want a pair that's labeled as water-resistant or waterproof.
When running on a jogging trail, through a park or on city streets, you don't want to be isolated from the sounds of your surroundings. It's a matter of personal safety. But if you're at the gym, the last things you want to hear are the grunts from the next bench or panting emanating from the neighboring treadmill. In-ear headphones are best at keeping out ambient noise, while on-ear headphones and earbuds (like the ones that came with your iPod) allow you to hear what's going on around you.
Keeping sound and sweat in mind, I've picked out the best headphones for every type of workout.
Swimming
Whether you're jumping in the pool, taking a run in the rain or merely a heavy sweater, a waterproof pair of headphones like the H2O Audio Surge 2G
are a great choice. The in-ear style seals out water and delivers high-quality sound. There are five different size eartips to ensure a proper fit, which is especially important for swimmers. The Surge 2G can be used down to 12 feet.
Price: $28
Outdoor sports
The Sennheiser Adidas PMX 680i Sports Headset
has excellent speakers that sit over, not in your ear, so you can hear what's happening around you. There's a reflective stripe on the neckband to provide extra visibility and safety at night. Plus these headphones are rated as water resistant, which means you can sweat or even go out in a light rain and not worry about ruining them. They come with an in-line mic and iPhone's Voice Control and music navigation.
Price: $66
Indoor sports/Walking
Shockingly light, the critically-acclaimed Etymotic hf3
in-ear headphones have a wide dynamic range that lets you hear more of your music. You get interchangeable silicon noise-isolating ear tips as well as ear tips made of sponge-like foam, which allow in some ambient noise. Plus, a new Awareness app (free on Apple.com) listens for sounds louder than normal background noises and either lowers the music or vibrates your iPhone when the app hears a loud noise. The headphones have an in-line mic and support iPhone's Voice Control and music navigation.
Price: $146
Discussion
New Articles on Techlicious