The Best Tax Apps for Android and iPhone
Techlicious editors independently review products. To help support our mission, we may earn affiliate commissions from links contained on this page.
While filing taxes isn't fun, at least it's never been easier. Thanks to a bunch of apps now available for Apple's iOS and Android, you can track your expenses, donations and even file your return using your smartphone.
But not all tax apps are created equal. Just like every other app category, there are good ones and those that should never have seen the light of day. Plus, with increasing concern about identity theft and malware apps, it's critical to know that the tax apps you're using for your most sensitive information are ones that you can trust.
I went through the choices and winnowed the list down to the most useful apps from reliable providers.
Tax Filing
For those with the simplest returns, you can file from your smart phone with TurboTax SnapTax (Free, Android Market and iTunes). First you answer a few questions to see if you qualify for filing using the app. It will only file a 1040EZ, so that means no dependents or real estate ownership; income only from W-2s, interest and unemployment; and income of less than $80,000 for single people or $100,000 combined for that are married. While the app is free, there is a $14.99 filing fee for state and federal taxes.
Tax Questions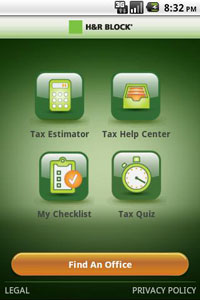 If you've got tax questions, the best app for answers is H&R Block Tax Central (Free, Android Market and iTunes). It has common questions and answers broken down by categories like "Adjustments and Deductions," "Income," "Interest and Dividends," among others; a glossary of tax terms; and news relating to law changes and what constitutes a tax audit red flag. There are helpful checklists for when forms are due and what forms you need to fill out your taxes. And once you've filed, you can use the app to check on the status of your refund.
If you want to hear about your refund from the horse's mouth, check out the official app from the Internal Revenue Service, IRS2Go (Free, Android Market and iTunes). Those that file electronically can check the status of their refund starting about 72 hours after they receive an email acknowledgment saying the IRS received their tax return.
Tracking Deductible Expenses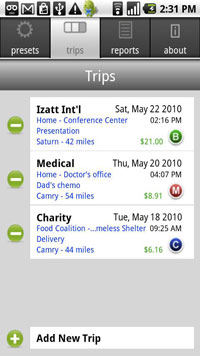 For those that donate items to charity or keep detailed lists of expenses, there are a few really useful apps you can use throughout the year to make tax time easier. For charitable donations, IDonatedIt ($2.99, Android Market and iTunes) stores the date, charity name and address and a picture of the donation receipt. At the end of the year you can email a report to yourself and your accountant.
If you track a lot of itemized expenses, turn to Tax Organizer (Free, at iTunes plus $14.95 per month). It captures the who, what, where, when and why of your business and personal expenses, plus a picture of your receipt for later reference. The service backs up your picture receipts for three years, provides audit protection and lets you export your data to an Excel or CSV file. Android and Blackberry apps are coming later this month. Or if you only need to account for your tax-deductible mileage, try MileBug ($1.99, Android Market and iTunes).
Discussion
New Articles on Techlicious