The Best Vacation Rental Sites
Techlicious editors independently review products. To help support our mission, we may earn affiliate commissions from links contained on this page.
I love hotels with their bath robes, gyms and maid service. When I'm heading out for a week-long summer vacation with the kids, though, I prefer renting a home or condo.
Most rentals are more spacious than hotel rooms, and come with a living room, a dining area, kitchen and sometimes even laundry facilities. Plus, you can cook in or eat out, which saves money and aggravation, especially for those of us with small children.
Since rentals are usually someone's home, they're located in places where the locals live. If you're traveling to a foreign country, this can be a great opportunity to have a more authentic travel experience.
Now is prime time for booking vacation rentals, so I've pulled together a list of the best places to start your search.
FlipKey
FlipKey.com, a TripAdvisor site, offers the company's signature five-star user reviews—giving you real travelers' views of the pros and cons of any particular property plus specific ratings on everything from cleanliness and service to overall value. Choose from more than 100,000 properties from locations around the world.
HomeAway
HomeAway.com has an extensive range of rental properties, 185,000 from locations around the world. Fortunately a great search engine makes it easy to narrow down the results by destination, rental type (everything from cottages to condos) and bedroom and bathroom count. And you can pay a little extra for the HomeAway Carefree Rental Guarantee ($39 for a $3,000 rental), which will help you recoup your losses if the rental isn't as it was represented on the site, the property was double booked or the home has been foreclosed on.
Airbnb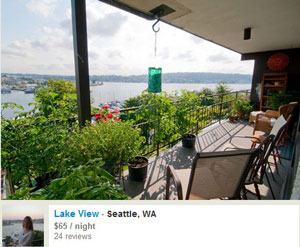 As soon as you start reading the listings on Airbnb.com, you'll know you're not on a regular rental site. First, in addition to an entire home or apartment, you can choose to a private room or to share a room in your host's place. You can see in the reviews that guests enjoy spending time interacting with their hosts. This could be a plus for foreign travel, and you can choose the language your host speaks. There's also a huge range of property types including boats, automobiles, igloos, treehouses and lighthouses, in addition to the usual cabins, houses, villas and apartments. Airbnb holds onto your payment for 24 hours after you check in, just to make sure everything is OK.
Discussion
New Articles on Techlicious