Your Kids Are Out of Shape: Get Them Moving!
Techlicious editors independently review products. To help support our mission, we may earn affiliate commissions from links contained on this page.
"Go outside and play" is not something you hear parents utter very often these days. According to the Alliance for Childhood, children now spend 50% less time in unstructured outdoor activities than in the 1970's due to reduced opportunities for recess in schools, lack of time on the parents' part, increased TV and computer game usage, and increased worry about crime and safety. In fact, children aged 10 to 16 now spend, on average, only 12.6 minutes per day in vigorous physical activity.
So what can we as parents do about it?
In addition to facilitating more play time (a recommended 60 minutes each day, outdoors), you can help your kids get themselves moving (and away from the TV) by offering incentives that reward them for exercising. There are now a range of products available that help you both measure how much exercise your kids are getting and offer tangible rewards for their efforts, such as gift cards to Amazon or Toys R Us.
GeoPalz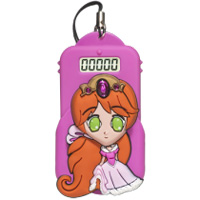 GeoPalz is a popular pedometer ($20) line customized just for kids. Kids can choose between various designs, such as Sports, Rock, Cutesy, and Edgy. Once kids choose their pedometer, they "walk to win" by recording their steps online to redeem gift cards, prizes and awards. Prizes are free, parents just pay shipping and handling.
Older kids with iPhones can download the free GeoPalz app to use with their pedometer, which lets them to track physical activity via a numerical pedometer, a map showing how many steps they've taken or a GPS map with their total distance.
Switch 2 Health's S2H Replay
The Switch 2 Health's S2H Replay digital watch ($19.95) is also a fun way to earn rewards for exercising. Not only is it available in lots of kid-friendly colors, the watch format is not as foreign to them as a pedometer. The S2h Replay will tell them when they've reached 60 minutes of physical activity, after which, a code will appear and allow them to redeem gift cards from Toys R Us, Amazon, and more. A frowning face will appear to let them know that they aren't moving enough, a happy face when they are on the right track.

Zamzee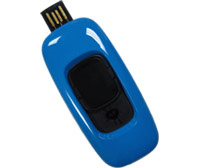 Later this year, Zamzee will launch an incentive-based device aimed at teens. Your teen can wear the Zamzee meter, which will record their physical activity, but is not limited to walking. It also tracks skateboarding, dancing, cheerleading, and more. At the end of the day, they connect their Zamzee to the computer, and their activity will actually power their online account. For example, you can convert activity into currency that you can spend online at the Zamzee store.
Discussion
New Articles on Techlicious