My mother is looking for a new car to replace the beat-up Saab she's been driving for the last thirteen years. But, like many of us, she finds prospect of walking into a car dealership to negotiate the price on a new car somewhere below having a root canal on the pleasantness scale. And if she's not prepared, she could end up paying thousands more than she should. So she asked me, her all-knowing son, for advice on what to do.
Fortunately, a lot has changed since she bought her last car. With car shopping sites, she can now get detailed guidance on what she should be spending for a vehicle and remain in complete control of the whole negotiation process. And she doesn't even need to set foot in a showroom until she's ready for a test drive.
How to determine a fair price
Before you buy, it is critical to arm yourself with information about the actual dealer cost. Dealer cost is the invoice cost for the vehicle and any options, less any current manufacturer to dealer incentives and "holdbacks," which are special payments dealers receive for each vehicle they sell. Never negotiate down from the inflated MSRP (the Manufacturer's Suggested Retail Price, often called the "sticker" price); this is a trick dealers use to make you think you're getting a deal, but it ignores the huge mark-up the MSRP represents over the dealer cost.
Edmunds and Kelley Blue Book (KBB) both offer detailed pricing reports that provide complete insight into dealer cost for any car, including options and dealer incentives. On top of that, Edmunds "True Market Value" and KBB's "Purchase Price Range" provide estimates for what other buyers in your area are actually paying for the vehicle. Both of the services are free.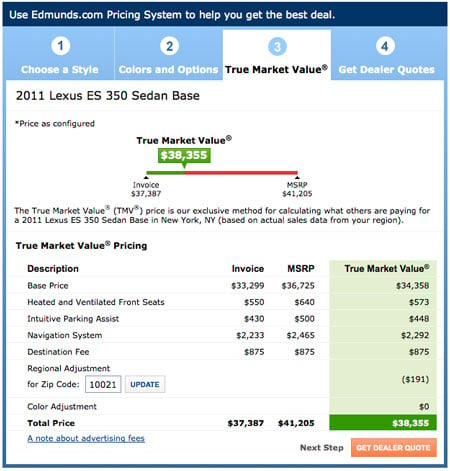 It also pays to check around for owner forums (just Google search for the model and make of your desired car and "forum"). Often recent buyers will discuss the prices they were able to negotiate and the dealers who offered it to them.
Contacting the dealers
Once you understand the price you should be paying, it's time to let the dealers compete for your business.
Edmunds and KBB will let you submit a quote request to dealers in your area directly from their sites — no need to go into the dealership and listen to a hard-sell from some shady salesperson. Many dealers have special "Internet sales managers" to handle your request. The Internet sales managers have the most flexibility to give you the best price with the least hassle. They can also arrange test drives, which, of course, is a must before you buy any vehicle.
One downside with Edmunds and KBB is that you reveal your contact information to the dealers. If you want to conduct your negotiations anonymously, CarWoo! lets buyers and dealers communicate through the CarWoo! site; the buyer's personal information is not revealed until he or she has selected the offer they want. Another advantage of CarWoo! is that dealers can see the deals others are offering, so they compete amongst themselves for your purchase. CarWoo! offers a Basic plan with 2-3 dealers for $49.00 or a Plus plan with 3-5 dealers for $99.00.
If you don't want to negotiate at all, both CarsDirect and Consumer Reports offer pre-negotiated pricing through their network of dealers. In both cases, though, you're paying a premium to avoid negotiating. CarsDirect prices were often $500-$1,000 higher than the True Market Value estimates on Edmunds, and Consumer Report's "Build & Buy" pricing was as much as $2,000 higher, in the case of a 2011 Lexus ES 350 my mother is considering. These price discrepancies will vary depending on the make and model you choose.
My experiences with Consumer Reports "no-haggle" Build & Buy service was decidedly mixed. One dealer was very professional and offered me a price lower than what Consumer Reports quoted. Another dealer's saleswoman was the exact opposite. She told me the base model ES 350 I wanted wasn't available and refused to quote me a price unless I came into the dealership for their "big sales event". She even went as far as to imply that the base Lexus ES 350 I wanted didn't come with power windows (it does) and that her dealership only sells fully loaded models. When I tried to press her on a price quote, she made the classic car salesperson switch of "How much do you want to spend a month?" So much for "no-haggle".
Special considerations for leasing
If you're planning to lease your vehicle, negotiating the price is just as important. The monthly lease cost you see advertised in the newspaper or at the dealership is almost always based on the car's sticker or MRSP price. Negotiate down the price, and you're also negotiating down the basis for the monthly lease payments. However, lease contracts can be quite complex and a number of factors will influence the amount of your payment.
Good luck and have fun with your new vehicle!