We may earn commissions when you buy from links on our site. Why you can trust us.

Best Laptop Under $500: Dell Inspiron 17
Update 4/28/2014: The Dell Inspiron 17 we originally recommended is still available on Amazon. However, a newer model is available for $476.98 with an updated 4th generation i3 processor, but only 4GB of RAM and a 500GB hard drive. We believe most people would benefit more from the additional RAM and hard drive capacity of our original recommendation over the newer model.
The Dell Inspiron 17 wins our award for Best Laptop Under $500 with solid performance, a large display, yet surprisingly sleek and light-weight design.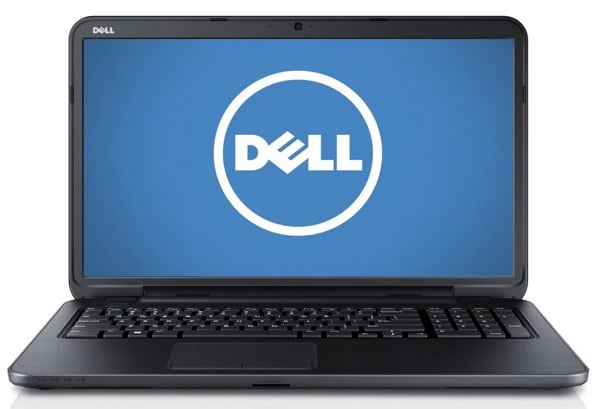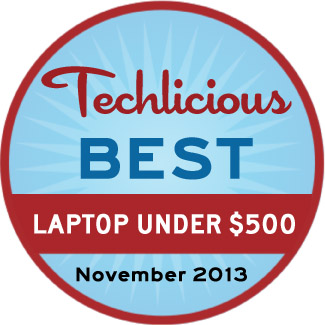 Scoring a good laptop for $500 or less used to mean waiting for Black Friday or buying a netbook or other low-powered machine that chokes when asked to go beyond basic tasks. Now there are a number of decent laptops available at this low price.
But when I reviewed laptops for the Best Under $500, I wanted something more than decent. I wanted speedy performance, an operating system without unnecessary restrictions, a quality display, decent battery life and a chassis that isn't too heavy or chunky relative to the size.
Among the most impressive budget laptops available right now, the Dell Inspiron 17 fits those criteria best. Available in multiple configurations, the $448 (at the time of this writing) model with Intel's third generation Core i3 processor provides that balance of power and price.
Buying budget
With sub-$500 laptops, the most important aspects to focus on are hardware quality and performance, since this is where you should compromise least.
Like almost all notebooks in this price range, the Inspiron 17 has a plastic chassis, not a metal one. This isn't the most premium material, of course, but the Inspiron doesn't feel cheap or poorly made. And for a budget laptop with a large 17.3-inch display, it's surprisingly sleek at 1.17 inches thick and relatively light at 5.8 pounds. Most desktop replacements weigh at least 6 pounds, usually closer to 7. If you want a big screen plus a thin and light design, you'll have to seek out much more expensive notebooks.
The Inspiron 17's size has another benefit: plenty of full-size ports and an integrated optical drive.
Dell often delivers comfortable keyboards with springy keys and plenty of space between them; the Inspiron 17 is no exception. Due to the size, you'll get a full number pad on the right. The touchpad is spacious and responsive, so pulling off multitouch and Windows 8 gestures doesn't require effort; important on a laptop without a touchscreen, since it makes navigating Windows 8 easier.
Though it does not come with touch capabilities, the 17.3-inch display is still impressive. The 1600 x 900 pixel resolution is high for a budget system; most only offer 1366 x 768, while on a more expensive machine I'd expect full HD 1080p at this size. The pixel density is just enough for fonts to stay crisp and to take good advantage of the screen real estate.
Touchscreens aren't unheard of in the sub-$500 market, but they tend to be smaller due to the expense. If touch is a necessity, check out the alternative below.
Choose your configuration
The Inspiron's performance prowess depends on which model you choose. There are multiple configurations of the Dell Inspiron 17 available, but only one that I recommend for the budget-minded.
That configuration is the $448 model with an i3 processor, 6GB of RAM, Intel HD graphics and a 750GB hard drive. With these internals, the Inspiron 17 is powerful enough to handle dozens of browser tabs, HD video, large spreadsheets and documents, multitasking, games played on lower intensity settings and even light video editing.
The energy-efficient processor and user-replaceable, six-cell battery combine to offer around four to five hours of battery life. That's not stunning, but it's quite good for a desktop replacement.
An even less expensive $399 configuration is available with an Intel Pentium processor, a chip found inside many budget laptops lately. I don't recommend this for several reasons: It's much slower, comes with a smaller battery and has less powerful graphics. You'll get much better value if you spend $100 more.
The Dell Inspiron 17: Review roundup
Other reviewers rate the Inspiron 17 highly, too, with both Laptop Magazine and PCMag giving it four out of five stars.
Sherri L. Smith of Laptop Magazine says the Inspiron delivers "solid everyday performance" and can easily "juggle mainstream tasks with ease, such as social networking and light productivity tasks." Laptop also likes the overall aesthetics, saying the Inspiron "doesn't look cheap."
PCMag's Joel Santo Domingo praised the diamond-cut texture on the lid, since it "makes the system easy to grip when you're toting it around the house." Of the keyboard, PCMag notes that the "non-backlit, chiclet-style keys are comfortable to use and feel better than the sometimes spongy ones on other budget systems."
Both agreed with me about the responsive touchpad, a key feature in any laptop.
Dell Inspiron 17


An Inspiron 17 alternative
The Inspiron 17 is a larger laptop, which not everyone wants, even if it is light for the size. If that's a deal-breaker, Dell offers a good alternative in the Inspiron 15.
Here you'll find many of the same features that make the Inspiron 17 great, such as an attractive and not too heavy design (5 pounds), comfortable keyboard, and powerful configuration options that aren't too expensive.
There's even a touchscreen config available for $479.99 on Amazon, though you only get 4GB of RAM and a 500GB hard drive. That may be an acceptable trade-off for people who want a laptop they can carry around more easily.
---
Discussion