iPhone Fitness App Throwdown: Nike+ GPS vs. Adidas miCoach
Techlicious editors independently review products. To help support our mission, we may earn affiliate commissions from links contained on this page.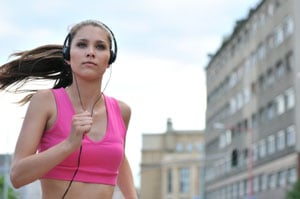 The Adidas miCoach (free) and Nike+ GPS ($1.99) iPhone training apps provide the motivation you need to get off your ass or take your fitness routine to the next level. They're the best apps I've tried, but as you'll see neither does it all.
Setting up a Fitness Plan
Whether you're just getting into running, training for a sport or interested in running your first half marathon, there's a plan you can sign up for on either the Nike+ site or the miCoach site. The plan will guide you what days to work out, for how long and at what pace.
The Nike site is geared more to athletes and runners, with a notable lack of plans for people who are just looking to get fit or lose a few pounds. The miCoach site has more training plans overall and more that are geared to the beginner, including ones entitled "De-stress," "Be Fit" and "Lose Weight."
Within each plan you can select your fitness level. MiCoach has more levels and starts at a lower fitness level. For instance, "Be Fit" at level one is recommended for people who can only walk for 15 minutes at a time or less, perfect for seniors or those who need to lose a significant amount of weight.
MiCoach uses four exertion zones to guide you through your workout—blue for a warm-up pace, green for a medium level of exertion, yellow for working hard and red for the fastest you can run for 30 seconds. Until you reach a high fitness level and are looking to run faster, your plan won't have you running in the red zone.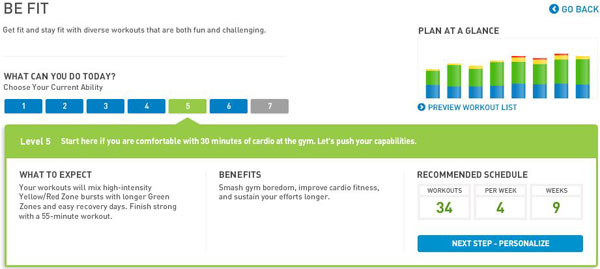 Tracking your run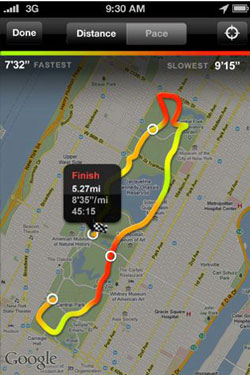 Both miCoach and Nike+ GPS rely on your iPhone's GPS receiver to accurately track your run. The apps track current pace, distance and time, which you can see at any point while on your run. The apps also calculate an estimated number of calories burned, taking into account your height, weight, gender and age.
At the end of your run, you can view your route on a map. With the Nike+ GPS, you can also see how fast you ran at any given point on your route (shown right).
In addition, Nike+ GPS will use the phone's built-in accelerometer to gauge distance indoors.
Using your iPhone's GPS to track your run will drain your battery at an accelerated rate. And the Nike+ GPS app requires you to leave the display on or it will shut down the app, which drains the battery even faster. The miCoach app will continue to run even if you turn off the display. Both apps have a lock function, which enables you to lock the screen and still see be able to see pace, time, distance and other updates.
Coaching while running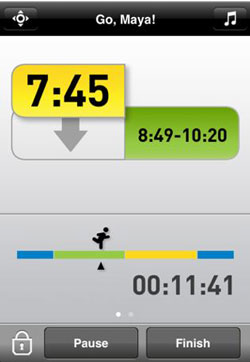 Nike+ GPS puts you in charge of your workout. You can check your plan online to see how far you're supposed to run that day or you can challenge yourself to run further, faster or longer. There are no updates while you're running, though, that tell you how you're doing in relation to your goal—but you can set auditory reminders to update you on your current time, distance and pace.
miCoach will guide you through your workout, telling you which zone you should be in, when you get into your zone and if you stray from your zone (shown right). You can also schedule auditory prompts based on time or distance.
Charting your progress online
When you're done with your run, you sync the data to your Nike+ GPS or miCoach online account. There you can see a graph of your run based on pace or the run itself on a map, including notations on elevation. In a timeline view, you can see all of your workouts based on distance for both apps (nike+ site shown below). miCoach also lets you view them by pace, elevation and steps per minute.
Both apps give out awards when you've reached a milestone like your fastest mile. Nike+ GPS goes one step further with motivational videos from famous athletes.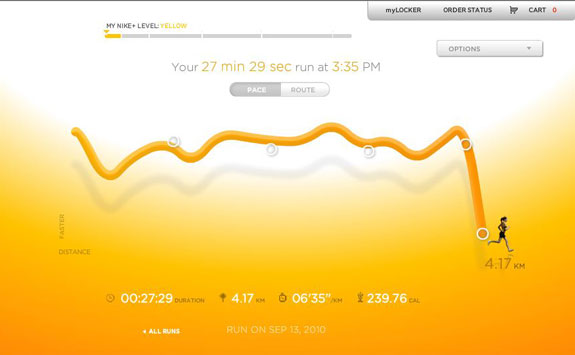 Music
Both apps list you select an iPod playlist to listen to while you're working out. You can skip tracks, pause the audio or switch playlists on screen, and both are compatible with the headphone inline controls. Nike+ GPS also lets you select a "Power Song" for those times when you need a little extra motivation.

Which app should you use?
The Adidas miCoach edges out Nike+ GPS because of its ability to provide real-time, pace-based motivational coaching and the variety of fitness plans the miCoachoffers. However, miCoach loses its ability to track your pace if you run inside on a treadmill and it won't run on an iPod Touch. In those situations, the Nike+ GPS is a great alternative.
Discussion