Jabra Stone Bluetooth Headset has a Discreet Design and Innovative Case
Techlicious editors independently review products. To help support our mission, we may earn affiliate commissions from links contained on this page.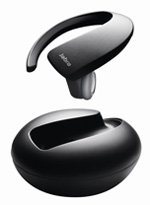 The Jabra Stone Bluetooth headset is an inconspicuous and innovative new model that offers extra convenience. Its unique shape at once wraps around and fits inside the ear, with no protruding microphone extending to your cheek. And like a puzzle piece, it fits inside a nifty case that doubles as a portable charger and extends the headset's battery life to eight hours of talk time from two hours.
Both the headset and the case get charged together when they're plugged into a wall outlet. On the go, the case juices the headset from its own power reserve when the two are put together.
When the headset is in its case and actively paired with a cell phone, the extra power also results in a standby time of up to 12 days, Jabra says. This is possible because the headset goes into a "deep sleep mode" while it is in the case. If the phone rings, simply removing the headset from the case switches it on, ready to be used to answer the call with a tap on its bottom edge.
Another nice design feature is the volume control: Swiping a finger up or down the Stone's outside face raises or lowers the headset's sound level. And the Stone has a Bluetooth technology named A2DP built in, so it can be used to listen to music sent wirelessly by a compatible cell phone—though, of course, you won't hear stereo with it feeding sound to only one of your ears.
"Multiuse" technology allows the Stone to connect with two different cell phones simultaneously.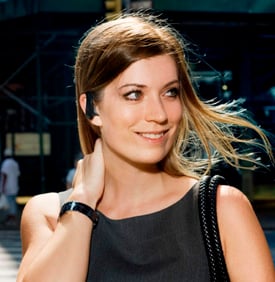 Nevertheless, the Stone is hardly an ideal cell phone headset. My brief trial—over a couple of days in Washington, D.C. and New York, pairing the Stone with a Motorola W490 on the T-Mobile network—didn't reveal any big advantage in sound quality, ease of use or comfort for the Stone compared with other Bluetooth headsets I have used.
Jabra's Noise Blackout Extreme is supposed to improve the clarity of the user's voice for the person who's listening at the other end of the conversation. Unfortunately, when I used the Stone in D.C. while surrounded by loud trucks, my conversation partner said he heard lots of noise. He was speaking to me on his cell phone. But in other instances when I was speaking from a quiet room back in New York, I was told my voice sounded muffled—and these times the other person was using either an old-fashioned phone line or an Internet-based Vonage phone line.
At only 0.25 ounces, the Stone is the lightest Bluetooth headset Jabra has ever offered, and I often forgot that I was wearing it. However, it also is available only in a right ear version, and I prefer wearing cell phone headsets on my left ear. (It is not possible to flip the over-the-ear part of the Stone to change it to a left-ear position. But for added comfort and perhaps a more secure fit, Jabra does include different sizes of gel tips for the Stone's in-ear speaker.)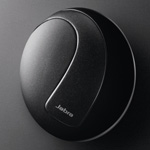 Jabra Stone ($130): Buy Now at AT&T Wireless
Discussion