Kill A Watt EZ Helps Slash Your Energy Bills
Techlicious editors independently review products. To help support our mission, we may earn affiliate commissions from links contained on this page.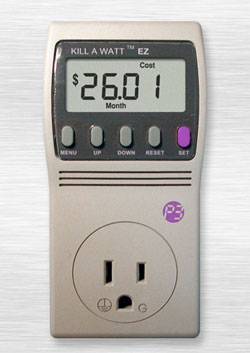 I am continually afraid to open our monthly power bill as it seems to take a greater percentage of our income each month. The one thing that's different this year is that we have a greater awareness of our actual power usage around the house and which devices can send our monthly electric bill sky high.

My knowledge comes via my father-in-law, who introduced me to a gadget called the Kill A Watt EZ that measures power consumption by the kilowatt-hour, the same metric used by your local utility company. Here's how it works. You input the kilowatt-hour cost that appears on your monthly bill, plug any device and the Kill A Watt EZ will calculate the device's electric bill by the day, week, month, even an entire year with the push of a button.
Start by checking the price projection when the device is plugged in but turned off. Some devices use power just plugged into an outlet. Then let the Kill A Watt EZ monitor the device for at least 24 hours. That way the Kill A Watt can take into account your usage patterns and the power needs of appliances that cycle on and off throughout the day.
Once I started using the Kill A Watt EZ, I was surprised by the amount of electricity that our laptops, printers and even digital photo frames consumed, particularly when they weren't even on. For instance, one of our laptop computers rang up at $31 a year, and even on standby it was still costing us around $10 just to have it plugged in. A smaller netbook computer was noticeably less at $10 per year, and only $3 on standby.
When you start adding these numbers up, it comes as no surprise why our monthly power bill is as high as it is. So to combat this, we started assessing powering off or completely unplugging devices when they aren't in use and using power-saving powerstrips for our home office and home theater. The savings might have appeared as mere dollars per month, but using the Kill A Watt EZ may save us upwards of $100 a year, which would be a great return on the cost of the gadget.

Kill A Watt EZ ($60): Check price at Amazon.com
Discussion