Manage All Your Accounts in One Place with Manilla
Techlicious editors independently review products. To help support our mission, we may earn affiliate commissions from links contained on this page.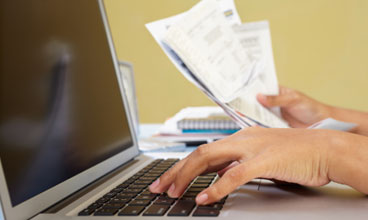 There's a website I just started using that may change my life, or at least restore some of my sanity.
Here's why: I have a minimum of 64 online accounts—although I've likely forgotten a few. That's because managing so many of them is downright unmanageable.
The first ten on my alphabetical list: Amazon, AT&T, Banana Republic, Basecamp, Bit.ly, Chase, ClickInks, Consumer Reports, Craigslist and Delta Airlines. You get the drift, and you likely have a similar lineup yourself and know that keeping track of passwords for all those accounts can be difficult, to say the least.
Another problem I have is remembering which days money is automatically taken out of my bank account to pay certain bills. But not all my bills are set up on auto pay so I also need to know when others are due so as to go online and pay them—usually in the nick of time.
Then there are frequent flier programs—I can never remember how many miles I have in each one, which means conjuring up the correct user name and password combination to check.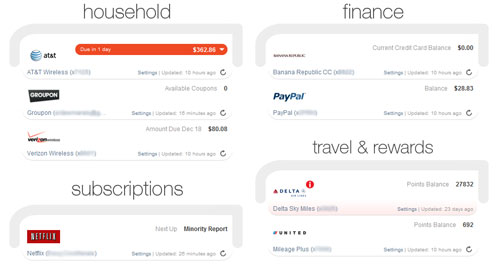 Enter Manilla, a free website and mobile app for iPhone and Android that lets you manage your bills, financial accounts, travel reward programs and subscriptions in one place, with one password. All major cell phone carriers, nearly every cable, satellite and telecom provider, all major and regional banks and nearly 200 utility companies are accessible at the site, as are Groupon, Living Social and Netflix. That means, from one dashboard you can see multiple balances at once, when payments are due or if there are any issues you need to attend to.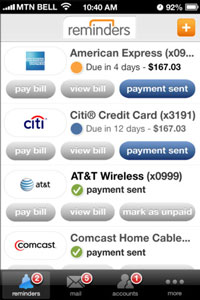 Setting it up only takes a few minutes. Initially, you'll need to provide Manilla with the login credentials for each account you want it to access, but after doing so you only need to use your email address and Manilla password to log on, as well as answer a security question each time. The important thing is to create a very strong password for this master account.
Currently on Manilla you can get access to 1,200 companies, some of which pay a fee to connect with their customers paperlessly there because it's cheaper for them in the long run compared with the cost of printing and sending statements in the mail.
And while I still prefer to read paper magazines and newspapers, you can also link those subscriptions to your Manilla account. The inclusion of this feature makes sense when you consider that Manilla is a company incubated within and backed by the Hearst Corporation, one of the most diversified private media companies in the world.
One thing I like is Manilla's online storage and that's because every January when I'm making piles of paper statements for tax preparation inevitably I'm missing a few. Manilla automatically retrieves, sorts, organizes and files your account documents for you and you can keep them there for as long as you want as well as download, print or email them.
You can also set custom email or text alerts when due dates are approaching, which, in theory, should cut down on missed or late payments.
But is it safe to keep so much of your financial information in one online spot?
Like any time you decide to use a cloud platform, you're only going to have access to your stuff if you have Internet access. I normally do, so I don't worry too much about that. Plus, Manilla has mobile apps for Apple iOS and Android devices so you'll be able to access your data through a smartphone or tablet.
In addition, Manilla says it uses bank-level security and is monitored and verified by TRUSTe, Verisign, McAfee, and other security agencies.
Really, the only problem I have with Manilla is that it doesn't yet give me access to all companies I do business with. There's an area to suggest new ones, however, so I'm hoping that will change.

Discussion