Motorola Cliq 2 Review (T-Mobile)
Techlicious editors independently review products. To help support our mission, we may earn affiliate commissions from links contained on this page.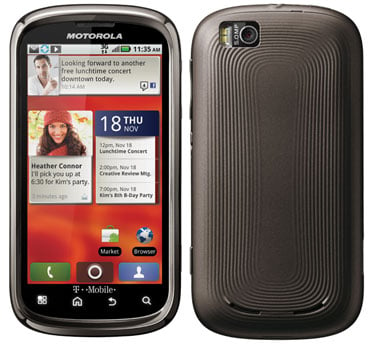 The Motorola Cliq 2 ($99.99) may not be the most advanced phone on the market, but a week of hands-on review proved it to be a solid phone at a very compelling price. And though I'm not a fan of physical keyboards on phones, the Motorola Cliq 2's raised buttons provide one of the best typing experiences I've had outside of BlackBerry.
The closest competitor to the Motorola Cliq 2 on T-Mobile is the HTC MyTouch 3G Slide (also $99), which was a great phone when it was released last July, but the Cliq 2 offers a far better package. Otherwise, you have to step all the up to the HTC G2 ($249), which gets you a better display, 4G speed and HD video, but at a much steeper price. The Cliq 2 is definitely the one to buy for T-Mobile keyboard fans who don't want to spend a bundle.
How it feels in the hand
The Motorola Cliq 2 is a solidly built phone, with a textured, rubberized back that feels comfortable and secure in your hand. At 4.56" x 2.3" x .57", it's almost identical in size to the MyTouch 3G and fits very well in the hand.
At 6.2 ounces, the Motorola Cliq 2 is roughly the same weight as other keyboard sliders, but more than an ounce heavier than models without a keyboard, such as the HTC MyTouch 4G. So consider whether a keyboard is really a necessity for you.
Overall build quality is high and the slide-out keyboard feels solid and operates smoothly.
Display and sound
The display on the Motorola Cliq 2 is a slightly small (compared to other Android phones) 3.7-inch 854x480 LCD touchscreen, but display quality was crisp and clear with nice contrast. Not up to the quality of the Super AMOLED displays of the Samsung Galaxy S line, but perfectly acceptable.
Sound from the built-in speaker was pretty good for a cell phone, but don't look for it to power your beach party.
Making calls
Like other T-Mobile phones I've tested, the Motorola Cliq 2 delivered very good call quality in New York City. So if you're in a location with strong T-Mobile coverage, you should expect the same.
The Cliq 2 also offers Wi-Fi mobile calling, which allows you to make and receive calls over Wi-Fi. The calls still go against your plan minutes, but it can be a lifesaver in areas with no network coverage (as it was for me last week on a ski trip in rural Massachusetts).
Web browsing & mobile hotspot
The Motorola Cliq 2 is, unfortunately, "only" a 3G phone. Nonetheless, it regularly delivered excellent download speeds of around 2Mbps, peaking as high as 2.9Mbps. Those results are nearly the same as my tests with the MyTouch 4G and Samsung's newest Galaxy S 4G (though the Samsung peaked as high as 6.5Mbps). Proving that real world conditions often still trump 4G technology.
The Cliq 2 runs Android 2.2 and will support Flash.
The Motorola Cliq 2 can act as a mobile hotspot for up to five devices. As on any Android device, it's easy to set up. Check T-Mobile for additional fees with your plan.
Camera and video recording
The Motorola Cliq 2 has a 5MP camera with an LED flash and can shoot 480p video. Camera quality was decent, though somewhat washed-out and noisy in low-light conditions. Video quality was only fair. Controls are basic, but easy to use.
Keyboard and navigation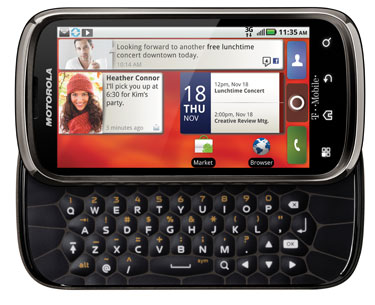 Though I am not a fan of physical keyboards on phones, I still have a soft-spot in my heart from back in my days typing away on a BlackBerry. The Motorola Cliq 2 is one of the only keyboards from a manufacturer other than BlackBerry that I've actually enjoyed using. It has raised, well-spaced keys that make it easy to distinguish letters while typing. On the downside, the keys are a little stiff and it would have been nice if there were some additional shortcuts, such as a ".com" key.
Motorola also included Swype on the Cliq 2 for super-fast on-screen typing.
The Motorola Cliq 2 uses Motorola's Motoblur overlay on Android. Annoyingly, you are required to create a separate Motoblur account when setting up your phone, which becomes just one more id and password to remember.
The Cliq 2 has a 1GHz processor (significantly faster than the 528MHz processor on the previous Cliq). Overall navigation speed and app performance was fine, though there were occasional stutters.
Storage
The Cliq 2 comes with a 2GB microSD card, expandable up to 32GB.
Battery life
The Motorola Cliq 2 battery life was as good as or better than most other smartphones I've used recently. It easily lasted me through the day under normal usage. Official talk time is 7.9 hours, with standby time of 13 days.
Pricing and availability
The Motorola Cliq 2 is available through T-Mobile for $99.99 with a new, two-year customer agreement. You can also pick it up for FREE on Wirefly.com or $19.99 on AmazonWireless— that's a pretty good price.
Should you buy it?
As I've said, I'm not a fan of physical keyboards. But if you are, this would be the one I would get on T-Mobile.
Rating: Highly Recommended (if you want a physical keyboard)
Detailed Specs
Talk and Standby Time: Up to 7.9 hours talk time.
OS: Android 2.2 (Froyo) with Motoblur
Network: WCDMA 850/1700/2100, GSM 850/900/1800/1900, HSDPA (Category 9)
Weight: 6.2 ounces
Dimensions: 4.6" x 2.3" x 0.6"
Battery: 1420 mAh
Display: 3.7" FWVGA LCD (480 x 854)
Video: 480p HD video recording
Camera: 5.0 megapixel, Auto Focus, flash, digital zoom
Front-facing camera: No
Processor: 1GHz
Memory: 512MB RAM, 1GB on-board, 2GB microSD card included (expandable to 32 GB)
Wi-FI: 802.11 b/g/n
Wi-Fi Hotspot: Yes, up to five devices
Colors: Titanium
Discussion