Review of the Quirky Aros Air Conditioner
Techlicious editors independently review products. To help support our mission, we may earn affiliate commissions from links contained on this page.
Quirky Aros Air Conditioner ($199)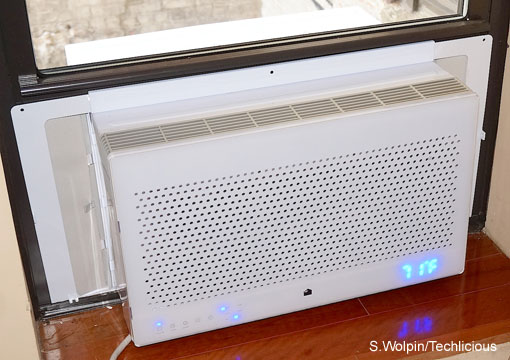 We are rarely more thankful than when we wander into a cool, air-conditioned room or building from the sweltering, summer heat. Ahhhhh!
Coming home, however, usually means wandering in from that heat into a sweat lodge. We then blast the AC at the lowest temperature and the highest fan setting and stand in front of it waving our sweaty shirt in an effort to cool off.
You can end this exercise in contracting pneumonia and busting your utility budget with the world's first smart air window conditioner, the Quirky Aros. Aros, the first offering from the Home Depot/Wink single-app smart-home system, lets you really remotely control your home cooling. And, with the Home Depot/Wink app, you can control other Wink-compatible devices with the same software.
Aros's primary benefit its ability to turn your AC to a more power-efficient low setting while you're still at the office, gradually cooling your abode for when you get home. The Aros app is filled with a plethora of other smart automatic settings; once completely set, you might never have to touch the app or the Aros again — at least until the leaves start to fall.
But like any 1.0 technology, there is room for the Aros to improve, both physically and functionally.
Aros aesthetics and operation
Aros is the prettiest window AC I've seen. Smart, skinny and beautiful. Maybe I should hate it?
Made by GE, Aros is similar to any other air conditioners you've slid across a sill, with one exception – its fan air vents are located on the top of the unit and blow up and out at a 45-degree angle and are non-directable. Otherwise, Aros is a familiar 13.5-inch high window unit with retractable wings and all the necessary hardware included. It'll fit into any double-hung windows between 24.5 and 40.5 inches wide.
This first Aros edition provides 8,000 BTU, which should cool a room between 300-350 square feet, depending on sun exposure and room insulation; the company says 5,000 and 12,000 BTU units will be available for next summer.
Aesthetically, Aros is a pristine plastic white plastic with a perforated filter on the front and touch controls along the bottom. At 45 pounds, one reasonably strong human should be able to lift Aros into place.
When you first turn Aros on, a series of bright powder-blue LEDs and a temperature level light up along the bottom. This display disappears after about a minute of inactivity.
The temperature display can be a bit confusing, however. Instead of showing the temperature you set it at, Aros displays the current room temperature, which isn't always accurate. One night, I went to turn off the unit via the app, which indicated the room temperature was 85 degrees, which was nuts since the unit had been on for hours at 68 degrees. I turned Aros off, waited 10 seconds, turned it back on and, sure enough, both the app and the unit said the room was 85 degrees. On another occasion, the app indicated it was 0 degrees in my living room.
Aros aural issues
Many early online user reviewers complained that Aros is too noisy. But the Quirky people insist they've sound-tested Aros and found it was no louder than any other 8,000 BTU AC unit they tested.
Taking some rough decibel (dB) measurements from 12 feet away, my 10-year-old 5,000 BTU LG AC set on high measured around 55 dB; the Aros set on low measured over 60 dB.
My own comparative research indicates Aros is louder than other similarly-sized and similarly or lower-priced 8,000 BTU window units, as well. For instance, the Fridgidaire FRA086AT7 ($223 on Amazon) is rated at 52.5 dB on low, and the top-rated LG LW8012ER ($239 on Amazon) is rated at 54 dB on low. I can't be sure of this dB comparison since GE (and Aros) doesn't supply a rated decibel rating for its AC units.
(Just how loud is 50-60 dB? AirCon has posted a handy sound level infographic that lets you hear how loud many common sounds are. This infographic, and a couple of other sources, pegs the average AC unit at around 50 dB. By comparison, the average vacuum cleaner runs at 70 dB, conversational speech is 60 dB, and Rice Krispies in milk pop around 30 dB.)
App aesthetics
Aros's aural excesses may be excusable, given its intelligence.
Overall, the app layout could be clearer. The home screen viewed in portrait mode (held vertically) displays the set temperature in big power-blue numerals with up/down carats for adjustment, the current temperature in small grey numerals, then the Cool/Eco/Fan mode settings and the Low/Med/High fan speeds.
Tap the three dots in the upper right-hand corner of the Aros home screen to find an Activities list, Schedule settings, the smart settings and varying Help resources. (Weirdly, the Aros's smart functions are listed under "Aros" instead of being simply labeled "Smart." Weird because, after all, everything here is "Aros.")
Smart operations
As noted, Aros's primary benefit is the ability to turn it on or off with your chosen temperature, mode, and fan-speed settings from wherever you are, or set a timing schedule.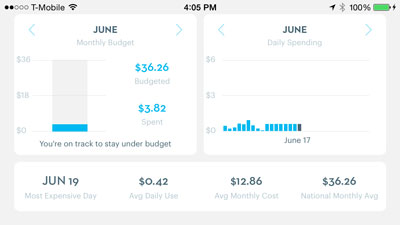 Inside the app under "Aros" are three "smart" settings, each of which can be turned on or disabled: Smart Scheduling, Smart Budget, and Smart Away.
Smart Scheduling allows the app to track your regular comings and goings and your corresponding Aros adjustments over a period of time. The unit will then begin to automatically turn the AC on or off as it assumes you would. (Since I work at home and don't have a regular schedule, I was unable to test the intelligence of Smart Scheduling.)
Aros also can figure out what you pay for power, according to your Zip Code. Smart Budget lets you set a monthly AC budget based on this power cost estimate, and suggests adjustments to help you stay within that budget. When you turn your mobile device from portrait to landscape (horizontal) mode, the app switches from its main settings view to a budget view. You can now see how much your AC is costing you on a day-to-day basis, as well as your average daily costs, your average monthly costs, and the national average monthly costs. If you go over budget, you'll get a push notification.
Smart Away presents two options: away and arrive. When you get beyond or within 50 meters (around 150 feet) from Aros, it will either turn on or off according to your specified settings.
For me, Smart Away worked most of the time, and sometimes from even farther away, including two New York City blocks. One overarching problem I had with checking to see if Smart Away worked was being able to tell whether my Aros was on or off to begin with.
Theoretically, when the unit is off, the settings on the app's Home Screen are greyed out. When Aros is on, the settings match the powder-blue LEDs on the unit itself. But the app didn't always reflect Aros's actual condition. I'd open the app to turn the unit on, but would find the indicators were powder-blue, indicating that it was already on when it really wasn't. I found that closing the app then rebooting it was the only way to accurately tell if my Aros was truly on or off.
Fortunately, Aros software engineers are constantly tweaking the app to improve it.
What's missing
What Aros really needs is a simple, "stupid" IR remote, just like the one almost every other AC unit available has, so you don't have to reach for your smartphone each time you just want to turn Aros on or lower the fan speed or temperature.
The Aros people told me they have heard this same no-remote complaint from a number of its early customers, and have indicated they might add one to future models.
As far as Aros's intelligence is concerned, what's really missing, in my humble opinion, is a built-in indoor thermometer that operates when the unit is off. An inside thermometer could be the smartest smart trigger – Smart Ambience, perhaps? With it, Aros could be set to automatically go on at specific pre-determined settings if the room temp rises above a set temperature and/or humidity level.
Summary
Aros is a tiny bit pricier than most other 8,000 BTU window AC units, but its unique smarts are definitely worth the premium — even considering the raise in intelligence these smarts still need. Since Aros seems slightly louder than some of its less-intelligent 8,000 BTU competition, it should only be considered if your room doesn't contain a TV and/or is on the larger side of the 300-350 square foot room size. Figure out how many BTUs you need in our guide to buying an air conditioner.
Discussion