Review of the Motorola Atrix 2 (AT&T)
Techlicious editors independently review products. To help support our mission, we may earn affiliate commissions from links contained on this page.
After losing its exclusivity as the provider of the iPhone, AT&T finally started to put together a solid roundup of Android devices. The Motorola Atrix 2 is an excellent addition to that group, offering a strong feature set and performance at a reasonable price.
As the successor to the original Atrix 4G, the Atrix 2 adds a larger display, faster (potential) data speeds and more megapixels in the camera. But it retains the same processor and display resolution — this is clearly an evolutionary, not revolutionary, step forward.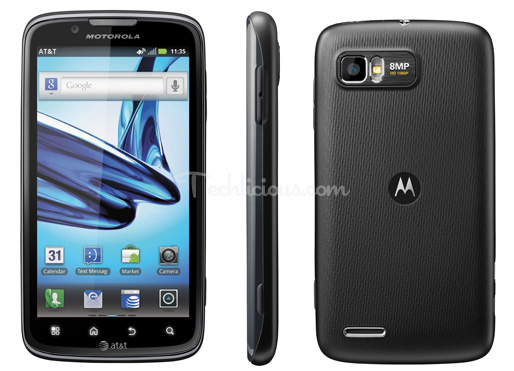 How it feels in the hand
The Motorola Atrix 2 feel great in my hand, even with its 4.3" display. Like the Motorola Photon on Sprint, it has rounded edges and a textured back that make it very easy to hold. And at 5.18 ounces, the Atrix 2 is relatively light, as well.
Buttons on the side for volume control and the camera shutter are smoothly integrated into the side - great for design, not so great for actual use.
Display & Sound
The Motorola Atrix 2 has a high-resolution 4.3" qHD (960 x 540) display covered with nearly-unbreakable Gorilla Glass. The display is larger than the original Atrix's 4" screen, but resolution remains the same. The Atrix 2 display is bright and has very good contrast. Text was also sharp. Really, a lot to like here.
The built-in speaker was plenty loud, with excellent sound quality. Call quality was very good as long as AT&T's network held up - my experience in New York City and Las Vegas was a mixed bag.
The Atrix has a mini-HDMI out or you can purchase the optional HD Multimedia Station ($99) that lets you connect up to three USB peripherals.
Web browsing & mobile hotspot
The Atrix 2 supports AT&T's 21.1Mbps HSPA+ networks, up from the 14.4Mbps speeds on the original Atrix. In practice, you're not going to see speeds anywhere close to those numbers on either phone. But the Atrix 2 did deliver speeds about double what we saw back in February when we tested the original Atrix. Average download speeds were in the 4Mbps range, with a peak of 8Mbps - the fastest of any AT&T phone we've tested so far.
The Atrix 2 can act as a mobile hotspot for up to five devices.
Camera & video recording
The Motorola Atrix 2 has an 8MP rear-facing camera (up from 5MP in the original) that takes average pictures for a high-end smartphone. Results were very similar to the Photon's, with accurate (if muted) colors but quite a bit of noise, even in good lighting conditions. Controls are very basic, with just a handful of scene modes and not much else. Shot times were generally slow and often out of focus. The Samsung Galaxy S II or iPhone 4S would be a better option for photo enthusiasts.
On the front there is an .3MP VGA camera.
The 1080p video on the Atrix 2 was smooth, with none of the jiggliness or stutters common in other phones, though details were unimpressive. Certainly not what you would expect from a 1080p camera.
Keyboard & Navigation
The Motorola Atrix 2 runs Android 2.3.5 Gingerbread. Pre-installed apps are generally not obtrusive and can now, for the most part, be uninstalled (thank you!). The Atrix 2 has a mid-range 1GHz dual-core processor that provides fine performance in menus and programs.
The 4.3" display offers a well spaced keyboard, with both Swype and a multitouch keyboard built-in.
Like the Atrix and Photon, the Atrix 2 is compatible with Motorola's Lapdock 100 ($249.99). The Lapdock is essentially a laptop display and keyboard that comes to life when you plug-in your phone. It works acceptably for browsing the web and editing files, but still seems like a bizarre solution to a problem that is more effectively solved with a tablet or small laptop.
Storage
The Motorola Atrix 2 comes with 8GB of onboard storage and a 2GB SD card, expandable to 32 GB.
Battery life
The Motorola Atrix 2 delivered very good battery life. With moderate usage, it would easily last more than 24 hours, and more than 48 with light use.
Pricing and availability
The Motorola Atrix 2 is available for $99.99 from AT&T with a new, two-year customer agreement. Or you can pick it up from Amazon Wireless
for $49.99.
Should you buy it?
The Motorola Atrix 2 is a solid phone at a very reasonable price. I've been using it regularly for over a month and have been very pleased with it. Data speeds are the best I've measured on AT&T, the display is very attractive, it is comfortable to hold and battery life was excellent (for a smartphone).
If you find a 4.3" display too large or are looking to save some money (or both), the original Atrix 4G offers most of what you find on the Atrix 2 for $70 less. And if photo quality is very important to you, the Samsung Galaxy S II ($149) or iPhone 4S (starting at $199) will deliver better results.
Overall, I highly recommend the Atrix 2. For AT&T customers, it should definitely be on your short list.
Rating: Highly Recommended
Detailed Specs
Talk and Standby Time: Up to 8.5 hours talk time, up to 15.9 days standby
Band/Modes: GSM/EDGE 850/900/1800/1900
OS: Android 2.3.5
Weight: 5.18 oz
Dimensions: 4.96 x 2.59 x 0.40 inches
Battery: 1785 mAh
Display: 4.3" qHD LCD (960 x 540)
Video: 1080p
Camera: Rear-facing 8.0 megapixel, Digital Zoom, Auto Focus, Dual LED flash
Front-facing Camera: .3 megapixel
Mobile hotspot: Up to 5 devices
Processor: 1GHz Dual Core
Memory: 1GB RAM, 8GB onboard storage and microSD slot up to 32GB (2GB card included)
Discussion