Review of the Motorola Atrix 4G (AT&T)
Techlicious editors independently review products. To help support our mission, we may earn affiliate commissions from links contained on this page.
The Motorola Atrix 4G was AT&T's first 4G phone (now joined by the HTC Inspire, Samsung Infuse, and HP Veer), and provides a very compelling Android choice to what had been a pretty weak selection for AT&T customers. But in addition to coming out a a very strong smartphone competitor, the Motorola Atrix has some unique docking options that put it in a class all its own—notably a laptop-like base that turns your Atrix into a portable computer.
Where the Atrix 4G falls behind in my review is not in its hardware, but with its carrier. The Atrix 4G speeds are no match for Verizon's LTE network, which delivers about 6x the download and upload speed capabilities in our testing.
How it feels in the hand
The Motorola Atrix is the perfect size for a smartphone. At 4.64" x 2.5" x 0.43" it is slightly shorter than the Samsung Captivate and fits very comfortably in my hand. I would prefer a rubberized back in stead of the smooth plastic one, but it doesn't detract significantly from your grip. The Motorola Atrix is also pretty light at 4.76 ounces.
Volume buttons on the top right side are easy to access, as is the large power button on the top rear.
Display & Sound
The Motorola Atrix has a high-resolution "qHD" display covered with nearly-unbreakable Gorilla Glass. Motorola is calling it qHD because at 540 x 960 pixels it is one quarter of Full HD resolution (1080 x 1920). This is the highest resolution display we're aware of on an Android phone, and nearly identical to the iPhone 4's famed "Retina" display at 640 x 960.
Beyond the specs, what the qHD display delivers is super-sharp text and vibrant colors and offers more space to display content than on standard Android phones. The flipside is that text appears smaller in menus and most apps, which may not work well for those with less than stellar eyesight.
The built-in speaker was very good, as was music from the headphone jack.
The Atrix has a mini-HDMI out on the side so you can watch your content on your big screen.
Web browsing & mobile hotspot
AT&T advertises the Atrix as a 4G phone. Whether AT&T's network is truly 4G is arguable (see: The Fastest 4G? It's No Contest). But what is clear is that AT&T's 4G network is only slightly faster than its 3G network. I typically received download speeds of around 2-3 Mbps in New York City, but there was considerable inconsistency in those results, with speeds often dipping to around 1 Mbps. Upload speeds were even more erratic. Verizon's LTE network, where we experienced download speeds around 6x faster than AT&T in our testing, makes AT&T's 4G network look downright dated.
The actual web browsing experience on the Atrix was excellent. The dual-core processors rendered pages quickly and made for fast scrolling, and the full Mozilla Firefox browser is capable of displaying almost all Flash items.
The Motorola Atrix can act as a mobile hotspot for up to five devices.
Camera & video recording
The Motorola Atrix has a 5MP rear-facing camera that takes about average pictures for a high-end smartphone. Shots were a little under-exposed and noisy in low light, though color accuracy was very good. Controls are basic, with just a handful of scene modes and not much else.There is also a dual LED flash.
On the front there is an unimpressive .3MP VGA camera—most other cameras in this league are now using 1.3MP front cameras.
The 720p video recording from the Atrix was also average for a smartphone, which is to say that it's not that great. Video was jiggly, with some stutters, and was slow to get the correct white balance.
Keyboard & Navigation
General navigation was what you would expect from Android 2.2—which is very good. There are seven panels, each customizable with various widgets and apps. The high-resolution display shows more apps per screen than most other Android devices, but with smaller icon and text size—whether that's a positive or negative will depend on how good your eyesight is.
The keyboard is well spaced and Swype is built-in, but there is no multi-touch option, which means extra keystrokes for numbers and symbols.
The Motorola Atrix 4G has a powerful dual-core processor that flies through menus and programs with ease. Games that we had issues with stuttering on our first-generation Samsung Vibrant caused no problems for the Atrix.
Storage
The Motorola Atrix 4G comes with 16GB of onboard storage and a slot for up32 GB microSD card.
Battery life
Battery life on the Atrix was very good. It comes with a massive 1930mAh battery that lasted well over 24 hours under normal usage.
Atrix Laptop Dock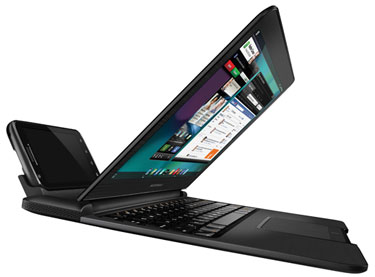 The most unique feature of the Atrix is its accessory Laptop Dock, which can turn the Atrix into a true mobile computer. The Laptop Dock has an incredibly thin design with an 11.6-inch screen, full keyboard, stereo speakers, and its own battery that delivers up to eight hours of battery life. You simply dock your Atrix 4G into the back of the Laptop Dock and you're up and going. Very cool.
The laptop dock is 2.4 pounds, which puts it in the range of a MacBook Air or small netbook—not bad for traveling. But take out the phone and it's just a dead weight. And though it has a full Mozilla browser, you won't be able to load PC programs such as Office. I was also disappointed that the mouse pad is not multi-touch, nor can you double tap to open applications.
The Atrix Laptop Dock also doesn't come cheap. At $399.99, it's as expensive as most netbooks and almost as much as an iPad 2.
Pricing and availability
The Motorola Atrix 4G is available for $199.99 from AT&T with a new, two-year customer agreement. Or you can pick it up from AmazonWireless for $99.99 — that's a very good deal considering what the Atrix has to offer.
Should you buy it?
The Motorola Atrix is my favorite Android phone on AT&T and, at $99 through AmazonWireless, it's a very good deal. You may not be blown away by AT&T's 4G speeds (I wasn't), but it is a step up from 3G. And once you get stuff loaded, the Atrix processor has the power to move things along smoothly. When you add in the high-resolution display and the relatively long battery life, the Atrix is a solid choice.
As far as the Laptop Dock, I would pass. It's a very cool idea and generally well implemented, but the limitations of the software and the price are a drag. If it comes down to $199, it will be much more compelling.
Rating: Highly Recommended
Detailed Specs
Talk and Standby Time: Up to 9 hours talk time, up to 10.4 days standby
Band/Modes: GSM 850/900/1800/1900 MHz
OS: Android 2.2
Weight: 4.76 oz
Dimensions: 4.64 x 2.5 x 0.43 inches
Battery: 1930 mAh
Display: 4" qHD LCD (960 x 540)
Video: 720p
Camera: Rear-facing 5.0 megapixel, Digital Zoom, Auto Focus, Dual LED flash
Front-facing Camera: .3 megapixel
Mobile hotspot: Up to 5 devices
Processor: 1GHz Dual Core
Memory: 1GB RAM, 16GB onboard storage and microSD slot up to 32GB
Discussion
New Articles on Techlicious