Review of the Motorola Droid 4 (Verizon)
Techlicious editors independently review products. To help support our mission, we may earn affiliate commissions from links contained on this page.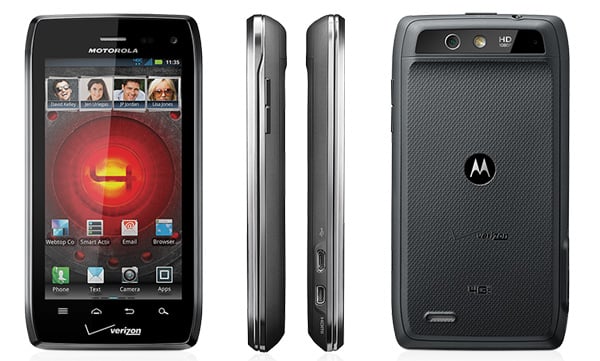 Motorola Droid 4 review summary
The Motorola Droid 4 is a solid phone that feels good in the hand, performs tasks well with its 1.2Ghz dual-core processor and makes use of Verizon's super-fast 4G LTE network. Plus, it has a fantastic slide-out keyboard.
On the downside, the Droid 4's battery life is barely enough to get through a normal day, which is typical for most Verizon 4G LTE phones. And the camera is lackluster, like its brethren the Motorola Droid Razr and Motorola Droid Razr Maxx.
So the question is whether a slide-out keyboard can tip the scales. Read on to find out.
How it feels in the hand
The Motorola Droid 4 is a solidly built phone, with a textured back that feels comfortable and secure in your hand. It's heavy at 6.31 ounces and thick at 0.5", due to its slide-out keyboard. But compared to other phones with slide-out keyboards, if's slim.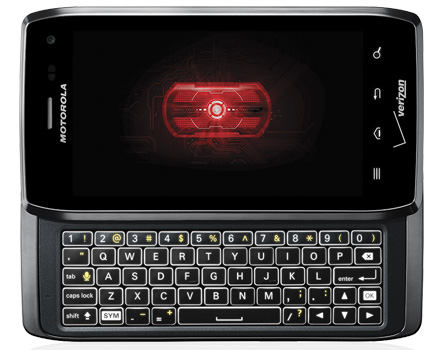 The backlit keyboard is a pleasure to use. Each key feels distinct and the depth each key travels when pushed is just right.
Display & Sound
The Motorola Droid 4 has an unimpressive 4-inch qHD display (960 x 540). Viewing angles are poor and you can actually see the pixel structure, creating a "screen door" effect. With a pixel density of 271ppi, though, at least the text looks crisp. And it's made from Gorilla Glass, which makes it virtually scratch-proof.
The built-in speaker on the Droid 4 was loud and clear. Standard calling volume is good as well.
Web browsing & mobile hotspot
The Motorola Droid 4 uses Verizon's 4G LTE network for blazingly fast download and upload speeds. In New York City, I regularly get download speeds of 17-20 Mbps (with a peak of 23 Mbps), and upload speeds from 8 - 12 Mbps.
Combining that 4G speed with the Droid 4's 1.2 GHz dual-core processor and 1GB of RAM made for a snappy browsing experience.
The Motorola Droid 4 can act as a mobile hotspot for up to 8 devices.
Camera & video recording
The Droid 4 uses an 8MP camera, which delivered disappointing results–unfortunately similar to the Motorola Droid Razr Maxx and Motorola Droid Razr. It takes a long time for the camera to focus, even in bright light, which means lots of out-of-focus shots in low-light situations. Noise in low-light shots was also quite apparent. And in better light, colors were washed out, though they had a nice level of detail.
Video quality was not much better. The 1080p HD video was also washed out and the camera had trouble finding the correct subject to focus on. At least the video was stutter-free, but not without jiggliness in the image.
Keyboard & Navigation
The Motorola Droid 4 is running Android 2.3 Gingerbread and MOTOBLUR. The processor keeps everything flowing smoothly and navigation is well designed. Both multi-touch and Swype keyboards come pre-installed.
Like the Droid Raxr Maxx and Droid Razr, the Droid 4 has the ability to create "Smart Actions", rules that let you do control a range of functions from power saving to ringer volume to app launching, based on your location or time of day. The rules are composed of "Triggers", such as arriving home, and "Actions", such as turning off 4G and turning on Wi-Fi. Creating the rules is as simple as identifying your Trigger(s) and clicking on the actions you want to occur.
Storage
The Motorola Droid Razr Maxx has 16GB of onboard memory and a microSD card slot for up to an additional 32GB.
Battery life
Battery life on the Droid 4 was about average for a 4G LTE phone, which means it barely got through the day with normal use. Unfortunately Motorola decided not to make the battery user replaceable, so you can't carry an extra.
Laptop Dock
Like other advanced Motorola phones, the Droid 4 can use the Motorola accessory Laptop Dock, which can turn the phone into a mobile computer.
Pricing and availability
The Motorola Droid 4 is available from Verizon for $199.99 with a new, two-year customer agreement. Or, you can purchase the Droid 4 from AmazonWireless for $99.99.
Should you buy it?
I can only recommend the Motorola Droid 4 if you want a slide-out keyboard. Due to the keyboard, the phone is bulky and heavy. Plus, it gets mediocre battery life and has a disappointing camera.
For most, the keyboard-less Motorola Droid Razr Maxx is a better option. It's lighter, slimmer and gets much better battery life.
Rating: Neutral
Detailed Specs
Talk and Standby Time: Up to 12.5 hours talk time, up to 8.5 days standby
Band/Modes: CDMA Dual band/LTE
OS: Android 2.3.5 Gingerbread
Weight: 6.31 oz
Dimensions: 2.8 x 5 x 0.5 inches
Battery: 1785 mAh
Display: 4" LCD (960 x 540)
Video: 1080p with image stabilization
Camera: Rear-facing 8.0 megapixel, Auto Focus, LED flash
Front-facing Camera: 1.3 megapixel (720p video)
Mobile hotspot: Yes, up to eight devices
Processor: 1.2GHz Dual Core
Memory: 1GB RAM, 16GB onboard storage and microSD slot (expandable to 32GB)
Discussion