Review of the Motorola Droid Bionic (Verizon)
Techlicious editors independently review products. To help support our mission, we may earn affiliate commissions from links contained on this page.
The Motorola Droid Bionic is one of the best Android phones Verizon has in its lineup right now. It's blazingly fast with a 1GHz dual core processor, 1GB of RAM and access to Verizon's 4G LTE network. It's capable of taking 1080p HD videos. Plus it's a well-made, attractive phone, with nice metallic accents and a soft-touch finish, that fits nicely in your hand, despite its 4.3-inch display. This is a big advantage over cheap, plasticy feel of its main competition, the Samsung Droid Charge.
The Droid Bionic's disappointment is its still camera, where the Droid Charge excels. It's almost impossible to take a blur-free photo with the Droid Bionic in low-light situations and autofocus takes forever.
So it comes down to whether the camera is important to you. If it is, you'd be better off with the Samsung Droid Charge. If not, you'll be happy with the Motorola Droid Bionic.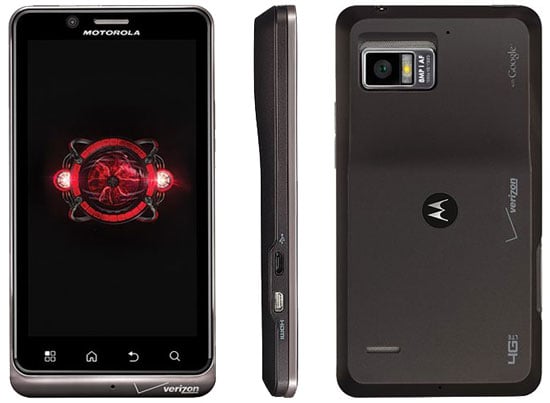 How it feels in the hand
Weighing in at 5.6 ounces and with a 4.3-inch display, the Motorola Droid Bionic is one of the larger Android phones on the market. Yet, it feels good in my relatively small hand. Some of that is due to the velvety soft finish on the back of the device, which provides a great grip.
The volume rocker on the top left side is easy to access.
Display & Sound
The Motorola Droid Bionic has a relatively large 4.3-inch qHD display (960 x 540). There's nothing special about the display, but it's decent. And it's protected with Gorilla Glass, which makes it virtually scratch-proof.
The built-in speaker on the Motorola Droid Bionic was pretty good for a phone, easily providing enough volume for my office space. Standard calling volume was good as well.
Web browsing & mobile hotspot
The Motorola Droid Bionic is a 4G phone, and blazingly fast. Similar to the Samsung Droid Charge and HTC Thunderbolt, I regularly got download speeds of 17-22 Mbps, and upload speeds from 5 - 7 Mbps in New York City (see: The Fastest 4G? It's No Contest for an idea of how much you get with a 4G versus a 3G phone).
With the Motorola Droid Bionic's large display, snappy processor and speedy network, web browsing was a pleasure. And with Flash 10.3, there weren't any compatibility problems.
The Motorola Droid Bionic can act as a mobile hotspot for up to 5 devices.
Camera & video recording
The Motorola Droid Bionic has a 8MP rear-facing camera that disappoints. It takes a long time for the camera to focus, even is bright light, which means in low light situations it's almost impossible to get a blur-free shot. The colors in the photos were somewhat washed out, though, those photos that were in focus did have a decent level of detail.
Video quality was much better. First, it takes video in 1080p HD, which means it looks great when you output it to an HD display through the phone's dedicated HDMI port. And while there is still the washed out color problem and a little of the stutter common to cell phone video, overall the quality was above average.
There is VGA front-facing camera for video chat.
Keyboard & Navigation
The Motorola Droid Bionic is running Android 2.3 Gingerbread and MOTOBLUR, both of which I am a fan of. MOTOBLUR has a great selection of resizable widgets, though it would have been nice to have 7 screens instead of its 5.
With its fast processor, navigation was smooth and apps loaded quickly. You can choose between multi-touch text input and Swype, my favorite.
Storage
The Motorola Droid Bionic has an included 16GB and 16GB of onboard memory.
Battery life
Battery life on the Motorola Droid Bionic was average for a 4G phone running on the LTE network, which means it barely lasted through a 9 to 5 work day. If I kept the 4G network off except when absoultely necessary, it lasted through the day.
Laptop Dock
Like the Motorola Atrix, the Motorola Droid Bionic can use an accessory Laptop Dock, which can turn the phone into a true mobile computer. The Laptop Dock has an incredibly thin design with an 11.6-inch screen, full keyboard, stereo speakers, and its own battery that delivers up to eight hours of battery life. You simply dock your Motorola Droid Bionic into the back of the Laptop Dock and you're up and going.
The laptop dock is 2.4 pounds, which puts it in the range of a MacBook Air or small netbook—not bad for traveling. But take out the phone and it's just a dead weight. And though it has a full Mozilla browser, you won't be able to load PC programs such as Office. I was also disappointed that the mouse pad is not multi-touch, nor can you double tap to open applications.
The Laptop Dock also doesn't come cheap. At $289.99, it's expensive, as much as some netbooks, and is only compatible with the Droid Bionic.
Pricing and availability
The Motorola Droid Bionic is available from Amazon Wireless
for $149.99 with a new, two-year customer agreement or $219.99 with a two-year contract extension. Or, you can purchase it from Verizon for $299.
Should you buy it?
I really like the Motorola Droid Bionic. It's super fast and it looks and feels great in my hand. My one hang-up is the camera. The lag when taking photos is really annoying and it would be nice to capture unblurry low-light photos. But I don't take a lot of photos with my phone, so its benefits outweigh the mediocre camera. That's a choice you'll need to make for yourself, though.
Rating: Recommended
Detailed Specs
Talk and Standby Time: Up to 10.8 hours talk time, up to 8.3 days standby
Band/Modes: CDMA Dual band/LTE
OS: Android 2.3 Gingerbread
Weight: 5.6 oz
Dimensions: 2.6 x 5.0 x 0.4 inches
Battery: 1735 mAh
Display: 4.3&rdquo LCD (960 x 540)
Video: 1080p
Camera: Rear-facing 8.0 megapixel, Auto Focus, LED flash
Front-facing Camera: VGA
Mobile hotspot: Yes, up to five devices
Processor: 1GHz Dual Core
Memory: 1GB RAM, 16GB onboard storage and 16GB microSD card (expandable to 32GB)
Discussion
New Articles on Techlicious