We may earn commissions when you buy from links on our site. Why you can trust us.

Ring Video Doorbell Pro 2 vs Pro - Is It Worth the Upgrade
Ring, the biggest name in video doorbells, recently released the Ring Video Doorbell Pro 2, an update to its flagship wired video doorbell, the Ring Video Pro, which launched in 2016. Ring's Video Doorbell Pro 2 looks like its predecessor but has new features like a larger head-to-toe field of view, 3D motion detection, and mapping of where people go when they come onto your property. In addition, it offers enhanced HD+ video and crisp, clear two-way audio. However, it also comes with a higher price tag of $249, compared to $169 for the Ring Video Doorbell Pro. Are the new video features worth the extra money?

I've been using the Video Doorbell Pro 2 for about a month, swapping it out to replace my original Video Doorbell Pro that I've had for years. The larger field of view lets me see packages on the ground that I couldn't see before, and I can hear responses from the two-way audio much clearly. More importantly, I can see where visitors to my property are coming from and which direction they go when they leave, thanks to the Bird's Eye aerial viewpoint. These features, plus better motion detection and fewer unwanted alerts, make the Ring Video Doorbell Pro 2 well worth the extra $80. If you're in the market for a new cam, it's definitely the model I would recommend. Even those who own the Ring Pro may want to consider springing for the upgrade.
Design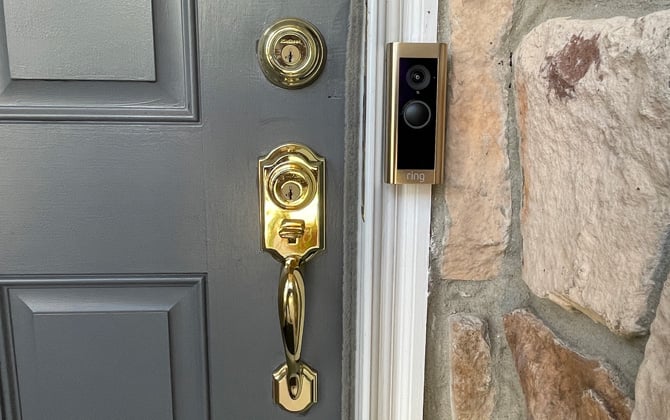 Not much has changed design-wise in the Ring Video Doorbell Pro 2. They are both wired doorbell cameras with a rectangular shape, which is helpful if you're mounting it on a narrow doorframe or area. The Pro 2 measures 4.4 by 1.9 by 0.8 inches (versus the Doorbell Pro's 4.5 by 1.85 by 0.8 inches). And like its predecessor, the Pro 2 has the camera on the top half and the doorbell button below, with an LED light that turns blue when it's rung. The unit is glossy black and ships with a Satin Nickel faceplate. Once installed and registered, you're eligible to order an extra, free faceplate from a variety of 16 colors to match your décor. The original Doorbell Pro shipped with four faceplate colors included.
Installation
If you're comfortable connecting wires, installation is straightforward for both the Pro 2 and Pro. Everything needed is included in the box; a screwdriver, mounting screws, an angled wedge adapter, and a Pro Power Kit, a small device that makes sure enough power is being sent to your Ring Video Doorbell to function.
Installing the Power Kit, which is installed in your home's existing indoor doorbell chime, was a bit confusing at first as I wasn't sure which wire went with which terminal on the transformer, but the documentation in the Ring app and the user guide were helpful. Once I connected the wires to the proper terminals and screwed them back down, it was onto the doorbell itself.
Installing the doorbell was as easy as disconnecting my existing doorbell, detaching the wires, and re-attaching the two existing wires to the new doorbell. Note that I previously had the same-size Ring Video Doorbell Pro installed, so no drilling was necessary. If you replace a standard hardwired doorbell, you'll need to drill holes in the stucco, brick, or concrete to mount the device.
Connectivity
The Pro 2 has a more advanced dual-band 802.11ac WiFi radio, versus 802.11n on the older Ring Pro. This made a big difference for my home's setup. With the Pro, I needed to use Ring's Chime extender accessory to reach my router – not so with the Pro 2. I also found that notifications are almost instantaneous now, whereas there was a slight lag before.
Video quality
There's only one difference between the Pro 2 and Pro when it comes to video quality. The Pro 2 has an enhanced video resolution of 1536 x 1536, a step up from the Full HD resolution (1080 X 1920) of the Pro, and a field of view of 150 degrees by 150 degrees (versus 160 degrees horizontal and 90 degrees vertical). The new square aspect ratio provides a head-to-toe view, which is a game changer. Now, when a delivery driver drops off a package, not only can I see their feet, but I can see the package on my doormat in front of my door, something that wasn't possible with the Pro version.
Like other Ring Video doorbells, the Pro 2 and Pro have color night vision. This isn't full-color night vision, it's colorized night vision that uses simulated color to fill in the video. The colors are not as vibrant as they are in the daytime, and it's sometimes difficult to make out the actual color of someone's clothing. But even at night, the picture was sharp enough to get a good look at the deer who's eating my flowers.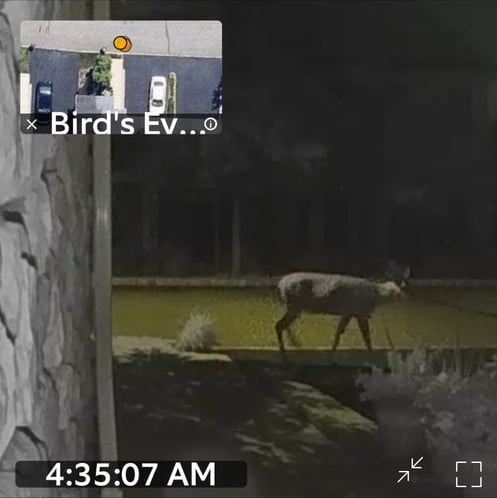 Without a subscription to Ring Protect ($3 per month/$30 per year for a single Ring device) you receive motion alerts and doorbell notifications, you can answer the doorbell when it rings, and you can check the Live View feed from the camera. The subscription enables a six-second pre-roll recording for motion alerts, saves your video history for up to 60 days, and lets you download and share your videos and images.
Motion detection and visitor tracking
For both the Pro 2 and Pro, you can create your perimeter, adjust motion settings, edit motion zones and set sensitivity levels. Motion zones are set by looking at what the camera sees and determining the area you want to be covered. Then, you can fine-tune the alerts you receive by using the motion-sensitivity slider. For instance, if you don't want to be alerted each time someone walks by with a dog, you can make it less sensitive. But, conversely, if you think you're missing events you want to see, you can make it more sensitive.
Beyond these similarities, the Pro 2 receives a big upgrade to motion detection with the addition of a radar sensor, which powers the new 3D Motion Detection feature. 3D Motion Detection measures the distance and the angle of approach of an object or person, more accurately determining when someone or something should trigger an alert. So you can set 3D Motion Detection for a perimeter of up to 30 feet, and you'll only receive motion alerts once a person passes the perimeter line. In my testing, I found that 3D Motion Detection eliminated the annoying spurious alerts for cars driving by or people walking in the distance that I used to get with my Pro.
An industry-first feature called Bird's Eye View lets you see where a person goes after they have crossed your Pro 2's motion-detection perimeter. You pinpoint your Pro 2's location for Ring on a satellite map of your home and, using the Pro 2's radar, the Bird's Eye View depicts the object or person's position as a series of yellow dots on the map. As the person moves, the older dots turn orange and more transparent and new yellow dots are created. For instance, I could see the path my UPS driver took as they walked to my front door, turned and went halfway back up my walkway, and then turned and walked across my driveway to go to my neighbor's house.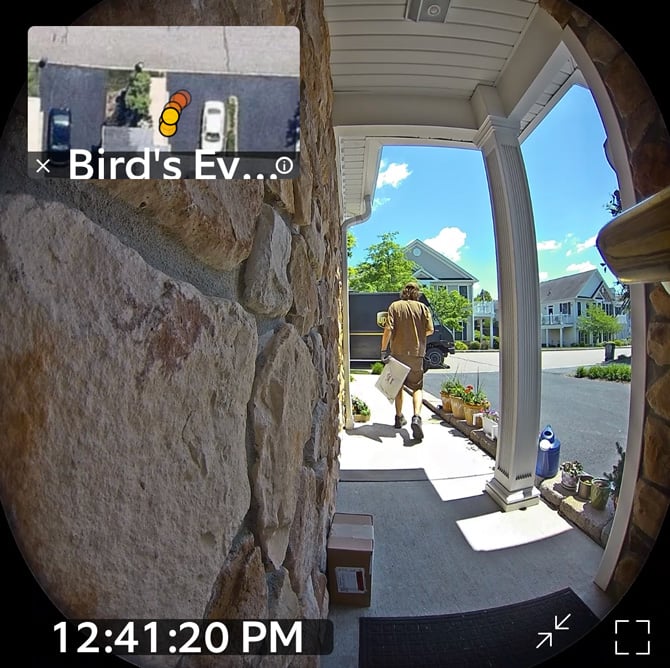 Without a subscription to Ring Protect, you can still access Bird's Eye View when you're looking at the Live View from your Ring's camera, but you won't have the recordings.
Alexa integration
Amazon owns Ring so, naturally, the Alexa integration works well, you will get the same features on the Pro and Pro 2. If you have an Amazon Echo Show or Echo Spot, you can set it up to show the live feed when someone rings the bell and control your video doorbell with your voice. You can also have Alexa answer the door for you after a set amount of time (0-20 seconds) when you don't answer the doorbell. Think of it like voicemail taking your calls.
There are two ways you can have Alexa answer the door, with Alexa Replies and with Alexa Greetings. With the Alexa Replies skill, Alexa will deliver a greeting and tell your visitor that they can leave a video message. Alexa Greetings, which requires a subscription, lets Alexa hold a conversation with visitors. Alexa will say "Hi, this is Alexa. May I know the purpose of your visit?" If the visitor is making a delivery, Alexa will tell them where to leave the package. Otherwise, Alexa will prompt the visitor leave a message.
Privacy concerns
Ring has come under fire for working with local police to provide video footage captured by Ring cameras, as well as reports of hackers accessing user's devices. Ring has patched the vulnerabilities to prevent hacking and added a Control Center dashboard to the mobile app so Ring owners can manage their privacy settings. To address concerns about police accessing video, Ring has a new setting that lets you determine whether local police can email you a request to access video from your Ring device.
Another potential privacy issue is Amazon's new Sidewalk feature, which automatically shares your WiFi home network with other Amazon device owners. The idea is that a small part of your internet bandwidth will be used to create a neighborhood network, along with other Amazon devices in your area. The benefit is that your Ring Video Doorbell can connect to WiFi through your neighbor's device if, for whatever reason, it can't connect through your own network. Sidewalk has multiple levels of security to insulate you from your neighbors. However, we have seen vulnerabilities in products and networks before and it's not unreasonable to think that Sidewalk would be an attractive target for hackers.
Amazon Sidewalk is turned on by default, and we recommend that unless you have a specific situation where you need Amazon Sidewalk to extend your WiFi network, you should opt out.
The bottom line
Ring's Video Doorbell Pro 2 is a big step up from the Pro. The reduction in false alerts, thanks to radar collecting more accurate motion information, and the ability to see a head-to-toe picture of visitors at the front door are game-changers. These upgrades, along with the map that shows where visitors go within your yard, make the Video Doorbell Pro 2 a better choice than the Pro and well worth the extra $80.
The Ring Video Doorbell Pro 2 is available for $249.99.


[Image credit: Techlicious]
Andrea Smith is an award-winning technology broadcast journalist, reporter, and producer. Andrea was the Technology Producer and an on-air Technology contributor at ABC News for over two decades before becoming the Lifestyle Channel Editor at Mashable, where she explored the ways in which real people, not just geeks, began using technology in their everyday lives.
---
Discussion