Samsung HW-Q800C Soundbar Review: Serious Sound, Unobtrusive Design
Techlicious editors independently review products. To help support our mission, we may earn affiliate commissions from links contained on this page.
When you watch a movie, there's a significant part of the experience that's invisible: the soundtrack. Whether it's Adele's soaring vocals in Skyfall or the low, ominous sound effects that fill All Quiet on the Western Front with dread, audio is essential to the home theater experience. Without it, you're definitely missing something.
Samsung's $800 HW-Q800C Soundbar fills out the picture with audio capabilities that can bring a blockbuster action flick like Top Gun: Maverick roaring to life or make you feel like you're sitting in front of the stage at the filming of Elvis. Better still, it can fill your living room with sound without also filling your living room with the clutter of multiple speakers and endless cables. The HW-Q800C soundbar is small enough to slide under most tabletop-standing 55- and 65-inch sets and its wireless subwoofer can easily be hidden under a coffee table or next to a couch.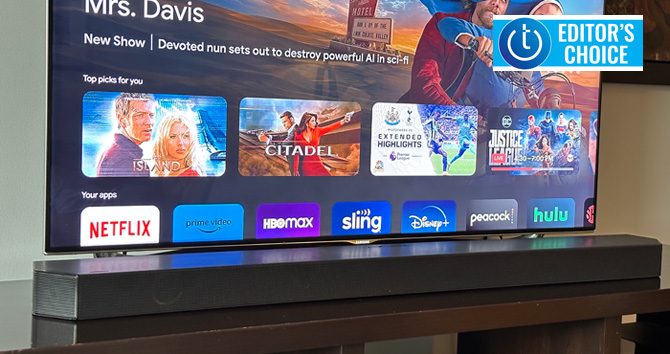 Features
Fitting all the speakers needed to create rich, cinema-like sound into a slim component that doesn't block part of the picture has always been a challenge. Samsung has managed to do it with the Q800C whose profile is just 2.4 inches high and 43.7 inches wide. (Last year's model that we reviewed, the Q800B, was an inch shorter, but it had two fewer speakers.) That is svelte enough to fit under most big-screen TVs, and it comes with wall brackets in case you need to match it with a wall-mounted TV.
The Q800C is what is known as a 5.1.2 channel sound system, which means that the soundbar has five full-range channels, three of which are aimed forward and two of which are aimed at the sides to produce a more immersive sound experience. Then there's one low-frequency channel (the separate subwoofer) and two upward-facing channels in the sound bar intended to boost 360-degree surround sound effects.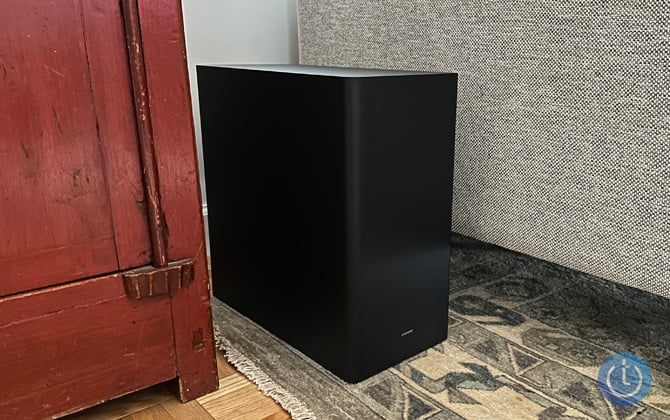 The net effect – backed by 360 watts of power – is room-filling sound that can decode most surround sound formats, such as DTS:X to make for the perfect movie night. The Samsung Q800C does particularly well reproducing popular Dolby Atmos soundtracks of streaming movies and shows, and it can handle a slew of high-resolution audio formats, including OGG (Ogg Vorbis), FLAC (free lossless audio codec), and ALAC (Apple Lossless Audio Codec).
To send music through the soundbar from your smartphone, the system also works with wireless Apple AirPlay2 and Google Chromecast. And it has Amazon's Alexa built-in, so you can order it to follow standard commands (like setting a timer for the popcorn while you continue watching the show). Additional wireless connections can be made over WiFi and Bluetooth. For connecting your TV, the Samsung Q800C has two HDMI ports (one input and one output) and one optical input; there are no analog inputs for older AV equipment.
Managing the Samsung Q800C is handled using a supplied remote control. The compact remote lets you switch inputs, pair a Bluetooth device, switch surround sound modes, and, of course, raise and lower the volume on the bar and subwoofer. The remote control doesn't have lit keys or an LCD display, so it can be tricky to operate in the dark, but a scrolling LED display on the soundbar itself alerts you whenever you change a source or setting. And there's the requisite smartphone app (Samsung's SmartThings software) for making more advanced adjustments. For example, some cable stations and services have a slight audio delay that can make singers seem like they are lip-syncing to songs; a timing adjustment in the Samsung app fixes that, in addition to letting you set special sound modes like a night mode that reduces the volume of low rumbling effects so that you don't keep the neighbors awake. There's also an equalizer should you find the music doesn't quite match your sonic preferences.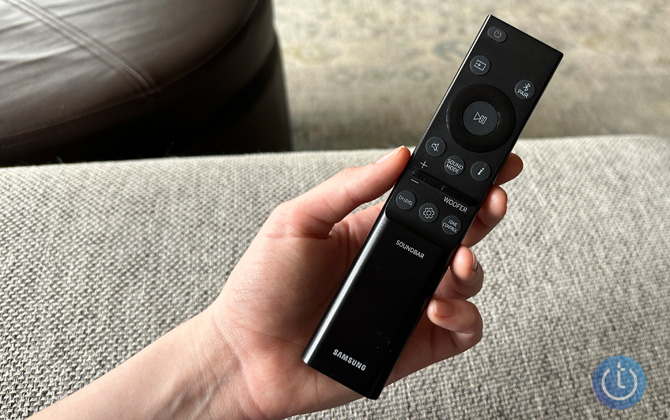 Audio performance
Movie fans will appreciate the Samsung Q800C's ability to kick out everything from John Williams' symphonic flourishes to the endless explosions of the latest Marvel epic. Even at half volume, the Q800C produced plenty of sound pressure to push me back into my couch. And the subwoofer gave Dwayne Johnson's slugfest in Furious 7 an extra punch.
If you are switching from using the built-in sound from your TV to a soundbar, you will notice a very substantial improvement in audio with the Samsung Q800C, and it compares well to others in this category, such as the Polk Audio Signa S4 and Bose Soundbar 700. Dolby Atmos is intended to send sound all around the listener, and the Q800C does a remarkable job imitating this effect with just the soundbar and subwoofer. Creepy crawlies seem to bounce off the walls in scary movies while screams ("Don't go in the basement!") emanate directly from the front of the screen.
Samsung includes two technical features to make this all happen without your intervention or having to tweak multiple settings. The first is what the company calls SpaceFit Sound, which analyzes the reflected sound in your particular room and then adjusts the upper range of frequencies and low-end frequencies to suit your listening environment. This is a common feature on soundbars in the price range, and I found it generally works well and is comparable to others. Although, for my taste, it sounded a little too bright, a symptom of emphasizing high notes. This was easily remedied by using the equalizer in the app to match my preferences.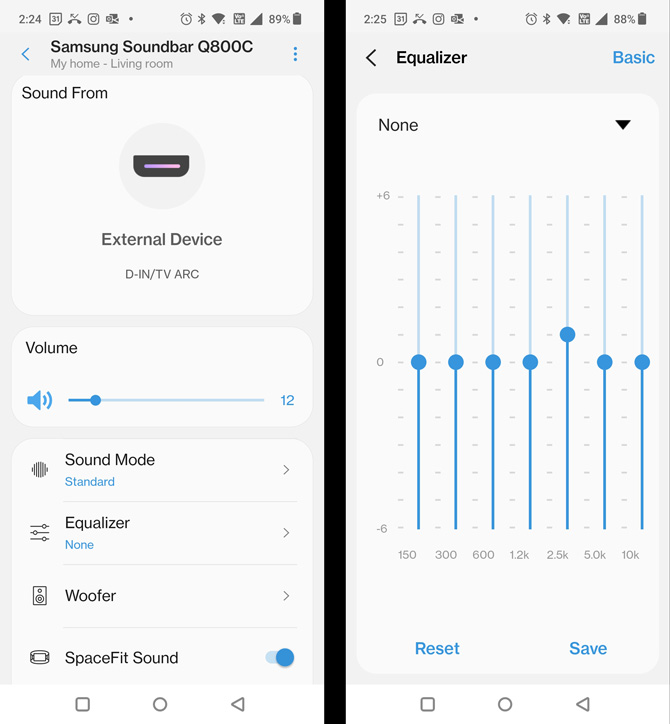 The second feature is Adaptive Sound, which is supposed to analyze the sound source in real time and automatically adjust the sound profile. So if you're watching the evening news, you'll hear more direct, streamlined audio from the sound bar rather than the more expansive surround sound effects you'll experience when you're watching a movie. I found this was moderately successful, although I still had to manually switch into standard sound mode when playing music. And there's also a dialogue or voice enhancement feature; it successfully mutes background effects and emphasizes the vocal frequency range for those of us struggling to hear mumbling actors.
Standard mode eliminates any overemphasis of high notes for music playback, and I was pleasantly surprised with this setting. Mid-range heavy rock and pop tracks from the likes of the Fountains of Wayne received the proper attention they deserved, with accurate and detailed reproduction. Some listeners may find it sounds muffled, but the standard mode plays it straight, delivering a more accurate rendering of the music without sound effects. It lets you blast Aha's Take Me On with excellent clarity and very little distortion, even on those stratospheric vocals. Steely Dan's Bodhisattva had excellent balance as per its polished production work, and the interplay between the lead guitar and keyboards was clear and concise. The Samsung Q800C even produced good stereo separation – no easy feat for most soundbars.
Samsung also offers a feature it calls Q-Symphony, which uses not only the sound bar but also the built-in speakers of a compatible Samsung TV to deliver an even more immersive surround sound effect (usually, a set's speakers are off when you use a sound bar). However, the Q-Symphony feature only works with compatible 2020 to 2023 Samsung models. (LG also has a similar feature, which again, only works with compatible LG TVs.) In company demonstrations, I found the Q-Symphony feature to be quite compelling. Unfortunately, I didn't have a compatible set at the time of review to conduct independent tests of this option.
The bottom line
The soundbar category is one of the most competitive and confusing markets. You can easily pay $2,500 for a single soundbar, such as the Sennheiser Ambeo Max, which will deliver rich, even sound, or spend about $130 for a small model designed simply to add more volume, such as the compact Roku Streambar. The Samsung Q800C falls in the middle of these two extremes, able to fill a large living room with (if you desire) ear-splitting soundtracks, and yet it can also play Miles Davis with aplomb when you just want to sit back and chill.
There are comparably priced, slightly superior home theater sound solutions that can deliver a more immersive experience with shots and tire squeals zooming past your head, but those systems involve setting up more speakers. If you have the real estate for a slightly more extensive system, consider Vizio's Elevate home theater system (about $800), which is a 5.1.4 package with a sound bar, subwoofer, and two additional wireless satellite speakers. The additional satellites give you more of a surround sensation, especially in larger living rooms.
Nevertheless, the Samsung Q800C is one of the better soundbar and subwoofer pairings, bringing simplicity and superior sound to the home theater experience.


[Image credit: Suzanne Kantra/Techlicious]
John R. Quain has been covering science and technology for over 20 years. His work has appeared in Rolling Stone, PC Magazine, Esquire, and U.S. News & World Report. He was the on-air technology contributor to the CBS News Up to the Minute television show for 17 years and is a regular contributor to The New York Times.
Discussion