The Truth about 2D to 3DTV Conversion
Techlicious editors independently review products. To help support our mission, we may earn affiliate commissions from links contained on this page.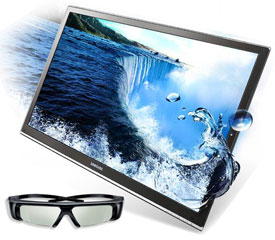 Many of the new 3DTVs can take regular TV programming and convert it to 3D. How well does the resulting 3D content look? I was invited to a screening on Saturday to check it out.
I've seen demos of 2D to 3D conversion before, but they were was always put together by the 3DTV manufacturers who, naturally, only pick the best stuff. This time the demo was put n by an independent research firm and included a wide variety of cable and iTunes content—a basketball game, American Idol, iCarly, The Office, The Daily Show, Phineas and Ferb—and a DVD of the latest Transformers movie. The TV was Samsung's top-of-the-line 55-inch UN55C9000, which retails for $7,000.
The results were definitely mixed.
Not surprisingly most of the programming had more of a sense of depth, which definitely added a sense of immersion. On the downside, there were a few weird effects that cropped up. Anything flat—a logo, a picture-in-picture window, a graphic showing a person's title—floats artificially near the front of the screen. There were also times when the TV wouldn't get the 3D right. An arm or leg belonging to one basketball player would seem to sprout from another. Ultimately, I found only certain types of programming benefited from conversion.
Cartoon: The 3D effect was almost non-existent when watching Phineas and Ferb, and certainly not worth sporting the 3D glasses. Since this cartoon is fairly flat, it is possible that something that usually appears more 3D, like Mickey Mouse Club House, would provide a better result.
Sitcom/Drama: I could definitely see the 3D effect, but it didn't add to the overall impact of the programming. I'd pass on 3D for this.
Concert/Live Entertainment: 3D makes sense for this type of programming. I really felt that I was there in the audience watching the American Idol performance.
Sports: The TV seemed to have difficulty with the fast-action of a basketball game. I saw a lot more artifacts—limbs associated with the wrong player—and the quick cuts and splash graphics were unpleasant to watch. If shot with fewer cuts and for slower games, like golf, sports would look good.
Movie: I watched the portion of Transformers where the Decepticons were conducting a search. The 3D effect really heightened the suspense and drew me in. I'd definitely give action/suspense movies a try.
News/Talk Show: Jon Stewart and his set looked great in 3D, but it was hard to get past the floating picture-in-picture videos. I can see this being an issue with news programming as well. For me it wasn't worth it.

Discussion