Wireless Charging Mats - Are They Worth It?
Techlicious editors independently review products. To help support our mission, we may earn affiliate commissions from links contained on this page.
Normally, when my mom goes through airport security, she gets pulled out of line and searched. She's never had a traffic ticket, much less been a candidate for the no-fly list. Why the delay? She carries numerous batteries, cords, chargers and other addendums – usually wound in to a large bundle and stored in the middle of her carry-on.
When I heard of wireless charging pads, I immediately thought of her.
These pads aren't quite wireless. Call them wire-less: less wires, not wire-free. They require a wall connection (hardly surprising) and various gadgets to convey the charge from pad to product. The big selling point of wireless charging pads is that you only need one charger–and its accessories–instead of one charger per item.
Let's take an example. The average family of four probably takes two cell phones and three mp3 players on vacation. Add in a portable gaming device, and that's a total of six chargers. A single wireless charging pad could charge all of these devices, albeit in shifts.
The clear leader in the small field of wireless charging solutions is Powermat. The company offers a tiny coaster-size one-device charger for $70 and a three-device mat for $100, which comes bundled with the Powercube Universal Receiver you need to attach or plug into your devices. The Powercube (a $30 option with the one-device charger)comes with eight tips for most Apple, BlackBerry, LG, HTC, Bluetooth, Palm, Nintendo, PlayStation, Sony, and Samsung devices. A car charger ($60) will be available in the fall. It takes about 2 hours to complete a charge, and the batteries seemed to hold their power like normal.
However, you will need one Powercube or special charging case for each device, if you plan to charge them simultaneously—which can get pricey. The largely negative product reviews I saw on Amazon stem from this massive misunderstanding. Due to the advertising campaign, many people thought you could simply plunk down your device and it would absorb the charge.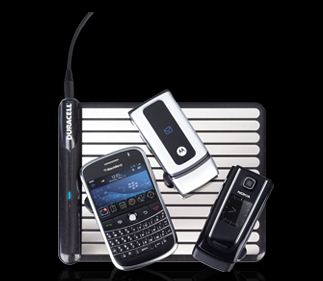 Duracell myGrid Cell Phone Starter Kit
Other systems to consider include, Duracell's myGrid Cell Phone Starter Kit ($90, with one receiver), which will charge up to four devices at one time and its charger tips work with miniUSB-powered and Nokia phones. You can also buy cases for Blackberry Pearl and Curve 8300 and Apple iPod Touch and iPhone. Plus Brookstone sells a case/charger combo, the PowerPlate Wireless Induction Charger for iPhone ($100).
So is a wireless charging pad worth it?
It depends on how many devices you and your family carry. Having a central charging point in your home that powers all your devices makes sense—no more searching for the correct cord. But keep in mind that the cases, do add weight, bulk and price to your devices. So for day to day use, it's somewhat of a trade off.
For travel, there are two things to consider. First, there's outlet availability. I usually travel with a powerstrip that has integrated USB charging ports just in case. And then there's total travel weight. You should literally weigh the wireless charger versus the power cables.
Brookstone PowerPlate Wireless Induction Charger ($100): Check price at Amazon.com
Duracell myGrid Cell Phone Starter Kit ($90): Check price at Amazon.com
Powermat One Position Mat with iPhone 3G Hard Case ($70): Check price at Amazon.com

Powermat Three Position Mat with Powercube Universal Receiver ($100): Check price at Amazon.com
Discussion