Withings Wi-Fi Body Scale Keeps Your Weight Loss on Track
Techlicious editors independently review products. To help support our mission, we may earn affiliate commissions from links contained on this page.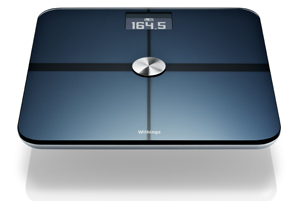 Like a lot of people, I'm a yo-yo dieter and exerciser. I'm better about staying on track, though, when I can see my progress–or lack thereof. So when I heard about the Withings Internet Connected Body scale, which automatically charts your weight and body fat percentage and lets you share those numbers with supportive friends and family, I knew it was something I had to try.
Out of the Box
As you may imagine, there's not much setting up required for the Withings scale. After you insert the AAA batteries and attach the feet (only if you'll be using it on carpet), you'll need to connect the scale to your wireless home network. This requires connecting it to your computer with the included USB cable and then registering the scale at www.withings.com. During the registration process, you'll input your wireless home network settings and set up profiles for up to four household members. The profiles include birth date, height, current weight and sex. You can also choose to share your progress through a Web page or automatic Twitter updates and sync your data with your Google Health or Microsoft HealthVault account. Then you're ready to step on the scale.
Look and Feel
The Withings scale is beautiful and would look at home in any contemporary bathroom or bedroom. When you step on, the 3-inch display lights up and first shows your weight. The scale then measures your body fat using the principles of bioelectric impedance. A very low electric current is sent into the feet and the resistance is measured. Fat is not a good conductor so looking at the resistance level of the tissue plus your age, weight, gender and height enables the scale to estimate your body fat percentage. The whole process takes than 15 seconds.
I wear contacts or glasses, which means the display is illegible when I roll out of bed in the morning. Knowing that the scale will automatically use Wi-Fi to send my weight and body fat measurement to my Withings online account means I can weigh myself "blind." I also installed the iPhone app, which is automatically updated by my Withings account.
For an accurate body fat reading, you can't let your hands touch your legs. The scale is also unable to ready your body fat when the battery runs low. I discovered this when the body fat reading stopped showing up a few weeks after I started using the scale. All of a sudden you'll only see your BMI (body mass index) number, which is based on height and weight. The battery ran out quickly because I didn't store the scale level. Further reading of the manual revealed that the scale will automatically try to recalibrate itself whenever it's not level.
Summary
For tracking your pregnancy weight gain and loss, watching your child grow or anyone trying to track their weight loss progress and garner the support of friends and family, the Withings Internet Connected Body Scale delivers. It's incredibly easy to set up and use. If charting your progress isn't important to you, though, the extra $70 or so for the built-in Wi-Fi isn't worth it.
Withings Internet Connected Body Scale ($160): Check price at Amazon.com
.
Discussion