Assassin's Creed IV: Black Flag (Xbox One)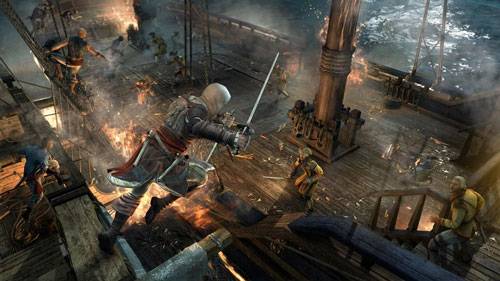 The sixth installment of the exceedingly popular action franchise, Assassin's Creed, is set in the buccaneer-infested Caribbean of 1785. You play as Edward Kenway, a charismatic yet brutal pirate captain who evokes iconic mercenary types like Han Solo and Jack Sparrow. You command your ship, the Jackdaw, across a huge map that includes Cuba, the Bahamas, Jamaica and the tip of Florida in a quest to unravel a centuries-old conspiracy.
The boat combat is thrilling, and plunder and pillage will upgrade the Jackdaw with ammunition and gear necessary to battle more enemy ships. Everything you do has meaningful implication on the gameplay; plundered items serve as upgrades to your ship, weapons, and equipment. You'll wield cutlasses and flintlock pistols, battle sharks, invade fortresses, brawl in bars and learn lots of salty sea shanties.
And don't forget, this game is also available for Wii U, Xbox 360, PS3, PS4 and PC.
Rating: M
Like this product? Want it as a gift?
Let your friends know:
Own it? Questions? Let us know!