Breville JE98XL Juice Fountain Plus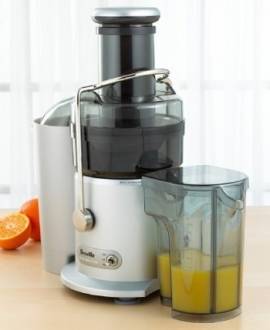 Adding more juice to the menu can be a great way get more nutrients into your diet. You can even sneak in healthy veggies, like kale, without actually having to eat any leafy greens—a big bonus if you need to appeal to kids' picky palates.
Our pick is the Breville JE98XL Juice Fountain Plus. It isn't the cheapest juicer you'll find, but if you really want to add juice to your daily routine, you'll definitely appreciate the quality build of the Breville.
The unit's dual-speed motor allows it to grind up hard fruits and vegetables like carrots and apples at a speedy 12,000 RPM, then slow down to 6,500 RPM to get juice from soft fruits and leafy greens.
For busy households, the Juice Fountain Plus is simple to use, makes juice quickly and is very easy to clean up. That's a thumbs up in our book.
Like this product? Want it as a gift?
Let your friends know:
Own it? Questions? Let us know!