Connected by TCP Kit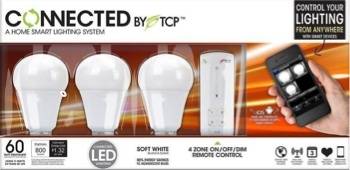 If you only want to control your lighting, then Connected by TCP may be the answer. The starter pack comes with three bulbs, a remote and a gateway that controls your lighting. Once it's set up, you can program lights to turn on, turn off, dim or brighten with your smartphone or tablet.
If you need more than three bulbs, you can buy additional LED bulbs — make sure they're Connected by TCP to work with your system — for just $17. The starter pack is pricey, but bear in mind that these LED bulbs have a lifespan of 22 years, so you're not going to have to worry about replacing them for a while.
Like this product? Want it as a gift?
Let your friends know:
Own it? Questions? Let us know!