Fujitsu ScanSnap iX500 Scanner for PC and Mac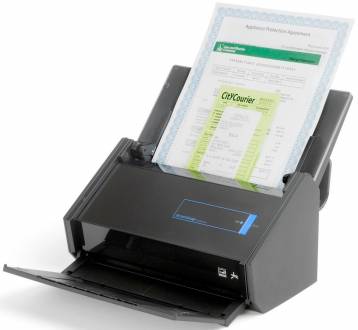 For the best document scanner, invest in one like the Fujitsu ScanSnap iX500: it will pay for itself in the time that it saves you.
The Fujitsu scanner handles two sides in one pass, 25 pages per minute, in color. Drop a stack of pages in the document feeder, and they will be scanned and ready to file. The scanning software automatically straightens and enhances the image on the fly, combines pages into a single PDF, and eliminates blank pages. You have the choice to output in common formats like PDF, JPEG, Excel or Word. Plus, it has both PC and Mac compatibility.
Like this product? Want it as a gift?
Let your friends know:
Own it? Questions? Let us know!