Hagen Dogit Design Fresh and Clear Dog Drinking Fountain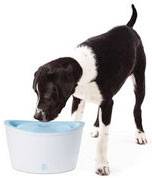 You like fresh and clean water out of a drinking fountain so it follows that your dog would too.
The idea here is to give your pooch water that tastes better because it's constantly bubbling up into the air getting oxygenated. A filter that collects debris, food, hair and sediment also improves the water's flavor.
It holds 1.5 gallons and is elevated, which helps protect your dog's joints.
Like this product? Want it as a gift?
Let your friends know:
Own it? Questions? Let us know!