iRig Keys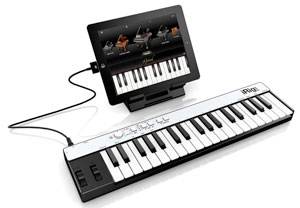 Getting kids into playing the piano at a young age: good. Buying a piano and lessons, only to see your child to lose interest three months later: bad. The solution: iRig Keys. This mini MIDI keyboard is light, portable and not too expensive. Kids can play it alone or connect it to a Mac, PC, iPod touch, iPhone or iPad to record compositions and play engaging learning games.
The 37-key layout gives kids a three-octave range that covers almost every song for beginning players. And as they grow into advanced virtuosos, kids can explore the configuration options for more sounds and wider range.
iRig Keys works with a number of apps that use MIDI input and comes with free apps for PC or Mac and iOS.
Like this product? Want it as a gift?
Let your friends know:
Own it? Questions? Let us know!