Kinect Sports Rivals - Preseason (Xbox One)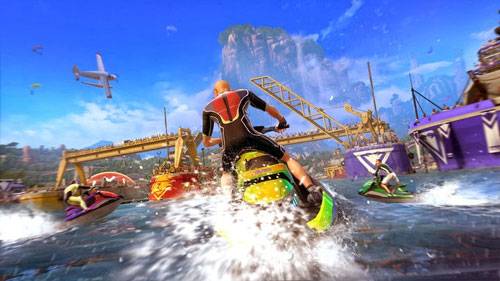 While a full game experience will launch in spring 2014 (which is now available for preorder), game developer Rare is offering players a taste of this new Kinect-centric extreme sports game for free. The Preseason game focuses on Wake Racing; bowling, target shooting, tennis, soccer and rock climbing will be featured in the final game.
The Kinect has been radically improved for Xbox One, and this game takes full advantage of the upgraded camera. The camera can identify multiple players through facial and voice recognition, enabling games like the rock climbing experience to be challenging and fun. Even though you're in your living room, you can feel the vertigo while you're scaling a seaside cliff.
Wake Racing really showcases next-gen visuals with remarkable water physics, as players jet ski through challenging courses, moving only their bodies. The final game will scan your face and instantly create an avatar that looks just like you. There are many hours of multiplayer family fun to be had here.
Rating: E
Like this product? Want it as a gift?
Let your friends know:
Like this product? Want it as a gift?
Let your friends know:
Own it? Questions? Let us know!