Pogo Sketch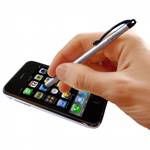 If you're a woman, every-so-often you like to let your nails grow out a little. Not obscenely long, but long enough that using your iPhone or iPod touch becomes a chore. The same problem arises if you're wearing gloves, which blocks the electric current, creating issues for both men and women in winter months.
The Pogo Sketch is a styli designed to carry an electrical charge, solving the nail / glove conundrum. It has a soft felt tip that won't scratch your screen.
Like this product? Want it as a gift?
Let your friends know:
Own it? Questions? Let us know!