SodaStream Jet Starter Kit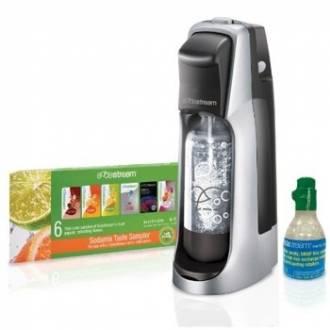 We all love fizzy carbonated drink, but those sugary drinks aren't very good for us. With the SodaStream, you can make your own soda in whatever flavors you want, without loading them down with sugar. The SodaStream Jet Starter Kit includes everything you need to become a DIY soda expert.
Making your own soda is easier than you might think. Just fill your bottle with cold tap water, add carbonation with the touch of your SodaStream's button and then add flavor mix to taste. You're ready to enjoy your own homemade soda! Bottles come in liter and handy, single-serving half-liter sizes. This is not only an economical option for heavy soda drinkers, it's also a big a space saver.
Like this product? Want it as a gift?
Let your friends know:
Own it? Questions? Let us know!