Super Mario 3D World (Wii U)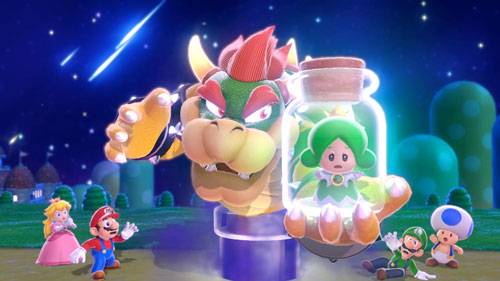 If you haven't turned on the Wii U in a while, Super Mario 3D World is a fine excuse and arguably the best game yet for the system. This genuinely great new Mario adventure is set in a 3D world in which you play not just as Mario but as Luigi, Princess Peach and Toad, each with unique abilities. The large, free-roaming environment, Sprixie Kingdom, allows for team-ups or solo play for coins and points.
While the gameplay and world may sound familiar, the game maintains the spirit of old-school Mario platforming with some neat twists. You use both on-TV play and the Wii U gamepad, and the wildly varied level design features driving, shooting, top-down views and much more. In short, Super Mario 3D World injects some clever new ideas while maintaining what's always made the Mario franchise great.
Rating: E
Like this product? Want it as a gift?
Let your friends know:
Own it? Questions? Let us know!