The Best DSLR Under $800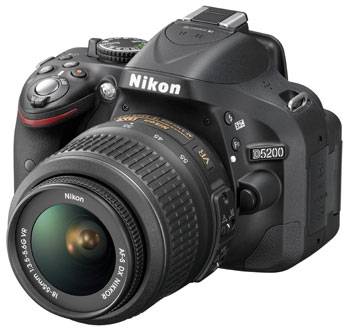 The Nikon D5200 balances ease of use and beginner-friendliness with power and performance.
This camera includes a slew of settings, scenes, and effects that are easy to find, switch to, and understand. In short, there are few situations that you won't be able to find a pre-set for on this camera. Plus, the D5200 is compatible with up to 79 different lenses (and counting), so it can grow along with your skill.
The 3-inch LCD on the back swivels out, meaning you can frame pictures from almost any angle and you can see the screen while standing in front of the camera. It even has a grip on the front that is deeper and much more comfortable than other comparable models. Overall, the D5200 is a speedy system and autofocus is snappy.
Finally, there's the 24.1 megapixel sensor, the heart of what makes for a great picture. With it, the D5200 is able to produce great quality images full of detail and color accuracy. Sensors like this are the reason why people step up to DSLRs and the D5200's definitely delivers.
Like this product? Want it as a gift?
Let your friends know:
Like this product? Want it as a gift?
Let your friends know:
Own it? Questions? Let us know!