The Best Small Tablet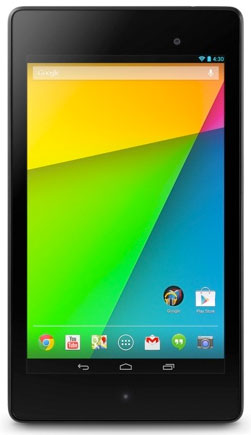 A best-in-class display, solid design, the latest version of Android, and performance that blows past more expensive tablets, make the new second-generation Google Nexus 7 the best small-screen tablet on the market.
It is thinner, lighter and more solidly built than its first generation version. It isn't too wide to wrap your hand around and won't weigh your arm down during hours of reading. The Nexus 7 is good looking without being flashy, drawing all attention to the display on the front. This is the only 7-inch tablet with a full HD 1920 x 1200 screen, keeping graphics sharp and fonts crisp even when they're small.
The Nexus 7's powerful hardware can handle complex apps, multitasking and high-performance games without choking. It doesn't have the longest battery life in this class, but it will make it through the day with medium to heavy use. Android 4.3 is a smooth and user-friendly operating system, more so than some past versions.
The biggest letdown is that there is still no microSD slot for expanding the internal storage. Another design issue is that the thin bezels on the long sides of the Nexus don't offer much room for resting your thumbs in portrait mode.
Like this product? Want it as a gift?
Let your friends know:
Like this product? Want it as a gift?
Let your friends know:
Own it? Questions? Let us know!