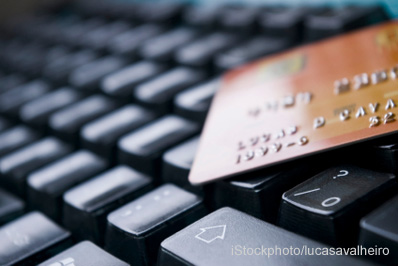 Like most working moms, I do most of my shopping online. Who wants to drag two screaming kids to buy paper towels at Target when I can buy them with the click of a button (and let my kids scream in the comfort of our own home)?
But that convenient one-click buying power has a dark downside — it's too easy to go overboard. When I go online to buy my niece a board game for her birthday, I throw in a few best-sellers suggested by Amazon I've been dying to read (how did they know?).
Or when I innocently browse a '60s pin-up bathing suit on ModCloth.com, it stalks me all over the Internet, taunting me from the side of CNN or Jezebel until I inevitably have to buy it — even though I don't have $80 in my budget for a swimsuit.
But it's not entirely my lack of self-control that's to blame. Online retailers employ sneaky marketing tricks to get you to add more to your virtual shopping cart, leaving less in your all-too-real bank account. What's a clicking consumer to do? Fight back with these strategies from consumer savings expert Andrea Woroch.
1. The Problem: Your inbox is a retail wasteland of 24-hour flash sales.
Why: "Limited-time-only deals or deal-of-the-day-type offers create a sense of urgency among consumers who feel they need to take advantage of the offer before it expires, regardless of whether the item or service was something they specifically were searching for that day," says Woroch.
What to do: Ignore, ignore, ignore. "Instead of jumping at every flash sale offer when they come to you, look for coupons only when it's time to make a purchase," she advises. That way, you'll still get a deal — but only on things you actually need. You can access mobile coupons for free via the Coupon Sherpa mobile app or grab online promo codes from FreeShipping.org. You may actually want to create a separate email address (say, myshoppingtemptations@gmail.com) so you can save store coupons and deals in your inbox but not be tempted by them on a daily basis.
2. The Problem: You're being coerced by "cookies."
Why: Known in the ad biz as "retargeting" or "remarketing," this sneaky online advertising tool allows products that you search for to "follow" you all over the internet like a creepy ex-boyfriend, popping up in ads on most websites you visit.
What to do: Clear your cookie cache every few days, or after an intense session of window browsing, says Woroch. And there's an added bonus to this habit: "Sometimes retailers lure in new online shoppers with lower prices," she says. "So clearing your cookies can also trick a retailer into thinking you're a new shopper, allowing you to have a lower price on an item on your next visit." Your other option? Go to Google and download the cookie opt-out plug-in. Then you can browse without being bullied.
"Instead of jumping at every flash sale offer, look for coupons only when it's time to make a purchase."
3. The Problem: Your favorite websites know you — a little too well.
Why: "Online retailers like to push you to buy more by suggesting products that go with your purchase," says Woroch. "Amazon, for instance, recently suggested that I add extra film, a camera case and a lens cleaner along with my Polaroid camera purchase." And because they're based on your previous shopping or searching history, they can make suggestions that are actually pretty alluring.
What to do: Stay strong and resist the click. "Remember, if you didn't look for it, you likely don't need it!" says Woroch. If you're still tempted, put it in your basket, but give yourself a 48-hour waiting period before you buy. Studies have shown that this is long enough to allow dopamine — the neurotransmitter that, among other things, goads us into impulse buys — to dissipate, making us a third less likely to buy.
4. The Problem: You're duped by dynamic pricing.
Why: "Prices on everything from beauty goods to TVs could fluctuate several times a day thanks to a marketing strategy referred to as dynamic pricing," says Woroch. "It's based on the idea that retailers want to maximize their profitability and will fluctuate prices based on the busiest time of the day/days of the week that consumers shop online, as well as based on your past purchase history."
What to do: Compare prices and track price drops with websites like PriceGrabber.com, Pricewatch.com and Hukkster, says Woroch. For Amazon, try camelcamelcamel (a price-drop tracker specific to the site) or add PricePinx (a tracker for a number of websites) to your browser. "Also, if you purchase an item online and later find a lower price for the same item from the same retailer, take a screenshot of the price," says Woroch. "Some retailers offer price guarantees for up to 30 days, so if you email the screenshot to the retailer, you might be able to get a refund for the difference."
5. The Problem: The power of three — too many options trick you into spending more.
Why: "Retail marketing pros found that when they presented a consumer with two goods within the same product category and at two extreme price ranges, the shopper would go toward the cheaper good," says Woroch. "But enter a third product in the middle range and shoppers always opted to spend just a little more for that item."
What to do: Instead of basing your purchase on price alone, read product reviews on Epinions or Consumer Reports, says Woroch. "And as always, plan out your budget before you shop — and stick to it!"
Related stories from LearnVest: