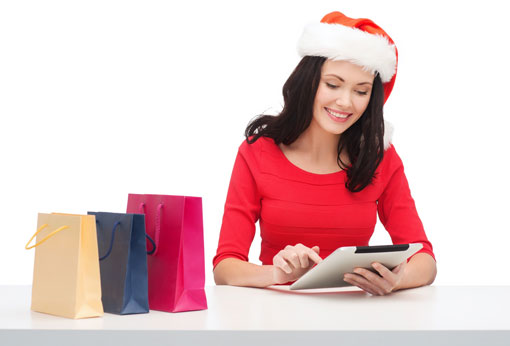 Last year, 87 million people shopped on Black Friday, reports the National Retail Federation, and that figure's expected to rise by nearly four percent in 2015. A recovering economy and increased consumer confidence can be attributed to the increase, adds NRF. But if you're not one to camp outside your favorite store into the wee hours of the morning just to save a few bucks, in the past you were out of luck.
Thankfully, those days are gone.
Following the success of Amazon's holiday sales promotions
, more retailers are offering Black Friday deals on the web than ever before. So forget the doorbusters and check out the web busters. Best Buy is offering deals to online shoppers on Thanksgiving Day (but some deals started as early as mid-month), Kohl's rolls out its deep digital discounts starting November 23, and even Walmart and Sam's Club are joining in on guaranteed holiday windfall, which the NRF predicts will hit $105-billion in online sales this holiday season, from November to December.
Here are some tips to help you take advantage of the best online deals on Black Friday and beyond.
Do Your Black Friday Homework
The best part of taking advantage of Black Friday deals is doing it without stepping outside your home. But in order to partake in Thanksgiving leftovers in tandem with your holiday shopping, you need to get a game plan together first. If you're like me, you usually crosscheck your gift list with the Black Friday catalogs, and then add the items to your digital shopping carts. But who has the time to check all of store catalogs anymore?
Sites like BlackFriday.com, BuyVia.com, BradsDeals.com, DealNews.com, NerdWallet.com and TheBlackFriday.com save time by listing their favorite Black Friday deals by store or by category. There are plenty of deals to choose from across all retailers, so it's worth browsing the digital catalogs ahead of time so you can add the items you really want to your digital shopping cart.
As a sneak peak, here are some of my favorite sales:
Pay attention to the fine print
The sales flyers make it seem like absolutely everything is deeply discounted, but that's not always the case. JCPenney is promoting the Cooks 5-qt. Programmable Latch and Travel Slow Cooker for $7.99, but only AFTER a $12 mail-in rebate, so you're really paying $19.99 outright. While this price may still be tempting, compared to the $70 original pricetag, it's currently on sale for $29.99, just $10 more. So you're not saving as much as they'd like you to believe. Another catch: the online price may vary.
Skip the early-bird offers
If you want to save the most on electronics, games and kitchenware, retailers will try to get you into their stores before the sun rises Friday morning, or in some cases, before you've even had Thanksgiving dinner the night before. But don't let the promise of ultimate savings pull you out the door just yet. Those "early-bird" offers are typically only available in limited quantities. Some may say it's a bait-and-switch: they get you in the door for Item A, which is no longer available, but you end up spending money anyway because you find Items B-Z that you now suddenly have got to have. But thanks to online retailers, you can stick to your original budget and easily find that same "early bird" item competitively priced all across the web.
Download Amazon's Mobile Shopping App
Economists expect strong sales this holiday season, notes the NRF, resulting in a 6 to 8 percent rise in online sales this year. Jumping on that Thanksgiving-gravy train, Amazon is offering "App Only Deals"
through its mobile shopping platform. For the first time ever, Amazon is introducing more than 150 "Lightning Deals" on electronics (lasting only a few hours or even minutes-according to the company), kitchen gadgets and more through the app, which will be released daily from 3:00 p.m. to 11:00 p.m. PST Thanksgiving through Dec. 9. Promoted app-only deals include Hisense 55" 4K Smart LED TV
for $448 (discounted from $799.99-$999.99) and a lesser known brand 50" 1080p LED TV for $149.99. To ensure Amazon shoppers don't miss out on their favorite deals, Amazon also added "Watch A Deal," which will ping their mobile device when a preferred deal is live.
Check the resale sites
If you weren't one of the lucky few to purchase a new laptop, Ultra HD TV or other limited-quantity item, you may still be able to save big bucks. Not everyone who withstands sub-zero temperatures in a Black Friday line are there with altruistic intentions. Some shoppers are actually in search of making a few extra dollars by snagging up the season's hottest gifts and then reselling them at a small markup. So on Friday, check resellers like Amazon, eBay, Glyde, half.com and uBid.com, and even resale apps like Saily and Letgo to see which Black Friday deals are back on the market.
And don't forget about Cyber Monday and beyond
The term Cyber Monday has been around for a decade now—so we're all aware that more apparel, shoes and electronics deals can be found online days after the last biteful of green bean casserole is devoured. However, deal experts have found that you can still find really good sales long after Cyber Monday has come and gone. For example, the first two weeks in December are good for saving on toys, says money-saving expert Andrea Woroch, and shopping expert Kyle James recommends Dec. 18 for kitchenware, which is this year's Free Shipping Day where you'll get free shipping and delivery by Christmas Eve from more than 500 retailers.(Or for year-round promotions, check out CyberMonday.com as well.) Don't forget to check out Amazon, too – it's a great place to find killer holiday deals. The sale's already started at Amazon Gold Box
, where limited numbers of a rotating selection of sale items are offered on a daily basis. Past deals include jewelry, activewear, books, digital content like albums, cameras and more. New offers start as frequently as every 10 minutes, so there's always something new to get your hands on. And if you're an Amazon Prime member, you can score early access to some of the best deals the site offers!
[woman shopping on tablet via Shutterstock]