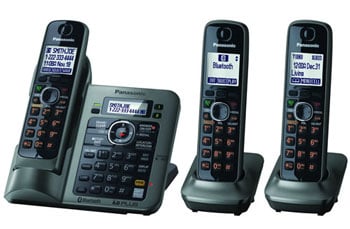 If you use your cell phone to make calls at home, you may have missed important calls or experienced spotty reception. Fortunately there are cordless phones, like the Panasonic Link to Cell KX-TG7643M system ($119.95), that can help solve these problems.
Link to Cell works with or without a landline. Simply place your cell phone in a location that has the best reception possible and then set up the cordless phone base station nearby. If you have landline service, connect the phone to your phone jack, just like any other cordless phone.
Then pair your cell phone to the Panasonic Link to Cell via Bluetooth. When the cordless phone senses your cell phone nearby, it automatically pairs and starts routing calls through it. If more than one cell phone is paired, you can assign a different ring tone to each phone so you can tell which cell phone is ringing through.
For outgoing calls, you can dial normally to use your landline service or press "cell" before dialing to use your cell phone's service. Plus, no matter if someone calls your landline or your cell phone, the Link to Cell will ring.
You won't even miss your cell phone's address book. Using Bluetooth, you can wirelessly transfer your names and numbers from your cell phone to this cordless phone's address book.
Place additional handsets conveniently throughout your home and you can answer your cell from any room and with great reception. With DECT 6.0 Plus technology, you won't have interference from common wireless devices. Plus, regular cordless handsets have the added benefit of being more comfortable to cradle while you're multitasking.
So don't miss another call or put up with poor call quality when you use your cell phone at home. With a cordless phone, you get great reception everywhere.