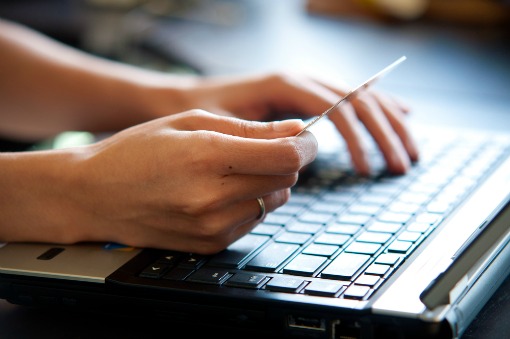 You may think Cyber Monday shopping is as simple as opening up your laptop while sitting at home in your pajamas, but scoring the best Cyber Monday bargains — and making sure they're actually bargains — requires a little bit of (virtual) legwork.
Start planning your Cyber Monday shopping spree now, with these five tips that are sure to help you land the holiday deals you really want.
1. Set up a price tracker
While all online retailers will happily brag about their low prices, how do you know you're really getting the best possible bargain? Instead of checking every website to compare prices, set up price trackers in advance of Cyber Monday so you'll get deal alerts.
Our favorite sites for this are Shoptagr and Covvet, which add a button to your browser that lets you save items you find while you're shopping online. Once you've saved the item, you'll get email alerts when the item goes on sale. Covvet also shows you a listing of the other items people are "covveting," which is great if you're looking for gift ideas.
On the downside, neither site works with every online store, but they do work with hundreds of the most popular sites. So set one or both or these up up today, and then head to your favorite online stores to make a virtual shopping list of items you want to buy. Come Cyber Monday, you'll get an email if any prices drop, so you'll know your Cyber Monday buys are deals instead of everyday prices.
2. Get real-time price comparisons
For browsing on Cyber Monday, you'll want a real-time price comparison tool. Browser add-on programs search for the lowest price on items as you browse, so price information is always fresh.
We like InvisibleHand, a browser add-on program that works with Firefox, Chrome or Safari to tell you about the lowest prices as you shop. When you install InvisibleHand, it will pop up a small bar at the top of your browser to tell you if there's a better price at another store for the item you're looking at or if you've already got the best price. Invisible Hand supports almost 700 retailers and almost 600 airlines, including many of biggest names.
One tip: Be patient. Since InvisibleHand searches for prices as you shop, it may take a minute for the results to show up.
3. Check out major retailers' dedicated Cyber Monday sales sections
In your hunt for deals, start with these Cyber Monday sale pages, which will list the biggest sales:
* Amazon
* Walmart
* Target
* Best Buy
* Toys R Us
* GameStop
* Overstock
If you don't feel like digging through every retailer's sites to find the best deals, check cybermonday.com, which aggregates the best deals on the Internet, especially, you guessed it, Cyber Monday specials.
4. Make sure you're getting a good deal
Don't get caught up in the Cyber Monday shopping frenzy. Retailers often bump up regular prices on items before the holiday sales season to make their new, low prices seem like a better deal. Check the manufacturer's site to find the suggested retail price and see if the item is available on Amazon; you can use a price history tracker to see what the item has been selling for over the last few months.
For a price history tool, we like camelcamelcamel.com. Simply plug the Amazon web address of an item into camelcamelcamel.com to check out the price history of that product. Or get the Camel browser add-on for Firefox, Chrome or Safari.
One final Cyber Monday shopping tip: Be sure you consider extra costs like shipping and taxes, which vary from site to site and can make what may seem like the lowest price a lot less of a bargain. Sites like FreeShipping.org and RetailMeNot.com make it easy to find extra coupons and free shipping codes.
5. Use Twitter to track down even more deals
Major online retailers are using the #CyberMonday hashtag to advertise their sales and often include a link directly to their site. Just type the hashtag into the Twitter search bar. Make sure the site you click on is the one you intended to go to. You can never be too safe especially if you are handing over your credit card information to finalize the sale.
Now, good luck and happy holiday shopping!
[Article updated 11/23/2016]
[Laptop with credit card image via Shutterstock]