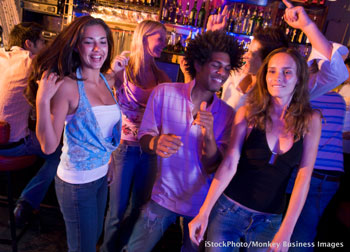 Enjoying a night out with friends at dinner, a bar or even a bowling alley presents the perfect photo opportunity. Unfortunately, all of those places have tricky lighting conditions and, chances are, you're not hauling a camera with you, so those shots need to be made with your smartphone.
But using a smartphone doesn't mean you can't get great photos. Follow these five smartphone photo tips and you'll get shots of friends you'll be proud to share.
1. Raise the ISO level
Your camera's ISO setting lets you adjust how sensitive the camera is to light. The higher the ISO, the faster the camera sees the scene with the available light. So you can take photos faster, which reduces the blur caused by camera shake.
It would be great if all you had to do is crank up the ISO. But there is a trade-off—as you boost the ISO you'll also pick up noise, that grainy-looking texture you see most noticeably in solid-colored areas. Play around with the ISO settings to find the best balance.
2. Try HDR mode
Many phones now come with a mode called HDR, or high dynamic range. In this mode the camera takes two or three shots at different exposures and merges them together to get detail in both the brightest and darkest areas of the shot. HDR works really well when your subjects are not as well lit as their surroundings. Keep in mind that because the camera is taking a few shots, it's important that nothing changes between each shot or the resulting image will be blurry.
3. Stabilize yourself
Bracing yourself or the phone against something solid can lengthen the time you can hold your phone still—eliminating the blur in low light. If your phone has image stabilization, definitely turn this on, as well.
4. Use the phone camera's self-timer
While you may not be able to hold a phone still long enough to take a blur-free shot at the proper exposure, a tripod, table or bookshelf has no such problem. So try setting your phone down and turning on the self-timer. The camera will automatically choose the proper exposure–you just need to remind everyone to stand still!
5. Optimize flash results
Using the flash should be a last resort if you're looking to capture the mood of an event. But getting a shot with a flash is certainly better than no shot at all. Try standing several feet away from your subject to avoid making your friends look like ghosts.
6. Share!
Now that you have great photos of your event, how about using them to create an awesome music video starring...you!
Jägermeister's new JägerBonds app transforms your images into a high-energy music video highlight reel, set to music from some of today's hottest artists, including Fall Out Boy, Eli Young Band and Paul Oakenfold.
JägerBonds can pull content from multiple Facebook and Instagram accounts. That means everyone you're out with (or want to connect with) posts to their social networks as usual—no extra work on anyone's part.When the night ends, you can share your video online or keep for your group's eyes only.
JägerBonds is available for free download in the iTunes and Google Play stores to those of legal drinking age.
The full-bodied flavor of Jägermeister—which includes cinnamon, star anise, ginger, orange and cardamom—makes incredible cocktails. Here's a favorite to enjoy on your night out:
Bed of Roses
2 parts Jägermeister
½ part grenadine
½ part lemon juice
Combine all ingredients in a shaker with ice and shake well. Strain into a chilled martini glass.
Enjoy responsibly!