Updated January 9, 2009 with new information on getting 3D from non-3D players and consoles
3D has come a long way from the red-and-green-lensed goggles that moviegoers donned in years past. Today's 3D is smoother, sharper and, most important, soon to be on TV. Below, are the three critical elements to putting together your 3DTV setup.
3DTV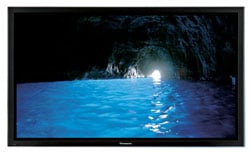 First and foremost, to get 3DTV you'll need, duh, a 3DTV—be it plasma, LCD or DLP projector. You can get a 3D projection DTV now—all DLP projectors equipped with Texas Instruments' DLP Link chip are 3-D capable. Many 3D capable projectors are already available from Mitsubishi, for instance.
If you plan on waiting for a flat screen 3DTV, stick with plasma.
LCD technology moves from one 60th-of-a-second frame to the next—what's known as the refresh rate—far slower than plasma, even when souped up from normal 60 Hz to 120 or 240 Hz. LCD sluggishness produces "motion blur," and is noticeable in quickly moving objects such as text, jet planes or a baseball, which look blurred as they zoom across the screen. By comparison, without tweaking, plasma's refresh rate is around 600 Hz. 3D will therefore look more seamless on a plasma TV. The refresh speed differences between LCD and plasma are bound to be more pronounced with 3D.
The Glasses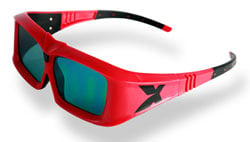 Sorry, you're still going to have to wear 3D glasses. Your HDTV flashes separate simultaneous 1080-line images for the left and right eye to create the 3D effect. The powered "active shutter" 3D glasses create the 3D effect.
3DTVs will likely include two pairs of glasses, which run on rechargeable batteries good for around 250 hours of 3D viewing. With four hours to go, the glasses flash to let you know they need to be recharged—plenty of time to let you finish watching your 3D game, movie or show. Glasses will have microUSB jacks for recharging.
You'll be able to buy additional pairs of 3D glasses, likely priced between $75 and $150, depending on style and materials used. Plans are to create sleeker and more stylish spectacles than the bulky near-goggles used in movie theaters, but will still be large enough to fit over your current eyewear. They'll be available in a variety of colors so everyone in the house has their own personalized 3D specs, many adorned with licensed characters to entice kids.
Something to Watch
What will you watch? Nothing on TV, at least not immediately. There have been and likely will be some periodic 3D broadcasts in the next few months, but these 3D broadcasts use 1950s-era red-and-green plastic-glasses technology, not the new "stereoscopic" 3D used in Avatar and other newer 3D movies.
However, next month's Vancouver Olympics will be shot in 3D, as will other major sporting events, such as this summer's soccer World Cup. DirecTV already has announced it will be launching a new satellite to create at least one, if not more, 3D high-definition channels sometime later this year. And Discovery, Sony and IMAX just announced a joint venture to produce a 3D network channel to launch in 2011. So it won't be a long wait.
So, in the near-term, that leaves 3D Blu-ray for the 3D movie experience. Unlike your HDTV, you may not need a new Blu-ray player to play back 3D Blu-ray movies. If you have a Blu-ray Live deck connected to the Internet, and if it's equipped with an HDMI v1.3 jack (check the specifications page in your manual), you're may be okay. Blu-ray Live HDMI v1.3 decks connected to the Internet, along with your current HDMI v1.3-equipped HDTV cable box or satellite receiver, could be automatically upgraded for 3D at some point later this year. This upgrade, however, would only give you half the resolution of 1080-line HD 3D—more DVD quality than Blu-ray.
If you don't have a BD-Live HDMI v1.3 Blu-ray player—or you don't have a Blu-ray player at all—wait until this summer when the first HDMI v1.4-equipped 3D Blu-ray players are available before taking the plunge. HDMI v1.4 is designed to transmit the full, unadulterated 1080p 3D to your 3D TV. While no announcements have been made, it's likely 3D Blu-ray discs will include a 2D version as well.
Oh, and don't worry—all 3DTVs and Blu-ray players will be capable of plain old 2D.
We expect the gaming consoles—PS3, XBOX, and Nintendo—to offer 3D capabilities very soon; though manufacturers have not provided any dates.
Samsung and Toshiba 3DTVs will also be capable of upconverting 2D content to 3D. So you can get a 3D effect from your existing Blu-ray player or game platform. The effect will not give you the same quality as true 3D material and devices, but may still provide an enjoyable experience.