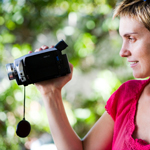 Most digital cameras allow you to take video. So why, you may ask, would you need to pony up the cash for an actual camcorder? There are some good reasons not to rely on a digital camera to capture essential video, even if it has HD video capabilities.
Ergonomics. Digital still cameras can be held in both hands, but normally aren't, which means your video footage will be even shakier than usual.
Image Stabilization. No digital camera includes optical image stabilization technology for video. Combined with poor ergonomics, digital camera video – especially shots of distant objects – will be fuzzy, shaky and nearly impossible to watch.
Lens. Camcorder lenses are optimized for video, especially long zoom lenses, and digital still cameras have lenses optimized for still picture capture.
LCD Screen. Few digital cameras have flip-out LCD screens and even fewer have flip out LCD screens that also swivel. At a certain point, you'll want to hold the camera over your head to capture a scene – but you won't be able to see what you're shooting.
Processing. Despite the appearance of so-called dual-purpose video cameras, camcorders include sophisticated processing technology designed to optimize video footage, processing technology that digital still cameras don't have.
Bottom line: while your camera will do for everyday footage, important video capture is best left to devices designed to capture video.