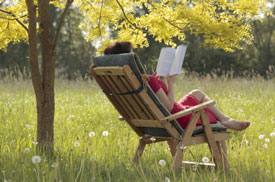 If you like to cuddle up with real paper-based books, there are two options for feeding your inner bookworm without breaking the bank or causing your carbon footprint to spike: rental services and swapping services (see Trade in the Books You Have for the Books You Want).
The rental services work like Netflix. You create a queue of titles you want to read. The service sends out the number of books you're allowed to have checked out, based on a tiered plan. You keep the books as long as you want and exchange as frequently as you'd like. Here are two to try.
BookSwim.com
If you've got to have the latest best seller, BookSwim delivers. You can browse by NY Times Bestsellers, Oprah's Book Club or the usual bookstore categories, including "Mystery & Thrillers," "Cooking, Food & Wine" and "Children's Books." The children's selection is limited, though. Books come in hard cover or paperback. BookSwim's regular membership plan, with free shipping, starts at $24.95 for three books—hard covers or paperbacks. There's also a $9.99 per month plan for one book, with a $3.99 shipping fee per book.
Booksfree.com
The focus at BooksFree is on paperbacks, though they also have children's books (hard cover and paperback) and audio books. Browse by topic, including some you won't find in the bookstore: "Award Winners," "Chick-lit" and "Today Show Picks." Prices start at $10.99 for two paperbacks, $13.99 for children's books and $13.49 for audiobooks. Free shipping applies to all plans.