Linkwithin test
Contemplating Divorce? Beware Social Networks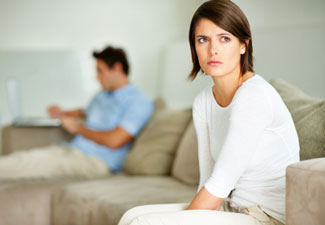 Facebook updates, tweets and other social media posts can all be obtained in divorce proceedings. So if you're contemplating divorce in a situation where things could get ugly with custody arrangements or assets, know that your spouse will use any ammunition you unwittingly leave online to discredit you.
According to the American Academy of Matrimonial Lawyers, 20 percent of divorces involve Facebook in some way and more than 80 percent of divorce attorneys say they have seen an increase in the number of cases using social networking evidence during the past five years. I spoke with Steve Mindel, family law attorney and partner at Feinberg, Mindel, Brandt & Klein, for advice on how to make sure your digital house is in order if you're contemplating divorce.
Clean up your Facebook presence
First, be mindful of who you've friended on Facebook. It may seem obvious in retrospect, notes Mindel, but people often friend their paramour. Facebook then serves as the perfect archive of the development of the relationship.
According to a 2008 Pew Internet and American Life Project study, one in five adults use Facebook for flirting—something divorce attorneys are well aware of.
For parents facing a potential custody battle, Facebook can pose an even bigger danger. Pictures of you drinking, smoking or engaging in irresponsible behavior can be used as evidence. There have also been cases that use Facebook to document your whereabouts—did you really attend a business conference or were you in Las Vegas gambling?
Make sure your "Friends" are being friends
What your friends and family post online is often fodder for divorce attorneys—a birthday toast at the bar, a comment about a gift you gave your lover. So don't rant to a gossip and stay out of potentially incriminating pictures both those posted by your and others. And if your "Friends" are really friends, they'll abide by your request to keep your offline conversations private and your photos clean.
And don't forget email
One thing people don't consider, says Mindel, is that when you delete an email, it doesn't disappear. It will sit in your deleted items folder—whether it's on your phone or your computer—until you permanently delete it. Make sure deleting email messages on your phone also deletes them from your account online. Otherwise you'll have to log in online to your email provider's website to permanently delete things. Mail will also reside in the "sent items" folder from the sender.
And if you get to the point where you are separated and heading toward divorce, you'll also want to change the passcode to your home network. With full access, your spouse can browse the contents of connected computers. So be sure to set up guest access to the network for your kids' devices. Otherwise it's a simple matter of checking the network settings on the Nintendo DSi, iPod Touch or other Wi-Fi device to get the new passcode.
It's hard to think about things like home networking passcodes when you're contemplating something as emotion-laden as divorce. But taking the measures that Mindel recommends will help prevent online evidence from letting you put your best foot forward, should your day come in court.